Peking University
Peking University is the No.1 liberal arts college in China. It has six campuses; Yanyuan, the main campus and most famous campus, is located in the northwest part of Beijing.

Facts about Peking University

Chinese Name: 北京大学 (bei jing da xue)


Address: No.5 Yiheyuan Road, Haidian District, Beijing


Establishment: July 3rd, 1898


Ranking: No.1 Liberal Art University in China; No. 65 according to 2018 US News World University Ranking; No.18 according to QS World University Ranking in 2022;


Top Majors: Economics, the Science of Law, Philosophy, Sociology, Psychology, Chinese Language and Literature…


Notable Alumni: Premier Li Keqiang; Tu Youyou, winner of the Nobel Prize for medicine in 2015; and Deng Jiaxian, main designer of China's first atomic bomb and first hydrogen bomb…


Peking University International Students: over 3,600 international students from about 120 countries


Number of Scholarship for International Students: around 10 including full scholarship, partial scholarship, and those covering tuition and living expense only, namely Chinese Government Scholarship, PKU International Student Scholarship…

Must-see Sites at Peking University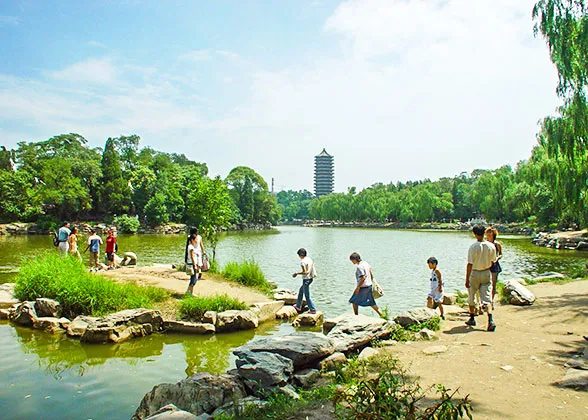 Boya Tower and Weiming Lake
Boya Tower and Weiming Lake
Boya Tower stands on a hill, to the southeast of Weiming Lake, and the beautiful reflection of this tower on the clear lake is worth appreciation. Together they are one of the landmarks of the university. Actually, Boya Tower was once a water tower for campus water supply.

The Arthur M. Sackler Museum of Art and Archeology
This museum is located in Minghe Garden on the campus of Peking University Beijing, and it's the first thematic museum of archeology within China's educational institutes. The collections include stone tools, bronze ware, oracle, pottery, porcelain, painting, calligraphy, and stone tablets, displayed in chronological order.

Yannan Garden once was the residence for foreign teachers. Each house has a fixed number from No. 51 to No. 66 respectively. Until recently, the old wooden door plates with white letters on black background could be seen in some houses. In Yannan Garden, most buildings have two floors in the western style, along with a small garden. Heading to the east side of Yannan Garden, you will find the Centennial Lecture Hall, which was built in 1998 and is used as a modern multi-function theater.

Peking University Library
The Peking University Library is one of the earliest modern libraries in China with a total size of 90 square kilometers (35 sq mi). It contains over 11 million books. It's a 6-storey building with basement level.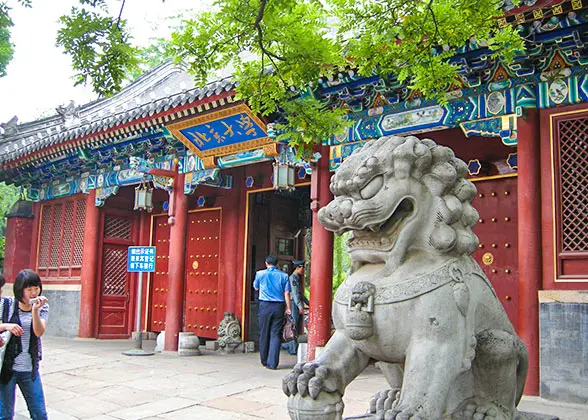 Peking University West Gate
The West Gate
This is the main gate and also a landmark of the university. The West Gate was built in 1926 by donations from alumni, so it's also known as Alumni Gate. The gate is a red classical palace gate with three-opened doors. Two stone lions lying to either side of the gate are vivid and attractive. Move your eyes to the door frames, and you will see four golden characters printed. It is said that the printing originates from Chairman Mao's inscriptions, and lots of visitors take pictures in front of the West Gate.

Sightseeing Appointment Required from Outsiders
In order to ensure a good study environment for students, Peking University only allows outsiders to enter at weekends, in public holidays and during summer/winter vacations. The official also implements appointment service. Visitors need to make an appointment on the university's official website or WeChat account before visiting. Bring an ID certificate such as passport.

Reservations must be made seven days prior to your visit. Summer vacation and winter vacation are the high travel season, so visitors need to make an appointment as early as possible. Only 3, 000 tourists each day are permitted.

Visitors can only enter Peking University through the east gate during two times: 8:30-11:30; and 14:00-17:00. ID certificate used for reservation will be checked at the gate.

How to Get to Peking University
1. Take Subway Line 4 and get off at the East Gate of Peking University Station. Leave Subway Line via Exit A and walk to the west.
2. Take bus 307, 320, 355, 365, 498, 549, 579, 601, 614, 681, 982 and get off at Zhongguanyuan Station. Then walk to the north.
3. Take bus 331, 375, 438, 594, or take city sightseeing bus line 3 and get off at Zhongguanyuan North Station. Then walk to the south along the street.
Further Reading:
Top 10 Things to Do in Beijing in Winter
- Last updated on Feb. 22, 2022 -
Questions & Answers on Peking University
Asked by Kashia Hue from UNITED STATES | Nov. 11, 2019 04:38

Reply
Do I need to book an appointment of Peking University before visiting?
or can I visit during the two times?
Answers (1)
Answered by Kimi from SINGAPORE | Nov. 12, 2019 19:57

0

0

Reply
Yes, you must book an appointment nowadays. However, the booking page only has Chinese version.