Top Xian Attractions
More Things to Do
Top 10 City Tours
Xian One Day Tours -

100% No Shopping Stops
Being a must-see destination in China, Xian is rich in the cultural and historical relics and sites, among which the Terracotta Warriors catch the attention of the world. In our mini group and private Xian day tour packages, you will be led to wonder at the essence of this ancient capital including Warriors, City Wall, History Museum, Big Wild Goose Pagoda, Great Mosque, Mt. Huashan and more.
Xian Mini Group Day Tours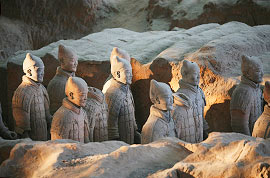 Terracotta Army + Small Wild Goose Pagoda + City Wall
No shopping promise & free cancellation 24 hours before
A group of 1 to 6 travelers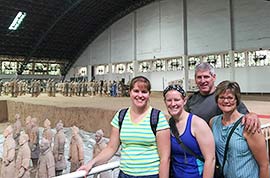 This half day Xian mini group trip focuses on the essence of this ancient capital - Terracotta Warriors and Horses Museum. A perfect group size with on more than 6 people ensures you a great experience. Expert English speaking guide, skip the line, no shops!
Xian Private One Day Tours
Tailor Your Xian Private Day Tour
Friendly Travel Tips
Our Xian private day tours are quite flexible and can be customized to meet any of your particular interests, such as pick-up point, tour plans and sightseeing duration, etc. We are always ready to tailor an exclusive private tour for you.
In addition to the major attractions, we can also arrange various DIY activities, such as making small clay warriors, learning about Chinese food cooking in local family home, learning to write Chinese characters and more. If you are interested, you can contact your travel consultant in advance.
Except for Chinese official holidays, Shaanxi History Museum is usually closed on Mondays, while the Small Wild Goose Pagoda doesn't open up on Tuesdays. If your trip happens to meet those days, our travel consultant will recommend other sightworthy spots to meet your interests.
Here is some info about transportation for your reference, if you get to Xian by flight or high speed train.

Xian Xianyang International Airport is located 47 km (about 29 miles) to the city center, and around 70 km to the Terracotta Warriors Museum. It takes around 1 hour driving from the airport to the downtown and 1.5 hours to the museum.

Xian North Railway station is about 14 km (8.7 miles) from the city center, 40 minutes driving by car; about 50 km (31 miles) from the Terracotta Warriors, 1 hour driving time.
7-Day Xian Weather Forecast
FAQs on Terracotta Warriors Tours

How far is Terracotta Warriors from Beijing, Shanghai, Guangzhou and Hong Kong?
For the distance, it is around 683.5 miles (1,100km) from Beijing, 932 miles (1,500km) from Shanghai, 1118 miles (1,800km) from Guangzhou and 1,180 miles (1900km) from HK.
Traveling time from different cities for reference:
| | Beijing | Shanghai | Guangzhou | Hong Kong |
| --- | --- | --- | --- | --- |
| Bullet Train + Tourism Bus | 6.5 h | 12 h | 10 h | -- |
| Overnight Train + Tourism Bus | 13 h | 16 - 21h | 29h | -- |
| Flight + Tourism Bus | 4h | 4h 40min | 4h 40min | 5h by direct flight |

How to travel from Beijing to Terracotta by train? Can I make a one day Terracotta Warriors tour from Beijing?
Travelers go to Xian by a bullet train in around 5.5 hours or an overnight train in around 12 hours and then use free shuttle bus or Tourism Bus Line 5 (306) to the museum.
A one day trip is available, since overnight trains are available between the two cites. One can use overnight trains such as Z19 2040/0831+1 between the cities or take flight CA1231 0735/0945, and then spend a whole day to the museum by tourism bus or just join a day trip for visiting.

How to get to Terracotta Warriors from Shanghai and Guangzhou? A one day-trip is possible?
From Shanghai: the fastest way is to fly to Xian, such as CZ9097 0645/0925 and then start your trip, while the budget solution is to take an overnight train such as T116 1533/0812+1 and then use tourism bus line 5 to the museum. Both of the two ways can let you finish visiting in one day.
From Guangzhou: it is suggested to fly to Xian and use taxi or a day trip to the museum. Or you can take the airport shuttle bus to local Railway Station, where you can find the tourism bus to there. Time is a little bit tight for a one day visit.

How to get to Terracotta from Hong Kong?
The best option is flying to Xian. You can take flight KA946 1205/1450, MU224 1435/1645 or MU204 1435/1705 from Hong Kong. Since it is late to go to visit the Terracotta Warrior when you arrive at the Airport, we kindly suggest you stay one night in Xian. To get to the Terracotta Museum, you can go to the east square of the Railway Station and take tourist bus No.5. The bus ride takes around one hour.