Beijing Olympic Park (Olympic Green)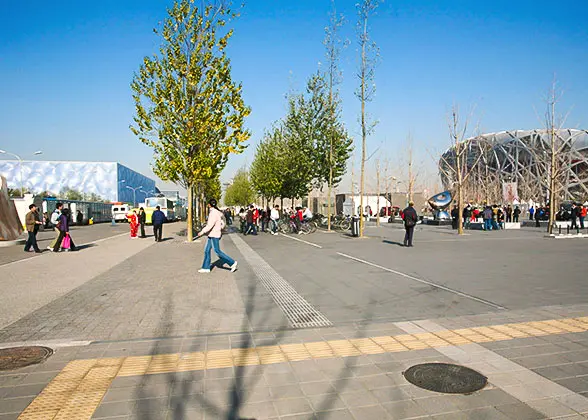 Beijing Olympic Park is where the
2008 Beijing Olympic Games
and Paralympics took place. It occupies a total area of 2,864 acres (1,159 hectares), of which 1,680 acres (680 hectares) in the north are covered by the Olympic Forest Park, 778 acres (315 hectares) make up the central section, and 405 acres (164 hectares) in the south are scattered with venues for the 1990 Asian Games. The park was designed to contain ten venues, the Olympic Village, and other supporting facilities. Afterward, it was transformed into a comprehensive multifunctional activity center for the public.
The Central Section - Bird's Nest and Water Cube
As the primary section of the Olympic Park, this section has many important venues and landmark structures. In the northwestern corner, there is the Olympic Village, while in the southern part, you can see the
National Stadium
(Bird's Nest),
Aquatics Center
(Water Cube), Convention Center, Indoor Stadium, and the
China Science and Technology Museum
. Traveling in this section, you can still feel the spirit of competition and friendliness.
With an overall height of 433 feet (132 meters), Ling Long Tower is the highest building in the Olympic Park and functioned as the International Broadcasting Corporation during the games. When night falls, it looks extremely charming with colored lights changing alternatively. To the south of Ling Long Tower lies the National Stadium where the opening and closing ceremonies of the 2008 Games were held. As the centerpiece of this park, the stadium covers an area of 2,195,838 square feet (204,000 square meters) and can hold 91,000 people. It takes the shape of a bird's nest, which resembles a cradle for breeding lives, symbolizing mankind's hope for the future. The unique structure of Bird's Nest is of great value both in terms of art and architecture.
| | |
| --- | --- |
| National Stadium (Bird's Nest ) | National Indoor Stadium |
Not far from the Bird's Nest, there is the National Aquatics Center, also known as Water Cube. Its creative design concept is originated from the arrangement pattern of cells and natural structure of soap bubbles. The huge square box was produced by combining modern technologies with traditional Chinese culture. In the past, Chinese ancestors believed that the sky is round while the earth is square, and that is the way nature keeps harmonious. The square Water Cube together with the round Bird's Nest, embody and interpret this idea very well.

Located in the north of Kehui Road, the Forest Park is seen as the terminal point of Beijing's central axis. It is divided by the Fifth Ring Road into two zones, the Southern Garden and the Northern Garden. The Southern Garden is characterized by a grand artificial landscape with the Aohai Sea and Yangshan Mountain built with traditional technologies of classical garden construction. In contrast, the Northern Garden with vast vegetation is more close to nature. An expressway that crosses over the Fifth Ring Road makes an ecological corridor between the two districts.
Outside the south gate of the forest park, the Sightseeing Tower is erected. As the 6th tallest sightseeing tower in China, it is composed of five independent towers, among which the highest is 810 feet (246.8 meters) in height. The five towers are built on steel frameworks and arranged orderly in the pattern of the five Olympic rings. From a distance, the towers look like nails, hence the nickname Giant Nails. Visitors can have a bird's eye view of the whole park from the top of the tower.
The Southern Section - Former Sports Center and China Ethnic Culture Park
As the former National Olympic Sports Center, all the venues within this section were used for the 1990 Asian Games, including the stadium, gymnasium, and Yingdong Natatorium. Besides the Sports Center, there is the
China Ethnic Culture Park
(China Ethnic Museum). It collects and displays cultural relics of the 56 ethnic groups of China. Visitors can learn more about ethnic culture and spend a fine day taking part in the diverse festivals. In addition to these venues and the museum, there is a parcel of land that is to be developed into cultural and business districts in the future.
With novel design concepts, magnificent landmark buildings, and splendid natural landscapes, the Olympic Park successfully integrates sport with nature, providing a model for the mutual development of man and nature.
How to get to the Olympic Park

By Subway:
1. Take
Subway Line 8
and get off at Lincuiqiao, Senlin Gongyuan Nanmen (Forest Park South Gate), Aolin Pike Gongyuan (Olympic Park), Aoti Zhongxin (Olympic Sports Center) or Beitucheng Station. (Note: Lincuiqiao Station is close to the west gate of the Olympic Forest Park and Beitucheng Station is near the China Ethnic Culture Park.)
2. Take
Subway Line 15
and get off at Olympic Park Station.
3. Take
Subway Line 10
and get off at Beitucheng Station.

By Bus:
1. Take bus 82, 419, 538, or 645 and get off at Guojia Tiyuchang Dong (Bird's Nest) Station.
2. Take bus 81, 82, 86, 143, 145, 510 or 607 and get off at Guojia Tiyuguan (National Indoor Stadium) Station.
3. Take bus 81, 379, 510 or Zhuan 44 and get off at Subway Lincuiqiao Station or Aolin Chuntian Xiaoqu Station to go to the Forest Park. Enter from the west gate of the Northern Garden of the Forest Park.
Beijing Bus / Subway Search
Attractions
Admission Fee
Opening Hours
National Stadium
CNY 100
Free for children under 1.2m (3.9 ft) and the old over 65
10:00 - 22:00
National Aquatics Center
CNY 30
Free for children under 1.2m (3.9 ft) and the old over 70
9:30 - 19:30
Olympic Forest Park
Free
March 15 to November 15: 6:00 – 21:00
November 16 to next March 14: 7:00 – 19:00
China Science and Technology Museum
CNY 30
Free for children under 1.3m (4.3ft) or under 8, and the old over 60
9:30 to 17:00 (closed on Mondays)
China Ethnic Culture Park
Apr. 1 - Oct. 31: CNY 60
Nov. 1 - Mar. 31: CNY 45
8:30-18:00

Further Reading:
Where to Go in Beijing in Spring - Top 10 Destinations
Top 10 Things to Do in Beijing in Winter
12 Free Things to Do in Beijing
- Last updated on Sep. 07, 2023 by Gabby Li -
Questions & Answers on Beijing Olympic Park
Asked by Gerald from NEW ZEALAND | Sep. 07, 2023 03:26

Reply
Tour questions
Can you please advise what days the Birds Nest is open for tours?

Are tourists allowed to go up to the platforms on the towers too? Is this an additional cost?

And can you purchase tickets on the day at the park?

Thank you for your time
Answers (1)
Answered by Molly | Sep. 07, 2023 20:12

0

0

Reply
1. Generally, it is open every day except when there are actvities or conventions.

2. Yes, they are and there is no extra cost.

3. Yes, you can buy tickets at the spot.
Asked by Ahmed from IDRIS | Oct. 21, 2017 01:29

Reply
How to get to Olympic Green Station from Wu Dao Kou?
Answers (1)
Answered by Helen from SINGAPORE | Oct. 22, 2017 21:20

0

0

Reply
Subway will help. You can walk from Wudaokou to Qinghuadonglu Xikou station within 10min to take subway line 15 to Olympic Green directly.

If you prefer bus, walk to West Zhanchunyuan Road and take bus no. 311 to Walinankou. Then walk to your destination in 3h.
Asked by red from PHILIPPINES | Mar. 01, 2016 11:55

Reply
How to get from Great Wall Mutianyu to Olympic Park?
Thanks in advance
Answers (5)
Answered by Angela from ITALY | Mar. 01, 2016 21:34

0

0

Reply
Take bus line h23 or h36 from Mutianyu Roundabout to Huairou North Avenue. Then, take bus line 916 to Houshayu Station. Afterwards, take metro line 15 from Houshayu Station to the park. :)
Answered by timo from RUSSIA | Apr. 28, 2016 13:27

1

0

Reply
Hey!
I've got a bit confused...
How does a "h" bus look like?
Does it say h26 on the bus, is it a green bus?
Answered by Angela | Apr. 28, 2016 22:03

0

0

Reply
Well, I remember that the bus is white or yellow. And you can see the H26 printed on the bus. The pick-up stationi is Mutianyu Roundabout. :)
Answered by Grace from INDONESIA | Sep. 29, 2016 03:32

0

0

Reply
How long will it take from Mutianyu to Olympic park? Saw in Google, it might take 5 hours?? O.o"
Answered by Angela | Sep. 29, 2016 03:36

0

0

Reply
The whole trip takes about 2 hours, not 5 hours. Don't worry!