National Aquatics Center (Water Cube)
Located on the west side of Landscape Avenue in the
Olympic Green
and to the west of
National Stadium
(Bird's Nest) in Beijing, the National Aquatics Center contains the official 2008 Olympics swimming facility. The construction started on December 24th, 2003 and was finished on January 1st, 2008. It measures 177 meters (194 yards) long, 177meters wide, and 30 meters (98 feet) high and covers an area of 62,950 sq meters (75,287 sq yard). It has four floors: one at street level, two above, and one below. Its floor space reaches 79,532 sq meters (95,119 sq yard), while the below street level area is no less than 15,000 sq meters (17,939 sq yard). The one below served as the service area during the Olympics. The first floor is for tourists. The auditorium is on the second floor with 6,000 fixed seats (2,000 of which are movable), and 11,000 temporary seats. The third floor is strictly for business.

Design Idea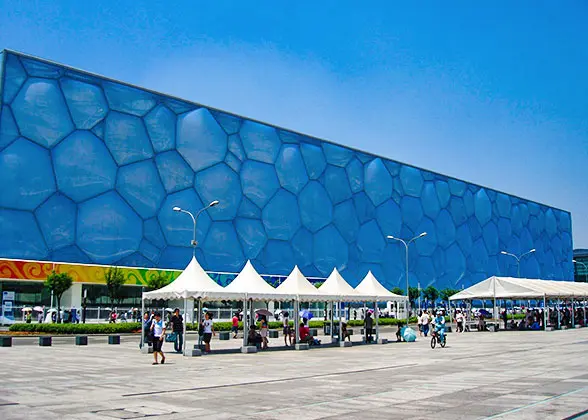 National Aquatics Center
The design of National Aquatics Center combines modern technologies with Chinese traditional values. In tradition, Chinese conceptualized a square Earth and a round Heaven, and this formed the design's central theme. Moreover, the cube shape dominates ancient urban buildings. Its design is of traditional style to meet all its functional requirements.
The Blend of Architecture & Advanced Technology
Designed by Chinese and Australian, the National Aquatics Center is the first building in the world built upon "the soap bubble" theory, and sports a polyhedral steel-framed structure.
The ETFE (the ethylene-tetrafluoroethylene copolymer) membrane insulates it. This advanced membrane structure is formed by 3,065 bubble-like pneumatic cushions of all sizes. It becomes the first large-scale public project coated with the membrane, and it also has set up a new world record for its massive deployment.
The National Aquatics Center looks like a huge blue box, from which it takes its nickname: the Water Cube. It is blue in order to reflect sunlight. It shines in the sunlight like a pearl in water. From the inside, you may discover that the pneumatic cushions of all sizes are just like sea bubbles.
Various high technology and green technology are present in its construction. Popular Science magazine chose it the Best of What's New of 2006.
| | |
| --- | --- |
| Swimming Pool | Inside Water Cube |

Post-Games Uses
During the
2008 Olympic Games
, the National Aquatics Center hosted swimming, diving, and synchronized swimming competitions. After the Games, it turns into the international advanced center of swimming, sports, health-building services, and leisure activities.
In 2022, it will be the venue of curling competitions during the
Winter Olympic Games
.

Functional Zones inside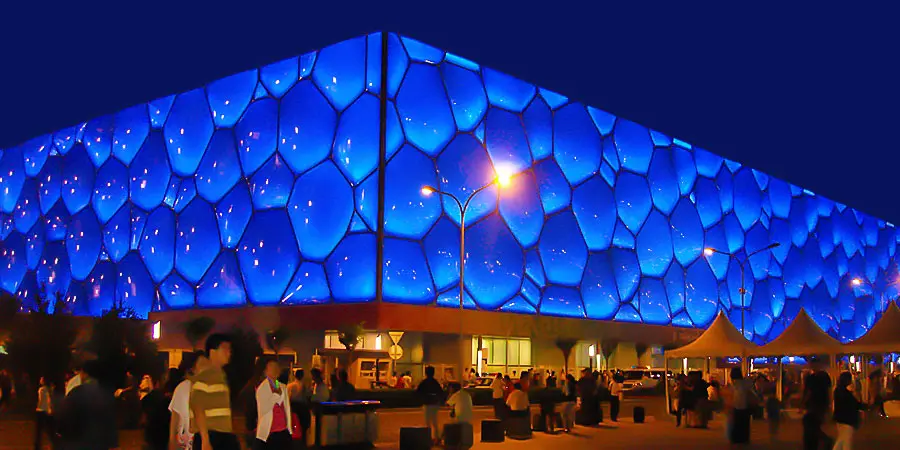 Water Cube at Night
The Water World
You will be charmed by the Water World. You want to make a long pause.
The Watercube Waterpark
Open on August 8, 2010, this themed indoor waterpark is open after ten month's renovation. It is in the south part of the aquatics center. There are various of places inside the park to have fun: Tornado Rides, Bulletbowl, AquaLoop, Speedslide, Kid's Pool, Ride House, Pipeline, Wave Pool, Spa Pool, Lazy River and Passion for Stage.
The SPA Zone
The SPA zone is equipped with international advanced SPA facilities and technology. It is a good place to relax.
Restaurants and Bars
Restaurants and Bars share the characteristics of its design. You can enjoy gourmet meals in water-theme restaurants.
The Business Section
Wandering in the business section, you can see various souvenirs. You will also know more about it and swimming events in the Olympic Games here, and the latest information about water.
Transportation:
By Bus:
1. Take bus 510, 81, 607, 82 and get off at Beichenxi Qiao Bei Station;
2. Take bus 386, 407, 645, 658, 660, 689, 753, 944, 983 or Yuntong 113 and get off at Beichen Qiao Xi Station;
3. Take bus Zhuan 311, 328, 379, 484, 594, 617, 751, 913, Yuntong 110 or Zhuan 40 and get off at Wali Nankou Station.
By Subway:
1.
Subway line 8
: get off at Olympic Sports Center Station
2.
Subway line 10
: get off at Beitucheng Station, transfer to subway line 8 and get off at Olympic Sports Center Station

Beijing Bus / Subway Search
Fees:
Admission Fee: CNY 30
Swimming in the training pool: CNY 50
Swimming Hours:
May to October: 12:30-21:00 from Monday to Friday, 09:00 - 21:00 from Saturday to Sunday
November to next April: 12:00 to 20:00 from Monday to Friday, 09:00 to 20:00 from Saturday to Sunday
Opening Hours:
May to October: 9:00-20:00;
November to next April: 9:00-18:00
2015 Ticket prices for the Waterpark:
Items
Categories and Dates
Ticket Fare
Notes for use
Full price ticket
VIP
May 24 to December 31
CNY480
For adults and children (equal to or above 1.5 meters)
Category A
May31 to June 2, June 13 to August 31, October 1 to 7
CNY260
Category B
May 24 to May 30, June 3 to June 12, September 1 to 30, October 8 to December 31
CNY200
Concessionary ticket
VIP
May 24 to December 31
CNY380
For children (equal to or above 1.2 meters but below 1.5 meters)
Category A
May31 to June 2, June 13 to August 31, October 1 to 7
CNY220
Category B
May 24 to May 30, June 3 to June 12, September 1 to 30, October 8 to December 31
CNY180
Night ticket
June 13 to August 31
CNY220
For adults and children (equal to or above 1.2 meters)
Free ticket
May 24 to December 31
Free of charge
For children below 1.2 meters
Opening Hours
May 24 to June 12: 10:00-19:00
June 13 to August 31: 10:00-22:00
September 1 to December 31: 10:00-19:00

Ticket sales opened from 09:00 to 16:30.s

Recommended Nearby Attractions:
Beijing Olympic Forest Park

China Science and Technology Museum

Chinese Ethnic Culture Park
(China Ethnic Museum)

Recommended Itinerary:
Beijing One Day Tour
: Tiananmen Square - Forbidden City - Summer Palace - Olympic Green - Bird's Nest - Water Cube
More
Beijing Tours
Print