Chinese Ethnic Culture Park (China Ethnic Museum)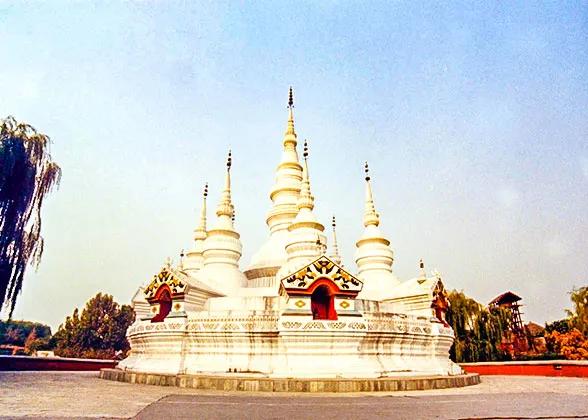 China is the home to 56 ethnic groups. Various ethnic groups present different kinds of living styles and customs, all contributing to China's vibrant culture. Located in the southern section of Olympic Park, the Ethnic Culture Park is a large culture base combining an introduction to culture, singing and dancing performances, traditional housing and art and craft while providing the opportunity to experience ethnic flavored cooking of 56 ethnic groups.
The park has already completed displays for over 40 ethnic groups. A large number of ethnic culture relics and articles from daily use are exhibited in order to reflect authentic living conditions of each ethnic group. For example, the building of Han People, the largest ethnic group at home and abroad, is a cave-house composed of three courtyards. It is a typical Han cave found within Mizhi County of Shaanxi Province in Qing Dynasty (1644-1911). Tibetan Museum exhibits typical houses of the Khamba area, a display of Sutra Chanting Hall of the Jokhang Temple, daily-use articles of Tibetan People and many beautiful Tibetan pictures. You can also watch Tibetan-style singing and dancing performances drink buttered tea and sew Pulu (a handmade woolen product used for making clothes and carpet and often present at ceremonies).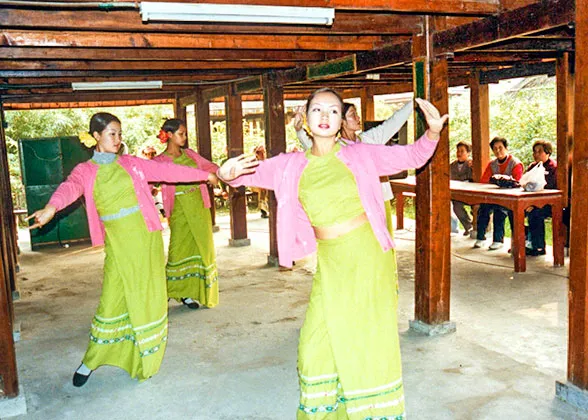 There are many attractive scenic spots in the park. The big banyan tree symbolizes the 56 ethnic groups banding together. The Ethnic Bridge which connects the north and south park adopts the architectural styles of Bai, Dong and Zang People. The Tenggeli Waterfall which falls from 161-feet high is the biggest man-made waterfall in China. Many typical ethnic architectural styles are available for viewing. Examples include the Tu People's stilt-house, Mosuo People's wooden house, Hui People's cave house and Li People's ship-shaped house. Hundreds of young men from a range of ethnic groups gather together and proudly be the guide to introduce their own culture. The park also holds ethnic groups' festivals and invites visitors to join in. The Water-Splashing Festival of the Dai People, the Mongolian's Nadam Fair, the Lisu People's Knife-Pole Festival, Miao People's Sister Festival and Yugur's Harvest Festival win much applause from visitors.

A brook murmurs through little bridges, flowers bloom in the sun, birds sing on the trees while rice and wheat send out fresh fragrance. Strolling in the park you can feel the strong flavor of the Chinese ethnic groups. It is really a good place to refresh your mind and relax.



Selected Serial Ethnic Minority Culture Exibitions:
Qiang Minority: traditional residence, Qionglong (watch tower residence);
Tu Minority: items in daily use exhibition, photos, and water mill imitation
Wa Monirity: wodden drum house
Miao Minority: traditional residence, Nuo Opera Hall
Dai Minority: traditional residence exhibition, Manfeilong Stupa, Vietnamnese temple Hinayana Buddism culture display, Water-splashing Dragon Pavilion, Telephone Well
Sala Minority: old Islamic Xuanli Tower, Liba residential house made of wood, earth and stone
Bai Minority: Bai traditional courtyard made of three rooms and a screan wall, new wedding room for the new couple, Tie-tyeing work house and room for the senior
Naxi Minority: Dongba Palace reconstitute, Naxi square street
Tujia Minority: hand-waving hall, Tujia Hualou - suspending wooden building with 9 pillars and exquisite wood carvings on pillars, beams, windows, doors, etc.



Performance Timetable (June 1, 2016 to August 31, 2016)
| Performance | Time | Place |
| --- | --- | --- |
| National Flag Raising-up Ceremony / Guest-greeting Song and Dance | 08:40-08:50 | Rongshu Square |
| Song and Dance of Dai Ethnic Style / Water-Splashing Game | 11:00-11:30, 15:00-15:30 | Dai Museum |
| Ethnic Intangible Heritage Exhibition | 13:50-14:20 | Main Exhibition Hall in South Park |
| Ethnic Groups Dancing Party | 16:50-17:10 | Tibetan Museum |

Performance Hours in Each Ethnic Museum
From June 1 to August 31, 2016, visitors can go the museums below at the designated time schedule to enjoy ethnic dance and song performances, folk art exhibitions, and little games.
| | | | |
| --- | --- | --- | --- |
| Tibetan Museum | 09:00-09:20 | 13:20-13:40 | 15:40-16:00 |
| Qiang Museum | 09:30-09:50 | 12:50-13:10 | 16:10-16:30 |
| Tu Museum | 10:00-10:20 | 12:20-12:40 | 16:50-17:10 |
| Dai Museum | 11:00-11:30 | 15:00-15:30 | 16:30-16:50 |
| Miao Museum | 10:35-10:50 | 14:00-14:15 | - |
| Dong Museum | 10:10-10:30 | 14:30-14:50 | 16:00-16:20 |
| Bai Museum | 10:30-10:50 | 12:50-13:10 | 16:30-16:50 |
| Tujia Museum | 09:50-10:10 | 13:20-13:40 | 15:30-15:50 |
| Mogonlian Museum | 09:30-09:50 | 14:30-14:50 | 16:40-17:00 |
| Naxi Museum | 10:00-10:20 | 15:00-15:20 | 16:00-16:20 |

Transportation:
By Bus:
Bus 607 and get off at Min Zu Yuan Lu;
Bus 113, 55 at Min Zu Yuan Xi Lu;
Bus 407 and 607 at Zhong Hua Min Zu Yuan


Beijing Bus / Subway Search
Buy Subway:
Subway Line 8: get off at Olympic Sports Center Station and get out of the station from Exit D (southwest exit); or get off at Beitucheng Station and get out of the station from Exit B (northeast exit).
Subway Line 10: get off at Beitucheng Station and get out of the station from Exit B (northeast exit).



Travel Tips:
Admission Fee:
CNY 90 (Through Ticket); CNY 45 (every Monday since March 15, 2016)
Note: Performances are canceled every Monday.
Opening Hours:
08:30–18:00

Recommended Nearby Attractions:

National Stadium
(Bird's Nest)

National Aquatics Center
(Water Cube)
Olympic Forest Park

Yuan Dynasty Capital City Wall Site Park

Recommended Itineraries:
Beijing One Day Tour
: Panda House - Summer Palace - Yuanmingyuan - Peking University - Ethnic Culture Park
Olympic Bike Trip
: to Olympic Forest Park, Ethnic Museum and more
More
Beijing Tours