Beijing Botanical Garden
Beijing Botanical Garden is located between the Fragrant Hills Park (also called Xiangshan Park) and Jade Spring Hill (known as Yuquan Hill) in Haidian District. It is 15 miles (24 kilometers) far from downtown. In 1956, the project with a planned coverage of 4,000,000 square meters or nearly 1,000 acres was begun. Now, Beijing Botanical Garden has an open area of 500 acres (2,000,000 square meters). It consists of the Plant Exhibition Area, the Scenic Spot and the Historical Resorts, the Scientific Research Area and the Nature Reserve. 10,000 categories of plant with a population of 1.5 million plants are cultivated here, for which this one has been regarded as the biggest in north China so far.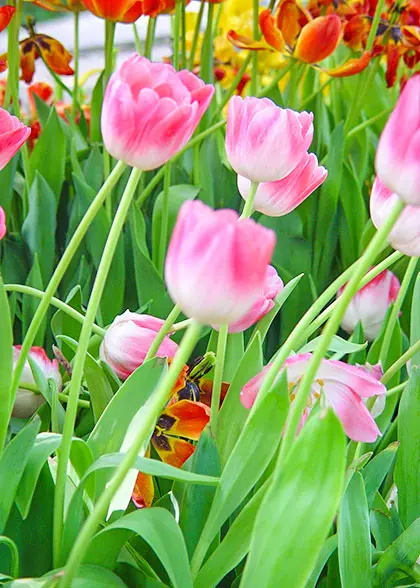 Plant Exhibition Area
The Plant Exhibition Area has four clear divisions. The Theme Gardens have 11 sub-divisions including Lilac Garden, Chinese Rose Garden, Flowering Peach Garden, Peony garden, and so on. The Arboretum Garden has Ginkgoaceae, Coniferales, Mapletrees, Basswood, Magnolia, Berberis, Lysidice and Paulownia.

The Plant Exhibition Area centers on a greenhouse which was open to the public in 2000. With floor space of nearly 2.5 acres (9,800 square meters), it enjoys the reputation of 'the biggest display greenhouse in Asia'. The Greenhouse Exhibition Area is divided into 4 parts: the Tropical Rain Forests Area, the Desert Plants Area, the Garden of Seasons and the Theme Exhibition Rooms. Plants of 3,100 varieties with population of 60,000 thrive in the greenhouse, including Lithops, pencil bush and cymbidiums. It makes the Greenhouse an important base for scientific education and research.

Historical Resorts
In the natural and historical resort, there are the Wofo Temple, the Liang Qichao's Tomb (1873–1929, a Chinese scholar, philosopher, journalist and reformist in the late Qing Dynasty 1616 - 1911), who inspired Chinese with his reform movement), the Memorial of Cao Xueqin (the Author of the literary work 'Story of the Stone'---one of the Four Great classical Chinese novels, The Cherry Valley (one of the gardens in the Beijing countryside), the Commemorating Booth of 'December Ninth's Movement' (a student demonstration in 1935, under the organization of Chinese Communists) and the Sites of Longjiao Temple (an ancient Buddhist temple).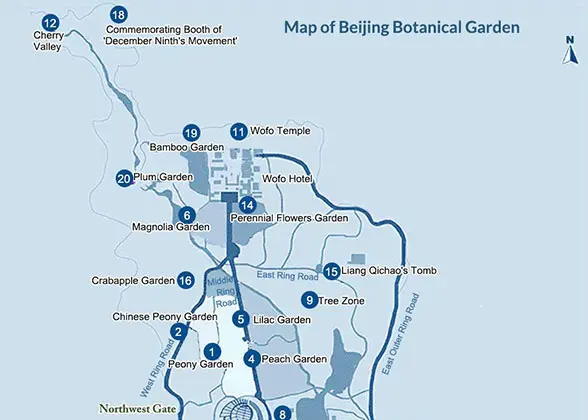 Map of Beijing Botanical Garden
How to get to Beijing Botanical Garden

By Subway:
1. Take
line 10
to Bagou Station. Then transfer to
Western Suburban Line
and get off at Zhiwuyuan Station directly.
2. Take
line 4
and get off at Beigongmen Station. Get out from Exit A and transfer to bus 331 or 563, and get off at Zhiwuyuan Nanmen (the south gate of Beijing Botanical Garden) Station.
3. Take
line 1
and get off at Pingguoyuan Station. Get out from Exit C and transfer to bus Yuntong 112 and get off at Zhiwuyuan Nanmen Station.

By Bus:
1. Take bus 331, 505, 563, or Yuntong 112 and get off at Zhiwuyuan Nanmen Station or Wofo Si (Wofo Temple) Station.
2. Take bus 318, 360, 630, or 698 and get off at Zhiwuyuan (Botanical Garden) Station.
Beijing Bus / Subway Search
Site
Ticket Price
Opening Hours
Apr. 1 to Nov. 15
Nov. 16 to Mar. 31
Botanical Garden
CNY 5
6:00 - 21:00
7:00 - 19:00
Greenhouse
CNY 50
8:30 - 16:30
8:30 - 16:00
Wofo Temple
CNY 5
8:30 - 16:30
8:30 - 16:00
Cao Xueqin Memorial Hall
(Closed every Monday)
Free
8:30 - 16:30
9:00 - 16:00
Note:
1. Combo Ticket: CNY 50 for Botanical Garden + Greenhouse + Wofo Temple
2. Free for children under 3.9 feet (1.2m).
3. The best time to visit is from March to June, when many flowers are in blossom.

Suggested Itineraries:
Beijing 1-Day Tour: to Beijing Fragrant Hills Park, Botanical Garden and Wofo Temple
Cycle from Fuxing Gate to Fragrant Hills: starting from Military Museum to Beijing Botanical Garden and Fragrant Hills Park
More Beijing Tours
Print