China Weather in May
May is the last month of springin China with pleasant weather.The temperature goes up quickly and it is becoming warmer and warmer and the rainy season does not come yet. Generally, it is one of the best months to travel throughout China.


The coldest cities in China in May:
Harbin: 8°C (46 °F), Changchun: 9°C(48 °F), Yinchuan: 10°C (50°F), Hohhot: 8°C (46 °F)


The hottest cities in China in May:
Sanya: 32°C (90 °F), Nanjing: 32°C (90 °F), Wuhan: 33°C (91 °F), Chongqing:34°C (93 °F)

See more:
Spring in China – Weather & Tour Tips
Averages for China Weather in May

25°C (77°F)

14°C (57°F)

Rainfall
101 mm (4 in)

Sunrise
04:48 ~ 05:15

Sunset
19:09 ~ 19:37
The times for sunrise and sunset are based on Beijing.
China Temperatures in May
Clothes to wear in China in Mayare mainly decided by where you go. The temperature of southern China goes up more quickly than that of northern China and people may feel hot in some southern cities, such as Guangzhou and Hong Kong, so they can consider wearingthe T-shirt, dress and shorts; people may feel warm or cool in some northern cities, such as Beijing, so blouse, shirt and light pants are necessary, especially at night. What to wear in China in May is subject to the weather condition.


May Travel Guide - Where to Go & Tips
Tourism Rate: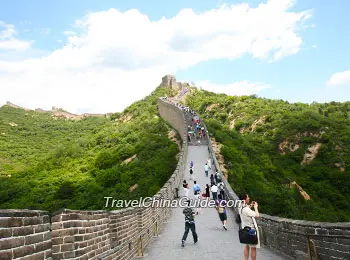 Beijing Badaling Great Wall in May
May is a don't-miss and no-limit month that you can choose to travel to China due to its pleasant climate. Guilin, Beijing, Xi'an, Chengdu, Chongqing, Yunnan, Luoyang… are nice destinations to choose for a visit in such comfortable May. You can appreciate thegorgeous Karst peaks, clear water and rice paddies on the cruise ship of
Li River
from Guilin to Yangshuo or get the full green view when standing on
Great Wall
in Beijing. Strolling in the traditional classical garden -
Yuyuan Garden
in Shanghai or walking along the
Ancient City Wall
in Xi'an, one can learn rich culture of China. In Chengdu or Chongqing, you can have a full taste of various local delicate foods and have close encounters with the cute pandas.
Beijing & Northeast China
Major Destinations: Beijing, Tianjin, Harbin, Dalian, Shenyang, Inner Mongolia…
Temperatures: 14 - 26°C (57 - 79°F)

The weather in May in Northeast China is neither too hot nor too cold in the daytime with less rainfall. In Beijing, you can ascend the Great Wall to see the vibrant spring scenery full of green grass and wild flowers on the mountains; or relax yourself by boating on the
Kunming Lake
in the
Summer Palace
and watch the locals do morning exercise in
Temple of Heaven
. In Dalian, you can take a sea voyage to see gulls…
Clothing: shirt, thin jacket, light pants…

Major Destinations: Shanghai, Hangzhou, Suzhou, Nanjing, Huangshan (Yellow Mountain), Nanchang, Fujian, Shandong…
Temperatures: 16 - 23°C (61- 73°F)

There are more rainy days in this month and remember to take an umbrella with you when traveling outside. But you won't feel cold even if it rains. When it is sunny, you can do more outdoor activities, such as appreciating the exotic buildings in
the Bund
of Shanghai, beautiful traditional gardens in Suzhou and ancient water towns in
Yangtze River
delta. One of the must-see places is
Yellow Mountain
with the new green.
Clothing: T-shirts, dress, light trousers, jacket…

Major Destinations: Xi'an, Chengdu, Luoyang, Zhangjiajie, Wuhan, Yangtze River…
Temperatures: 18 - 26°C (64 - 79°F)

With less rainfall and comfortable China climate in May, travel to the Central China is quite worthwhile in this month. You can climb the Mount Huashan or visit Terracotta Army in Xi'an, taste the delicacies in Chengdu, visit
Zhangjiajie National Forest Park
or
Leshan Giant Buddha
in Sichuan or take a Yangtze River cruise to see the amazing scenery along its three gorges.
Clothing: blouse, shirt, T-shirts, shorts, thin jacket, light trousers…
| | |
| --- | --- |
| Yangtze River Cruise | Terracotta Army in Xi'an |
Major Destinations: Guilin, Hong Kong, Guangzhou, Yunnan, Guizhou, Hainan…
Temperatures: 20 - 27°C (68 - 81°F)

Actually, the temperatures in May in South China are high at daytime, even up to 30°C (86 °F) or so, and people even feel a little hot, like in early summer. There are so many tourism resources in this region that are suitable to be visited in May, such as the Li River and
Longji Rice Terraces
in Guangxi,
Disneyland
in Hong Kong,
Erhai Lake
and
Lijiang Ancient Town
in Yunnan…
Clothing: T-shirts, shorts, lightpants, dress…

Major Destinations: Tibet, Xinjiang, Gansu, Qinghai…
Temperatures: 6 - 20°C (43 - 68°F)

With warm sunshine you won't feel hot in May in West China, so it is one of the suitable months to take a tour to western areas or cities; there is a big temperature difference between day and night so remember to take different clothes with you. Why not see the blue sky, green grass, colorful flowers and clear water in this region?
Namtso Lake
and Everest Base Camp in Tibet,
Qinghai Lake
… are all great choices.
Clothing: windbreaker, thin sweater, cap, sunglasses…

May Weather of Major Chinese Cities
May
Temperature
Sunrise / Sunset
Humidity
(%)

High

Low

Beijing

26°C / 79°F
14°C / 57°F

04:48/ 19:37
53

Changsha

26°C / 79°F
18°C / 64°F
05:31/ 19:20
52
Chengdu
26°C / 79°F
17°C / 63°F
06:02/ 20:01
75
Chongqing
27°C / 81°F
19°C / 66°F
05:55/ 19:49
78
Guangzhou
29°C / 84°F
23°C / 73°F
5:41/ 19:09
84
Guilin
27°C /81°F
20°C / 68°F
05:49/ 19:10
81
Guiyang
26°C / 79°F
18°C / 64°F
06:00/ 19:41
76
Hangzhou
26°C / 79°F
17°C / 63°F
04:19/ 18:56
76
Harbin
21°C / 70°F
8°C / 46°F
03:48/ 19:15
51
Hohhot
23°C / 73°F
8°C / 46°F
05:04/ 19:57
39
Hong Kong
29°C / 84°F
24°C / 75°F
05:39/ 19:03
82
Huangshan
15°C / 59°F
9°C / 48°F
05:06/ 19:01
80
Kunming
24°C / 75°F
14°C / 57°F
06:19/ 19:55
68
Lhasa
20°C / 68°F
6°C / 43°F
06:56/ 20:51
44
Lijiang
23°C / 73°F
11°C / 52°F
06:25/ 20:08
59
Luoyang
27°C / 81°F
15°C / 59°F
05:19/ 19:38
/
Nanjing
26°C / 79°F
16°C / 61°F
06:01/ 19:27
74
Pingyao
26°C / 79°F
10°C / 50°F
05:12/ 19:44
52
Qingdao
20°C / 68°F
13°C / 55°F
04:43/ 19:09
72
Sanya
32°C / 90°F
26°C / 79°F
06:05/ 19:14
/
Shanghai
24°C / 75°F
16°C / 61°F
04:51/ 18:53
74
Shenzhen
29°C / 84°F
23°C / 73°F
05:39/ 19:04
80
Suzhou
24°C / 75°F
16°C / 61°F
05:48/ 18:16
71
Tianjin
26°C / 79°F
15°C / 59°F
04:47/ 19:30
55
Urumqi
24°C / 75°F
12°C / 54°F
06:30/ 21:40
43
Wuhan
26°C / 79°F
18°C / 64°F
05:21/ 19:20
77
Xiamen
27°C / 81°F
20°C / 68°F
05:18/ 18:51
84
Xi'an
26°C / 79°F
14°C / 57°F
05:34/ 19:51
68
Zhangjiajie
27°C / 81°F
18°C / 64°F
05:40/ 19:32
77
Zhengzhou
27°C / 81°F
15°C /59 °F
05:13/ 19:32
62
- Last updated on Dec. 26, 2022 by Brenda Lian -