China Weather in March
March is the first month of spring in China. The China weather in March starts to become warm and rainfall begins to increase. The average temperature in most cities of China has risen to above zero. However, abrupt change from warmth to cold is a distinguishing feature of China climate in March and there is generally a big climate difference between North China and South China. In the Southern area like Kunming, some flowers have started to blossom while in some northern cities like Beijing, trees are just about to sprout.

The coldest cities in China in March:
Harbin: -10°C (14°F), Changchun: -8°C (17°F), Yinchuan: -2°C (28°F), Hohhot: -6 °C (21°F)


The hottest cities in China in March:
Sanya: 29°C (84°F), Beihai: 22°C (71°F), Guangzhou: 22°C (71°F), Fuzhou: 19°C (66°F)

See more:
Spring in China – Weather & Tour Tips
Averages for China Weather in March

13°C (37°F)

3°C (55°F)

Rainfall
46 mm (2 in)

Sunrise
06:00 ~ 06:48

Sunset
18:06 ~ 18:37
The times for sunrise and sunset are based on Beijing.
China Temperatures in March
Despite the rising temperature, the temperature difference in early spring is large and people should wear more in the morning and evening than during the day. In the daytime, you can wear warm trousers, sweater, and coat; at night, wearing long underwear, sweater, and thick overcoat are more suitable. Don't wear thin dress prematurely; otherwise it will cause arthritis and many other diseases. Spring clothes in March should be transited gradually, especially for young women. What to wear in China in March depends largely on the region you visit; for instance, people in some southern regions like Guangzhou have started to wear shirt.


March Travel Guide - Where to Go & Tips
Tourism Rate: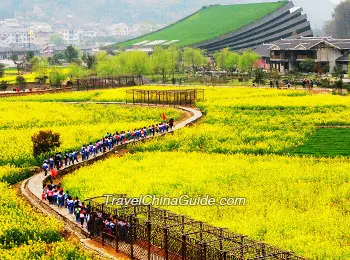 Blooming Rape Flowers in March
The north is still cold and windy in March every year, so it is a pretty time to visit south of the
Yangtze River
where it has been in enjoying the blooming spring days. It is the best time to appreciate the beautiful all over the mountains in Wuyuan or the great sight of the
Li River
in Guilin. The climate of March is changeable, so it is very important for tourists to know the weather of the travel destinations in advance. Wear clothes appropriately to keep healthy. Before you travel, be sure to keep a variety of medicines on hand to avoid emergencies during your trip.
Beijing & Northeast China
Major Destinations: Beijing, Tianjin, Harbin, Dalian, Shenyang, Inner Mongolia…
Temperatures: -2 – 10°C (28 – 50°F)

It is still cold in some parts of Northeast China in March. The temperature often plummets caused by the frequent activity of cold air from the Arctic Ocean. Some cities to the north of Beijing may suffer snow falls. It is also windy with blowing dust in Beijing so it is necessary to wear a gauze mask. Some indoor attractions are recommended to you:
National Art Museum
, the Water Cube and
Forbidden City
.
Clothing: wool overcoat, thick trousers, pants and socks, warm shoes

Major Destinations: Shanghai, Hangzhou, Suzhou, Nanjing, Huangshan (Yellow Mountain), Nanchang, Fujian, Shandong…
Temperatures: 3 – 14°C (37 – 57°F)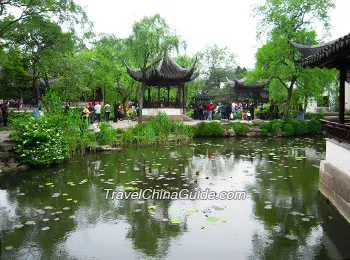 Humble Administrator's Garden in Suzhou
It is becoming warming and more humid because of the increase of rainfalls. But this region may be influenced by cold air and it is a little cold on some days. So pay attention to the weather forecast and wear the right clothes. March is the best time to visit Suzhou, where you can see Chinese classical gardens with thriving spring scenery.
Clothing: thick trousers, thin sweater, long sleeves, a windbreaker, umbrella

Major Destinations: Xi'an, Chengdu, Luoyang, Zhangjiajie, Wuhan, Yangtze River…
Temperatures: 2 – 12°C (36 – 54°F)

Generally, it is getting warmer and warmer day by day in March in Central China. But the cold air may return every now and then. It is a good time to see the pandas or taste delicious local street snacks in Chengdu, or see the cherry blossoming in Wuhan.

Clothing: thick coat, warm trousers, thin sweater, wind coat, pullover

Major Destinations: Guilin, Hong Kong, Guangzhou, Yunnan, Guizhou, Hainan…
Temperatures: 12 – 16℃(54 – 61°F)

Cruise along Li River in Guilin
In South China, the long-lasting rainy days cover nearly half the month, with less sunny days. Although the continuous rain brings a lot of inconvenience to travel, the green grass and colorful flowers are vibrant and attractive and it is also a good time to visit the scene of mountain and water hazy with mist in Guilin, or stroll around the
Dali Ancient Town
, Yunnan.
Clothing: thin coat, antiskid shoe, pullover, rain gear

Major Destinations: Tibet, Xinjiang, Gansu, Qinghai…
Temperatures: -3 - 10℃(27 – 50°F)

West China in March has the foggy days, rainy days, and even sometimes snow falls due to the high altitude in some areas. Dusty windy weather also may appear in this region influenced by its natural environment. But this shouldn't stop you attending the Peach Flower Festival in Nyingchi, Tibet. Large differences in temperature exist between day and night, so pay more attention to keeping warm against the cold.

Clothing: thick coat, wind breaker, thin sweater, jacket, sunglasses, hat
​March Weather of Major Chinese Cities
March
Sunrise / Sunset
Humidity
(%)
High

Low

12°C / 54°F
0°C / 32°F
06:00 / 18:37
46
Changsha

15°C / 59°F
6°C / 43°F
06:19 / 18:45
84
16°C / 61°F
8°C / 46°F

06:55 / 19:22

81
Chongqing

17°C / 63°F
11°C / 52°F
06:44 / 19:12
76
Guangzhou

21°C / 70°F
15°C / 59°F

06:20 / 18:42
82
16°C / 61°F

10°C / 50°F
79
Guiyang

15°C / 59°F
7°C / 45°F
06:45 / 19:09
76
Hangzhou

14°C / 57°F

6°C / 43°F

05:53 / 17:46
78
2°C / 36°F
-10°C / 14°F

05:16 / 18:00

56
Hohhot

7°C / 45°F
-6°C / 21°F
06:18 / 18:56
46
Hong Kong

21°C / 70°F
17°C / 63°F
06:17 / 18:38
81

Huangshan

6°C / 43°F

-1°C / 30°F
05:57 / 18:24
77
Kunming

21°C / 70°F
6°C / 43°F
07:02 / 19:26
58
13°C / 55°F

-2°C / 28°F
07:47 / 20:13
27
Lijiang

17°C / 63°F
5°C / 41°F
07:11 / 19:36
49
Luoyang
14°C / 57°F
3°C / 37°F
06:18 / 18:50
/
13°C / 55°F
5°C / 41°F
05:54 / 18:23
74
Pingyao

12°C / 54°F

-
1°C / 30°F

06:18 / 18:52
50
9°C / 48°F
2°C / 36°F
05:46 / 18:19
68

Sanya

29°C / 84°F

22°C / 72°F
06:37 / 18:55
/
Shanghai
13°C / 55°F

5°C / 41°F

05:45 / 18:13
78
23°C / 73°F
16°C / 61°F
06:17 / 18:39

78
Suzhou
13°C / 55°F

5°C / 41°F
05:48 / 18:16
72
Tianjin

12°C / 54°F

1°C / 34°F

05:57 / 18:33
53
Urumqi

3°C / 37°F

-5°C / 23°F
07:52 / 20:34
71
14°C / 57°F
7°C / 45°F
06:13 / 18:40
78
Xiamen

19°C / 66°F
12°C / 54°F
06:00 / 18:23
83
Xi'an

14°C / 57°F

4°C / 39°F
06:33 / 19:04
66
Zhangjiajie

15°C / 59°F

7°C / 45°F
06:29 / 18:55
75
Zhengzhou

14°C / 57°F

3°C / 37°F
06:13 / 18:45
62
- Last updated on Dec. 29, 2020 -