China Weather in June
China weather in June is hot as the summer starts. The summer monsoon is active which brings abundant moisture from the sea, increasing air humidity, and more rainfall. The southern cities in China enter the rainy season in this month.


The coldest cities in China in June:
Harbin: 15°C (59°F), Changchun: 15°C (59°F), Yinchuan: 15°C (59°F), Hohhot: 13°C (55°F)


The hottest cities in China in June:
Sanya: 32°C (90 °F), Nanjing: 32°C (90 °F), Wuhan: 33°C (91 °F), Chongqing:34°C (93 °F)

See more:
Summer in China – Weather & Tour Tips
Averages for China Weather in June

28°C (82°F)

18°C (64°F)

Rainfall
134 mm (5 in)

Sunrise
04:45 ~ 04:49

Sunset
19:37 ~ 19:47
The times for sunrise and sunset are based on Beijing.
China Temperatures in June
As we all know, summer begins in June and people feel hot in this season, so wear summer clothes include T-shirt, shorts, skirt, dress, sandals, slipper… At the same time, the sunhat, sunglasses, sun umbrella and sunblock are indispensable against the ultraviolet radiation. There may be rainy days in this month, so remember to prepare the rain gears, some topcoats and light pants when you do outdoor activities. What to wear in China in June mainly depends on the area or city you actually go to.


June Travel Guide - Where to Go & Tips
Tourism Rate: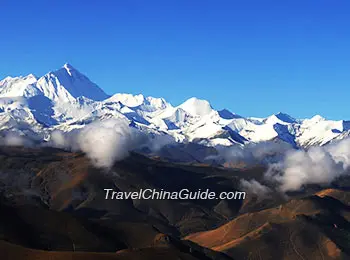 Mount Everest
Before the coming of crowd summer holiday crowd and China's hottest weather in July and August, June with a relatively comfortable climate, is one of the best months to travel to China. Where to go? Beijing, the capital of China, is rich in the natural and cultural tourism resources, such as the
Great Wall
, the
Forbidden City
, the
Summer Palace
… The crusie along
Yangtze River
and
Li River
cruise tours both are good experiences. You can also take a visit to
Terracotta Army
,
City Wall
, and
Mount Huashan
in Xi'an. In addition,
Xijiang Qianhu Miao Village
and
Huangguoshu Waterfall
in Guizhou are recommended to you, with picturesque natural scenery and mysterious minority culture. You can also climb
Mount Everest
in Tibet, or admire the beautiful lotus flowers on
West Lake
and the purple lavender world in Xinjiang.
Pay attention to the weather forecast due to the changeable summer climate, and remember to protect yourself from sunstroke and gastroenteritis.
See more
6 Best Destinations in June in China
China Regional Weather in June
Beijing & Northeast China
Major Destinations: Beijing, Tianjin, Harbin, Dalian, Shenyang, Inner Mongolia…
Temperatures: 18 - 30°C (64 - 86°F)

It is dry in Northeast China, and the temperature difference is a little large, cool in the morning and night but hot at noon. So you can make use of the morning time to climb the Great Wall in Beijing. For travelers from areas with high temperature, they may prefer the summer resorts, such as the Summer Palace in Beijing. The seaside city – Dalian is a good place to appreciate gulls.

Clothing: T-shirt, shorts, dress, hat, thin coat, light pants…

Major Destinations: Shanghai, Hangzhou, Suzhou, Nanjing, Huangshan (Yellow Mountain), Nanchang, Fujian, Shandong…
Temperatures: 20 - 28°C (68 - 82°F)

This region is right in the rainy season so the climate is hot and moist. Keep a close eye on the weather report and take an umbrella with you during the journey in East China. On the sunny days, the
Yellow Mountain
,
Wuzhen Water Town
, West Lake,
Yu Garden
… are good travel destinations that you can enjoy yourselves in this month.
Clothing: summer clothes, light coat, sneakers…

Major Destinations: Xi'an, Chengdu, Luoyang, Zhangjiajie, Wuhan, Yangtze River…
Temperatures: 20 - 28°C (68 - 82°F)

Clothing: summer clothes, light coat, sneakers
| | |
| --- | --- |
| Cute Pandas | Cruise on Yangtze River |
Major Destinations: Guilin, Hong Kong, Guangzhou, Yunnan, Guizhou, Hainan…
Temperatures:25 - 31°C (77 - 88°F)

Of all the regions, South China in this month has the most rainfall, even downpours and heavy storms. And typhoons also happen in some coastal cities or areas, such as Fujian, Guangdong… The heavy rain may cause flood and debris flow disasters in some mountainous areas. So pay more attention to the weather forecast and avoid going to the dangerous zones. In sunny days, you can do some outdoor activities, such as taking the Li River Cruise in Guilin or visiting Huangguoshu Waterfalls in Guizhou.
Clothing: summer clothes, light coat, sneakers

Major Destinations: Tibet, Xinjiang, Gansu, Qinghai…
Temperatures: 11 - 23°C (52 - 73°F)

Comparing with other regions, there is less rainfall in West China. Besides, people may feel cooler in this region due to the high altitude. Thus, June is one of the best months to hike in West China. You can climb the Mount Everest or walk around
Qinghai Lake
. Visiting the scenic sites in Xinjiang and Gansu along the ancient Silk Road is also a wonderful idea.
Clothing: light coat and pants, sneakers, hat, sunglasses, a warm jacket for the night…


June Weather of Major Chinese Cities
June
Sunrise / Sunset
Humidity
(%)
High

Low

30°C / 86°F

19°C / 66°F

04:45 / 19:47
61
Changsha

30°C / 86°F

22°C / 72°F
05:30 / 19:29

84
Chengdu

28°C / 82°F

21°C / 70°F
06:00 / 20:10
82
Chongqing

29°C / 84°F
22°C / 72°F
05:53 / 19:58

80
Guangzhou

32°C / 90°F
25°C / 77°F
05:41 / 19:17

84
Guilin
30°C / 86°F
23°C / 73°F
05:49 / 19:34

82
Guiyang
30°C / 86°F

21°C / 70°F
05:59 / 19:50

78
Hangzhou

29°C / 84°F

21°C / 70°F

04:57 / 19:05
81
26°C / 79°F
15°C / 59°F
03:43 / 19:28
65
Hohhot

27°C / 81°F

13°C / 55°F
05:00 / 20:08
47
Hong Kong

30°C / 86°F
27°C / 81°F

05:39 / 19:12
83
Huangshan

18°C / 64°F
13°C / 55°F

05:05 / 19:11
87
Kunming

24°C / 75°F
17°C / 63°F
06:18 / 20:03

78
Lhasa

23°C / 73°F
10°C / 50°F
06:55 / 21:00
51
Lijiang

24°C / 75°F

14°C / 57°F
06:24 / 20:17
73
Luoyang

32°C / 90°F
20°C / 68°F
05:16 / 19:47

/
Nanjing

21°C / 70°F

29°C / 84°F
04:57 / 19:15

78
Pingyao
30°C / 86°F

15°C / 59°F

05:10 / 19:55

/
Qingdao

24°C / 75°F
18°C / 64°F

04:40 / 19:19
82
Sanya

32°C / 90°F

26°C / 79°F

05:58 / 19:22
/
Shanghai

27°C / 81°F

20°C / 68°F
04:51 / 19:02
82
Shenzhen

31°C / 82°F
25°C / 77°F

05:38 / 19:12
80
Suzhou

27°C / 81°F

20°C / 68°F

04:53 / 19:06

77
Tianjin
30°C / 86°F

20°C / 68°F

04:44 / 19:41
64
Urumqi

16°C / 61°F

28°C / 82°F
06:26 / 21:55
43
Wuhan

30°C / 86°F

22°C / 72°F

05:20 / 19:29
80
Xiamen

30°C / 86°F
24°C / 75°F

05:18 / 19:00
85
Xi'an

31°C / 88°F
19°C / 66°F
05:34 / 20:00
62
Zhangjiajie

30°C / 86°F
21°C / 70°F
05:39 / 19:41
79
Zhengzhou

32°C / 90°F
20°C / 68°F
05:13 / 19:42
62
- Last updated on Apr. 20, 2021 -