Pingyao Weather in June
In June, Pingyao's weather is hot with an average high of 30°C (86°F) and an average low of 15°C (59°F). There is big temperature difference between day and night. The climate in June in Pingyao is dry with an average rainfall of 42mm. Most days are sunny.
The
Dragon Boat Festival
usually falls in the middle of this month. Traditionally, people hold dragon boat race during the holiday. In Pingyao, there are abundant traditional desserts specially made for this festival. If you are interested, you can visit Pingyao during this time.
Averages for Pingyao Weather in June
Temperature: 22°C / 72°F
High Temperature: 30°C / 86°F
Low Temperature: 15°C / 59°F
Humidity: 58%
Rainfall: 42 mm
Rainy Days: --
Sunrise: 05:11 ~ 05:14
Sunset: 19:46 ~ 19:56
Air Quality in June
Average AQI:94

What to Wear in Pingyao in June
Generally, T-shirt, short pants as well as other summer clothes is good on sunny days. Prepare for oncoming showers this month, and you may find a couple of long sleeves handy.


Where to Go in Pingyao in June
June is the beginning of summer. The temperature is ideal. You can take a morning stroll on the Ancient City Wall for a splendid view of the whole city at sunrise. In the afternoon, you may take cool indoor activities such as enjoying the time-capsule play "Impression Pingyao" or visiting Pingyao Ecological Botanical Garden where there are lots of shades. In the dusk and evening, you can go to the Ancient Ming-Qing Street where you can see all kinds of ancient local traditional shops.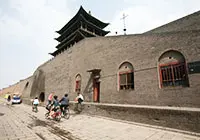 Ancient City Wall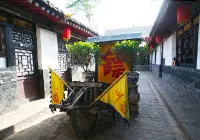 Former Security Guard Companies
Rishengchang Former Bank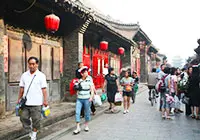 Ancient Ming-Qing Street
Other Tips
Summer's sunlight is always strong which makes skin protection more crucial and difficult. You should bring sunglasses, sunscreen and parasol with you to avoid sunburn. It may rain unexpectedly, so take an umbrella or a raincoat with you during outside activities. Drink enough bottled water. Do not stay under the sun for too long time. Bring mosquito repellent along with you.
What is the temperature in Pingyao in June?
High/Low Temperatures of Pingyao in June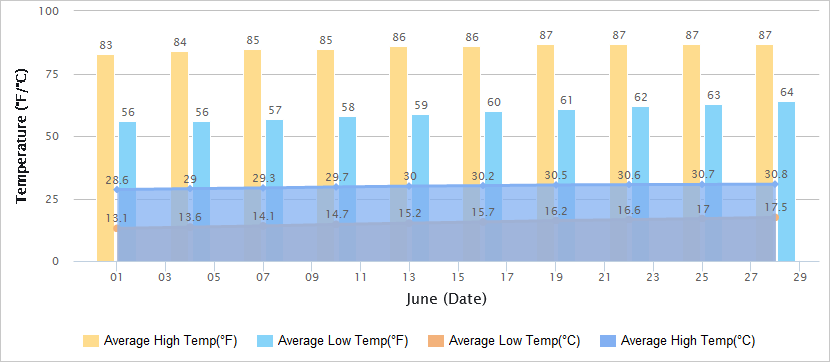 Air Quality of Pingyao in June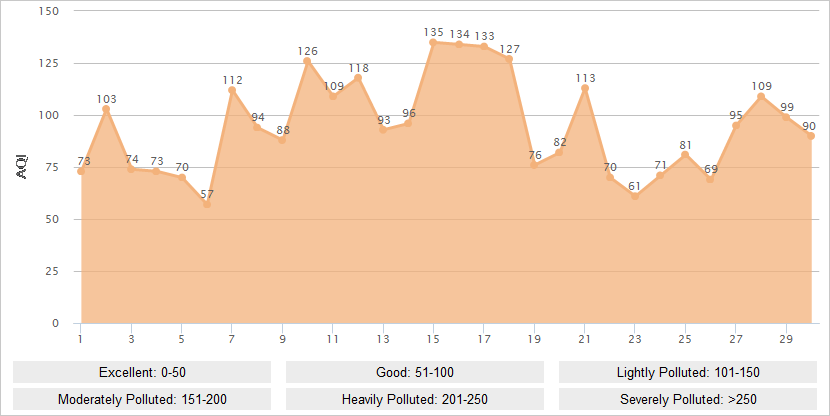 Historical Pingyao Weather in June
Jun
Temperature
Sunrise / Sunset
Humi-
dity
(%)
High
Low
1
28.6°C / 83.4°F
13.1°C / 55.5°F

05:13

/

19:46

20
2
28.7°C / 83.6°F
13.3°C / 55.9°F

05:13

/

19:47

31
3
28.9°C / 84°F
13.4°C / 56.1°F

05:12

/

19:47

46
4
29°C / 84.2°F
13.6°C / 56.4°F

05:12

/

19:48

51
5
29.1°C / 84.3°F
13.7°C / 56.6°F

05:12

/

19:49

88
6
29.2°C / 84.5°F
13.9°C / 57°F

05:11

/

19:49

72
7
29.3°C / 84.7°F
14.1°C / 57.3°F

05:11

/

19:50

36
8
29.5°C / 85.1°F
14.4°C / 57.9°F

05:11

/

19:50

44
9
29.6°C / 85.2°F
14.5°C / 58.1°F

05:11

/

19:51

39
10
29.7°C / 85.4°F
14.7°C / 58.4°F

05:11

/

19:51

38
11
29.8°C / 85.6°F
14.9°C / 58.8°F

05:11

/

19:52

45
12
29.9°C / 85.8°F
15°C / 59°F

05:11

/

19:52

43
13
30°C / 86°F
15.2°C / 59.3°F

05:11

/

19:52

54
14
30.1°C / 86.1°F
15.4°C / 59.7°F

05:11

/

19:53

59
15
30.2°C / 86.3°F
15.5°C / 60.2°F

05:11

/

19:53

41
16
30.2°C / 86.3°F
15.7°C / 60.8°F

05:11

/

19:54

32
17
30.3°C / 86.5°F
15.8°C / 60.4°F

05:11

/

19:54

35
18
30.4°C / 86.7°F
16°C / 60.8°F

05:11

/

19:54

39
19
30.5°C / 86.9°F
16.2°C / 61.1°F

05:11

/

19:54

27
20
30.5°C / 86.9°F
16.3°C / 61.3°F

05:11

/

19:55

52
21
30.6°C / 87°F
16.5°C / 61.7°F

05:11

/

19:55

60
22
30.6°C / 87°F
16.6°C / 61.8°F

05:12

/

19:55

53
23
30.7°C / 87.2°F
16.8°C / 62.2°F

05:12

/

19:55

53
24
30.7°C / 87.2°F
16.9°C / 62.4°F

05:12

/

19:55

41
25
30.7°C / 87.2°F
17°C / 62.6°F

05:13

/

19:56

41
26
30.8°C / 87.4°F
17.2°C / 62.9°F

05:13

/

19:56

37
27
30.8°C / 87.4°F
17.3°C / 63.1°F

05:13

/

19:56

38
28
30.8°C / 87.4°F
17.5°C / 63.5°F

05:14

/

19:56

40
29
30.9°C / 87.6°F
17.6°C / 63.6°F

05:14

/

19:56

38
30
30.9°C / 87.6°F
17.7°C / 63.8°F

05:14

/

19:56

50
- Last modified on Sep. 23, 2019 -