China Weather in September
In September, China starts to enter autumn- a pleasant season. The continued high temperature drops, so does the rainfall. The temperature difference of the day and night gradually appears. But the weather is not cold yet. Hence, September with mild and pleasant climate is one of the best travel times to China.

The coldest cities in China in September:
Harbin: 9°C (48°F), Changchun: 10°C (50°F), Yinchuan: 11°C (52°F), Hohhot: 8°C (46°F)

The hottest cities in China in September:
Sanya: 31°C (88°F), Nanjing: 32°C (90 °F), Wuhan: 33°C (91 °F), Chongqing: 34°C (93 °F)

See more:
Autumn in China – Weather & Tour Tips
Averages for China Weather in September

26°C (79°F)

16°C (61°F)

Rainfall
85 mm (4 in)

Sunrise
05:42 ~ 06:09

Sunset
05:42 ~ 06:09
The times for sunrise and sunset are based on Beijing.
China Temperatures in September
Although China temperature in September is not as high as that of previous months, you may also feel hot at daytime in most parts of China and summer clothes should be prepared, such as the T-shirt, shorts, dress, skirt, short shirt, sandals… But in consideration of the temperature difference between daytime and nighttime, you'd better also take the shirt, light pants, and thin jacket for the nighttime. Clothe to wear in China in September depends largely on where you are going. Keep close eyes to the weather forecast.


September Travel Guide - Where to Go & Tips
Tourism Rate: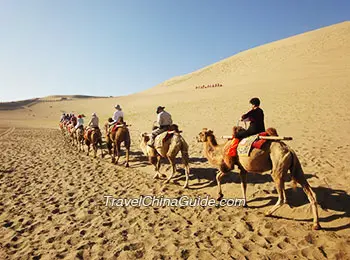 Silk Road Travel
Why not hike on the
Badaling Great Wall
on a sunny day with bright sunshine? If you are a shutterbug, you should not miss the sunrise and sunset of
Yellow Mountain
, the water and mountain landscapes of Guilin, and the fascinating autumn scenery of Kanas in Xinjiang and
Daocheng Yading
in West Sichuan. If you are a lover for history and culture, a trip along the Silk Road from Xi'an to Urumqi is an ideal choice.
See more
China's Top 6 Places to Travel in September
China Regional Weather in September
Beijing & Northeast China
Major Destinations: Beijing, Tianjin, Harbin, Dalian, Shenyang, Inner Mongolia…
Temperatures: 16°C - 26°C (61°F - 79°F)

Northeast China in September enjoys comfortable climate with mild temperature, less rainfall and bright sunshine. It is a great time to travel.
The Great Wall
in Beijing must not be missed in China's tour in this month. You can also go to visit the
Forbidden City
, take amazing photos of this royal palace under clear blue sky.
Clothing: T-shirt, shorts, dress, short shirt, sneakers, thin coat, light pants…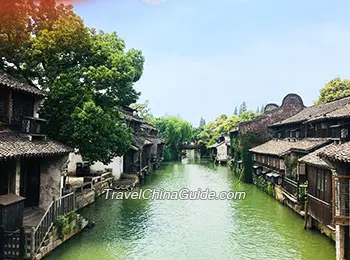 Wuzhen Water Town
Major Destinations: Shanghai, Hangzhou, Suzhou, Nanjing, Huangshan (Yellow Mountain), Nanchang, Fujian, Shandong…
Temperatures: 21 - 28°C (70 - 82°F)
It is generally a pleasant month in East China although it is sometimes hot around noon. You are advised to visit the classic gardens in Suzhou, water towns around Shanghai,
Gulangyu Island
in Fujian and the sunrise and sunset on Yellow Mountain.
Clothing: T-shirt, dress, sneakers, light pant, thin coat or thin jacket…
Major Destinations: Xi'an, Chengdu, Luoyang, Zhangjiajie, Wuhan, Yangtze River…
Temperatures: 19 - 25°C (66 - 77°F)
In most parts of Central China, it is still hot around noon, such as Xi'an, Chengdu and Chongqing. During a trip in this region, you should not miss the historic sites in Xi'an, the delicious snacks and cute pandas in Chengdu, karst landscapes in Zhangjiajie with cooler climate and the cruise along
Yangtze River
.
Clothing: T-shirt, shorts, light trousers, dress, short shirt, sneakers, thin jacket…
Major Destinations: Guilin, Hong Kong, Guangzhou, Yunnan, Guizhou, Hainan…
Temperatures: 22 - 31°C (72 - 88°F)

The weather in South China is hotter than that in North China. Also,it has more rain than the north. Sometimes the typhoons also land here. In this month, you should not miss the golden scenery of
Longji Rice Terraces
. Also, you are recommended Guilin for the
Li River
cruise and the ancient towns in Yunnan for cool weather.
Clothing: T-shirt, shorts, dress, skirt, short shirt, sandals, sneakers…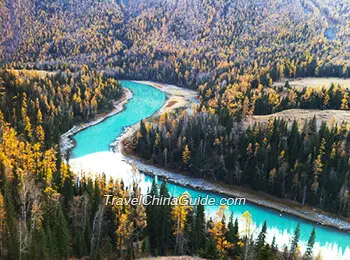 Kanas Nature Reserve in Xinjiang
West China
Major Destinations: Tibet, Xinjiang, Gansu, Qinghai…
Temperatures: 9 - 21°C (48 - 70°F)

In this region, it is cooler and drier than in other parts of China due to high altitude. Tibet is a great travel destination with snow mountains and clear holy lakes. It is a great time to have a trekking in the deserts in Gansu or Qinghai, or travel along the ancient Silk Road.

Clothing: T-shirts, shirts, shorts, jeans, light coat or jacket, pants, sneakers, hat, sunglasses…


September Weather of Major Chinese Cities
September
Sunrise / Sunset
Humidity
(%)
High

Low

26°C / 79°F
15°C / 59°F
05:42 / 18:47
68
Changsha

28°C / 82°F
19°C / 66°F
06:06 / 18:50
82
Chengdu

26°C / 79°F
19°C / 66°F
06:40 / 19:28
75
Chongqing

28°C / 82°F
21°C / 70°F
06:31/ 19:16
80
Guangzhou

31°C / 88°F
24°C / 75°F
06:09 / 18:44
78
Guilin
30°C / 86°F
22°C / 72°F
06:19 /18:58
73
Guiyang
28°C / 82°F
19°C / 66°F
06:33 / 19:14
76
Hangzhou

28°C / 82°F
20°C / 68°F
05:36 / 18:22
81
21°C / 70°F
9°C / 48°F
04:54 / 18:47
70
Hohhot

21°C / 70°F
8°C / 46°F
05:59 / 19:06
62
Hong Kong

30°C / 86°F
26°C / 79°F
06:06 / 18:40
80
Huangshan

17°C / 63°F
11°C / 52°F
06:21 / 17:20
87
Kunming

23°C / 73°F
15°C / 59°F
06:50 / 19:28
81
Lhasa

20°C / 68°F
8°C / 46°F
07:33 / 20:18
63
Lijiang

21°C / 70°F
12°C / 54°F
06:59 / 19:39
83
Luoyang

26°C / 79°F
16°C / 61°F
06:03 / 18:57

/
Nanjing

27°C / 81°F
19°C / 66°F
05:39/ 18:29
79
Pingyao
24°C / 75°F
11°C / 52°F
06:01 / 19:00
73
Qingdao

26°C / 79°F
19°C / 66°F
05:30 / 18:27
71
Sanya

31°C / 88°F
26°C / 79°F
06:27 / 18:56
/
Shanghai

27°C / 81°F
21°C / 70°F
05:30 / 17:17
77
Shenzhen

31°C / 88°F
24°C / 75°F
06:06 / 18:41
76
Suzhou

27°C / 81°F
21°C / 70°F
05:34 / 18:21
75
Tianjin
26°C / 79°F
16°C / 61°F
05:39 / 18:42
68
Urumqi

23°C / 73°F
12°C / 54°F
07:32 / 20:46
44
Wuhan

28°C / 82°F
20°C / 68°F
05:59 / 18:46
78
Xiamen

30°C / 86°F
24°C / 75°F
05:48 / 18:26
78
Xi'an

25°C / 77°F

16°C / 61°F
06:17 / 19:10
79
Zhangjiajie

29°C / 84°F
20°C / 68°F
06:15 / 19:00
74
Zhengzhou

27°C / 81°F
16°C / 61°F
05:58 / 18:52
75
- Last updated on Aug. 29, 2022 -