Dunhuang Weather in December
Compared with previous months, Dunhuang weather in December is cold, accompanied with more frequent winds and low humidity. The highest temperature is -2℃(28℉), while the lowest plummets to -13℃(9℉). Sometimes, it snow slightly, accumulating to 1mm of monthly precipitation.
Due to the frigid climate, December is a low travel season, resulting in favorable discounts on hotels and tickets to scenic spots. Diferent from the peak travel season, vicitors can always appreciate the scenic spots at a leisure pace. Booking tickets for hotels and scenic spots is still necessary.
Averages for Dunhuang Weather in December
Temperature: -8°C / 18°F
High Temperature: -2°C / 28°F
Low Temperature: -13°C / 9°F
Humidity: 55%
Rainfall: 1 mm
Rainy Days: 1 day
Sunrise: 08:44 ~ 09:04
Sunset: 18:16 ~ 18:25
What to Wear
Parka, padded trousers, down coat and sweater are strongly recommended. Gloves, scarf and hats are also a must if you plan to stay outdoor for a long time, in which case a pair of warm snow is also indispensable.

Where to Go
When the temperature rises up during mid-day on sunny days, tourists could pay a visit to the Han Great Wall, spreading to the northwestern area of Dunhuang. The length of Han Great Wall is over 5 kilometers (3.11miles) and there are more than 70 remaining beacon towers.
Indoor tour destinations are good choices to avoid unbearable cold or windy weather, including the White Cloud Taoist Temple, and Mogao Caves. In December, visitors can visit 12 of the Mogao Caves, 4 more than in the peak season from May to October.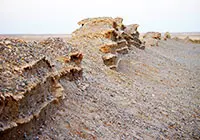 Dunhuang Great Wall of Han Dynasty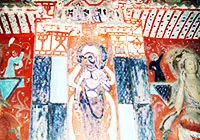 Mogao Caves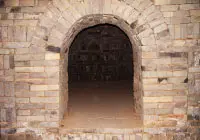 Western Jin Dynasty Brick Tomb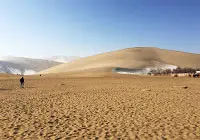 Echoing-Sand Mountain
Other Tips
Cream and lip balm should be taken to beat low humidity and coldness in December.
What is the temperature in Dunhuang in December?
High/Low Temperatures of Dunhuang in December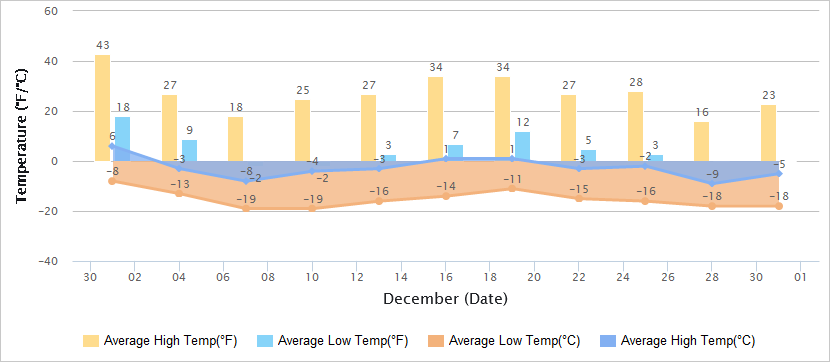 Historical Dunhuang Weather in December
Dec
Temperature
Sunrise / Sunset
Humi-
dity
(%)
High
Low
1
6°C / 42.8°F
-8°C / 17.6°F

08:44

/

18:16

29
2
-1°C / 30.2°F
-14°C / 6.8°F

08:45

/

18:16

52
3
-3°C / 26.6°F
-17°C / 1.3°F

08:46

/

18:16

28
4
-3°C / 26.6°F
-13°C / 8.6°F

08:47

/

18:16

18
5
-7°C / 19.4°F
-18°C / -0.3°F

08:48

/

18:15

42
6
-6°C / 21.2°F
-18°C / -0.3°F

08:49

/

18:15

34
7
-8°C / 17.6°F
-19°C / -2.2°F

08:50

/

18:15

38
8
-8°C / 17.6°F
-18°C / -0.3°F

08:51

/

18:15

41
9
-6°C / 21.2°F
-18°C / -0.3°F

08:51

/

18:15

40
10
-4°C / 24.8°F
-19°C / -2.2°F

08:52

/

18:15

40
11
-5°C / 23°F
-18°C / -0.3°F

08:53

/

18:16

46
12
-5°C / 23°F
-17°C / 1.3°F

08:54

/

18:16

36
13
-3°C / 26.6°F
-16°C / 3.1°F

08:55

/

18:16

34
14
-3°C / 26.6°F
-15°C / 5°F

08:55

/

18:16

34
15
0°C / 32°F
-14°C / 6.8°F

08:56

/

18:16

33
16
1°C / 33.8°F
-14°C / 6.8°F

08:57

/

18:17

33
17
0°C / 32°F
-14°C / 6.8°F

08:58

/

18:17

29
18
2°C / 35.6°F
-12°C / 10.3°F

08:58

/

18:17

37
19
1°C / 33.8°F
-11°C / 12.2°F

08:59

/

18:18

38
20
-1°C / 30.2°F
-12°C / 10.3°F

08:59

/

18:18

37
21
-2°C / 28.4°F
-13°C / 8.6°F

09:00

/

18:19

59
22
-3°C / 26.6°F
-15°C / 5°F

09:00

/

18:19

47
23
-5°C / 23°F
-17°C / 1.3°F

09:01

/

18:20

47
24
-5°C / 23°F
-17°C / 1.3°F

09:01

/

18:20

42
25
-2°C / 28.4°F
-16°C / 3.1°F

09:02

/

18:21

34
26
-3°C / 26.6°F
-17°C / 1.3°F

09:02

/

18:21

32
27
-7°C / 19.4°F
-17°C / 1.3°F

09:03

/

18:22

38
28
-9°C / 15.8°F
-18°C / -0.3°F

09:03

/

18:23

26
29
-8°C / 17.6°F
-17°C / 1.3°F

09:03

/

18:23

27
30
-6°C / 21.2°F
-18°C / -0.3°F

09:03

/

18:24

34
30
-5°C / 23°F
-18°C / -0.3°F

09:04

/

18:25

29
- Last modified on Mar. 06, 2019 -