Dunhuang Tours -

100% No Shopping Stops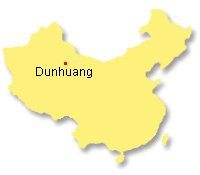 The hub of the legendary Silk Road of ancient times is endowed with the world's richest treasure house of Buddhist sutras, murals and sculptures, all of which can be seen on these private Dunhuang tours packages. The magnificent Mogao Grottos (Caves of A Thousand Buddhas) will amaze you, as will the beautiful Echoing-sand Dune and Crescent Lake. As well as fine views, a camel ride will give you a first-hand experience of what it was like when caravans plied the Silk Road. This is a truly extraordinary tour that is steeped in historic traditions.
Best Private Dunhuang Tours
Customer Reviews

Questions & Answers
I was pleased with the Dunhuang tour. The itinerary and attractions were of high quality. The Mogao Grottoes was my favorite.

I remembered those exquisite murals and statues clearly. Taking photos was prohibited in the grottoes but there were equal scale replica grottoes of 45 Mogao Grottoes in the Dunhuang Museum where photography was allowed.

Posted on December 26, 2020

The 2 days Dunhuang tour gave me an excellent experience. Some special cases could be handled in time. I was very satisfied with this trip!

Posted on August 04, 2020

The driver was enthusiastic and kind and picked us up on time. Dunhuang was small but clean, especially with well-planned tourism. Several scenic spots could be visited in an orderly manner. I wanted to travel to Dunhuang next time!