Private Dunhuang Day Tour
Mogao Caves - Dunhuang Museum - Echoing-Sand Mountain - Crescent Lake
In the morning, you will meet our guide and driver at the lobby of your hotel at about 08:30. After a warm greeting, we will set out this 1-day private Dunhuang tour to the Mogao Caves by a comfortable ride. Among the numerous tourist attractions along the Silk Roads, Mogao Caves Scenic Area is classical and should not be missed. It is a palace of fine arts composed of historic architectures, vivid sculptures and colorful murals, and all of them have been well preserved for more than one thousand years in Mogao Caves.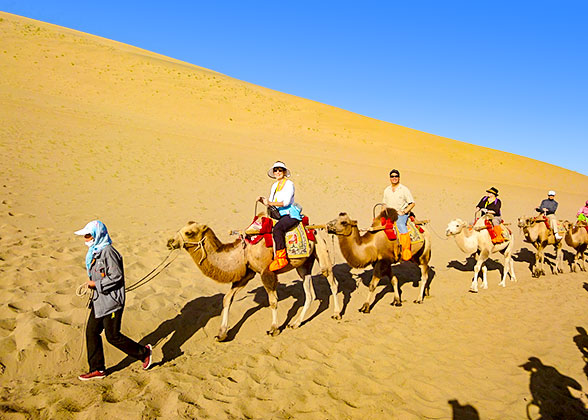 Travelers riding on the back of camels passing along the Echoing-Sand Mountain
Next, our guide will escort you to Dunhuang Museum to continue this history-seeking journey. There are over 4,000 precious cultural relics exhibited in this three-storey museum. After lunch, you will be transferred to the undulating Echoing-Sand Mountain to enjoy the miraculous desert view. It is so named because the sands would sing when the wind blows. Crescent Lake is the last stop of today's private Dunhuang tour package. Looking like a new moon, the Crescent Lake with breathtaking northern-frontier scene will wipe away your whole day's fatigue.
When the visiting is over, we will escort you back to your hotel in downtown Dunhuang. Hope you have spent a nice Dunhuang day trip and we are looking forward to traveling with you again!
Meals: Lunch
Mogao Caves
Situated in southeast Dunhuang, the Mogao Caves leaning against the southern precipice of the Echoing-Sand Mountain is about 1600 meters (5, 249 feet) long from the south to the north. As the largest historic site of Buddhist grottoes, Mogao Caves houses about 750 caves, 2,000 colored sculptures and extensive frescos. There, you will not feel disappointed at the gorgeous murals and lively statues, which are the two highlights of the Mogao Caves. Looking around the internal caves and their domes, you would see an eyeful of wall paintings of Buddha, fairies and immortals. They are vivid and lifelike with diverse gestures, as if telling you the beautiful stories and legends in Buddhism.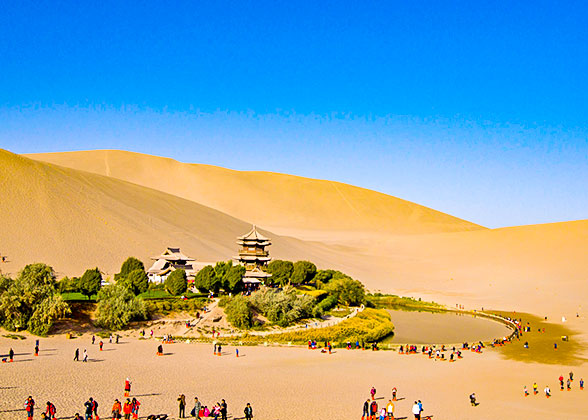 Exquisite murals in Mogao Caves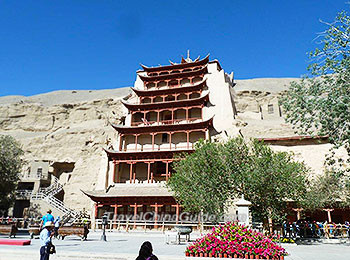 Mogao Caves
Echoing-Sand Mountain
From the east to the west, the endless Echoing-Sand Mountain stretches for more than 40 kilometers (25 miles) in the desert, seeming like a spectacular sandy ocean. All the mountains there are accumulated by plenty of smooth sands. These powder-like sands are clean and spotless with five colors: red, yellow, blue, white and black. It is interesting that you can hear sounds like drumbeats when you slide down along the sandy hill or set foot on the sand dunes. On the top of the mountain, you can also have a fine view of the attractive Crescent Lake.
Crescent Lake
The fair Crescent Lake lies quietly among the Echoing-Sand Mountains over the years, like a shining pearl embedded on the vast desert under sunshine. It is nearly 100 meters (110 yards) long, 25 meters (27 yards) wide and a maximum depth of about 5 meters (16 feet). Although sandstorms frequently happen there, the Crescent Lake still ripples and never dries up.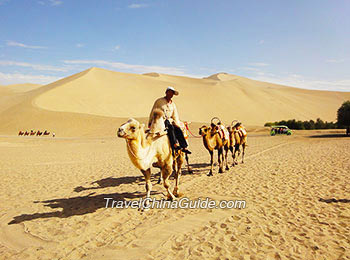 Echoing-Sand Mountain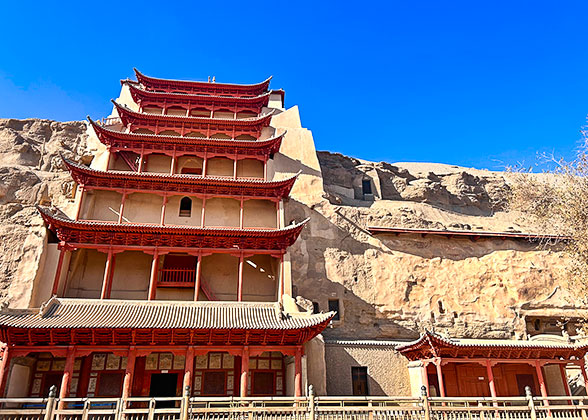 Crescent Lake
Tour Prices
| 1 traveler | 2-3 travelers | 4-5 travelers |
| --- | --- | --- |
| USD459 | USD289 | USD209 |
Prices are per person in US Dollars.

Price Includes
Private English-speaking guide
Private driver & air-conditioned vehicle
Chinese lunch
Entrance fees to tourist sites
Price Excludes
Hotel accommodation with breakfasts
Tips or gratuities for guide and driver
Why Travel With Us
Itineraries you may also like: