Dunhuang Weather in July
It is summer time and the Dunhuang weather in July would be the hottest of the year. The highest temperature may swell to 34°C(93°F), while the lowest plummets to 19°C(66°F). It will be mostly sunny and rain falls on average for two days, with 7mm of monthly precipitation. It is advisable to avoid going under the unbearable mid-day sun.
As it is the beginning of the busy summer holiday, visitors are advised to make advance booking for hotels and tickets to popular destinations to avoid disappointment. During this time, the prices of flight tickets and hotels may raise.
Averages for Dunhuang Weather in July
Temperature: 27°C / 81°F
High Temperature: 34°C / 93°F
Low Temperature: 19°C / 66°F
Humidity: 45%
Rainfall: 7 mm
Rainy Days: 2 days
Sunrise: 06:15 ~ 06:38
Sunset: 20:59 ~ 21:15
What to Wear
Breathable summer clothes like T-shirt or dresses are recommended to fit the hot climate, and rush guard is necessary to protect the skin. A thin coat or long-sleeve t-shirt will suffice as the day progresses and when the temperature drops a little. Sunglasses and cap are also recommended during the day.


Where to Go
Yardang National Geopark is well known worldwide for its unique wind eroded landscape, and where visitors not only could watch the diverse geological wonders, but also appreciate the beauty of the desert scenes.
Lying to the northeast of Yardang National Geopark, Yumenguan Pass attracts thousands of tourists every year. It was built 2,200 years ago to guard the western frontier and was once an important point along the infamous Silk Road.
Other Tips
Sunscreen cream is highly recommended due to the intense UV rays in July.
What is the temperature in Dunhuang in July?
High/Low Temperatures of Dunhuang in July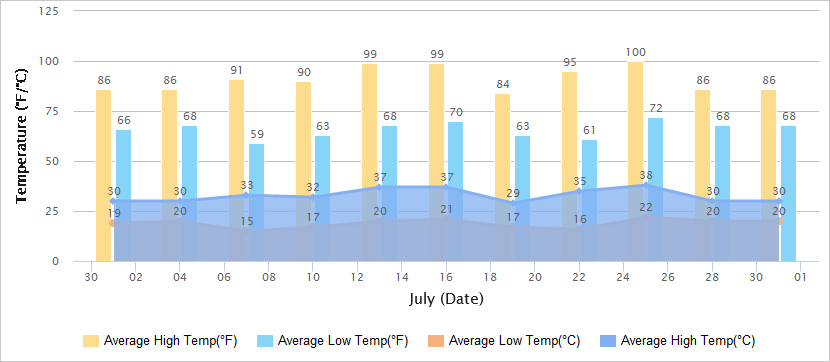 Historical Dunhuang Weather in July
Jul
Temperature
Sunrise / Sunset
Humi-
dity
(%)
High
Low
1
30°C / 86°F
19°C / 66.2°F

06:15

/

21:15

28
2
33°C / 91.4°F
19°C / 66.2°F

06:16

/

21:15

221
3
32°C / 89.6°F
20°C / 68°F

06:16

/

21:15

17
4
30°C / 86°F
20°C / 68°F

06:17

/

21:14

28
5
32°C / 89.6°F
20°C / 68°F

06:18

/

21:14

32
6
32°C / 89.6°F
20°C / 68°F

06:18

/

21:14

25
7
33°C / 91.4°F
15°C / 59°F

06:19

/

21:14

16
8
35°C / 95°F
17°C / 62.6°F

06:19

/

21:13

10
9
33°C / 91.4°F
19°C / 66.2°F

06:20

/

21:13

10
10
32°C / 89.6°F
17°C / 62.6°F

06:21

/

21:12

17
11
36°C / 96.8°F
17°C / 62.6°F

06:21

/

21:12

11
12
36°C / 96.8°F
19°C / 66.2°F

06:22

/

21:12

9
13
37°C / 98.6°F
20°C / 68°F

06:23

/

21:11

11
14
30°C / 86°F
19°C / 66.2°F

06:23

/

21:11

20
15
36°C / 96.8°F
20°C / 68°F

06:24

/

21:10

13
16
37°C / 98.6°F
21°C / 69.8°F

06:25

/

21:09

10
17
37°C / 98.6°F
21°C / 69.8°F

06:26

/

21:09

13
18
35°C / 95°F
22°C / 71.6°F

06:27

/

21:08

13
19
29°C / 84.2°F
17°C / 62.6°F

06:27

/

21:07

22
20
33°C / 91.4°F
15°C / 59°F

06:28

/

21:07

13
21
34°C / 93.2°F
17°C / 62.6°F

06:29

/

21:06

12
22
35°C / 95°F
16°C / 60.8°F

06:30

/

21:05

9
23
37°C / 98.6°F
18°C / 64.4°F

06:31

/

21:04

7
24
40°C / 104°F
22°C / 71.6°F

06:32

/

21:04

6
25
38°C / 100.4°F
22°C / 71.6°F

06:33

/

21:03

8
26
35°C / 95°F
20°C / 68°F

06:33

/

21:02

15
27
29°C / 84.2°F
19°C / 66.2°F

06:34

/

21:01

11
28
30°C / 86°F
20°C / 68°F

06:35

/

21:00

34
29
31°C / 87.8°F
21°C / 69.8°F

06:36

/

20:59

24
30
32°C / 89.6°F
23°C / 73.4°F

06:37

/

20:58

32
31
30°C / 86°F
20°C / 68°F

06:38

/

20:57

33
- Last modified on Mar. 06, 2019 -