Dunhuang Weather in October
Dunhuang weather in October gets a little cold. Temperature in October falls a lot, with a big difference between day and night. The average high temperature is 19℃ (66℉), while the average low drops to 3℃ (37℉). The air is dry with 3mm monthly precipitation. Strong winds may occur at times, which will lead to sands flying to slmost every corner of the city.
The first seven days of October are the peak tourism season because of the
National Day Holiday
and the weather is not too cold. Consequently, it leads to crowded scenic spots, higher hotel rate, and greater ticket demand for flight, train, and places of interest.
Averages for Dunhuang Weather in September
Temperature: 10°C / 50°F
High Temperature: 19°C / 66°F
Low Temperature: 3°C / 37°F
Humidity: 45%
Rainfall: 3 mm
Rainy Days: 1 day
Sunrise: 07:38 ~ 08:09
Sunset: 18:40 ~ 19:25
What to Wear
Since temperature drops rapidly in October, it is advisable to get ready hoodie, long-sleeve blouses, and thin knitwear for the warmer day. Put on wind breaker or wool overcoat for colder night. Hiking shoes would be proper for long-distance walking.


Where to Go
Yangguan Pass was once a vital defense site on the
Silk Road
and curial hub for external traffic. The ruins of ancient houses, farmlands and channels can be seen after a strong wind. Look out for the remains of the beacon tower, built during the Han Dynasty (202 BC - 220 AD).
Close to the Crescent Moon Lake, Dunhuang Folk Customs Museum is also a good choice to visit at this time. One can learn about the unique customs in northwest China, relating to religion, food, clothes, marriage and funeral, jewelry and so on.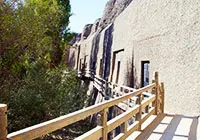 Western Thousand-Buddha Cave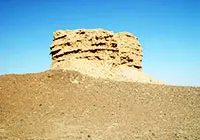 Yangguan Pass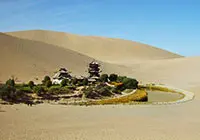 Crescent Lake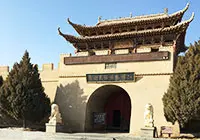 Dunhuang Folk Customs Museum
Other Tips
Due to the wide temperature range of Dunhuang climate between day and night, travelers are advised to bring along some basic medications, just in case. While travelling in the desert, put on a mask to protect yourself and cover your hair against the sand.
What is the temperature in Dunhuang in October?
High/Low Temperatures of Dunhuang in October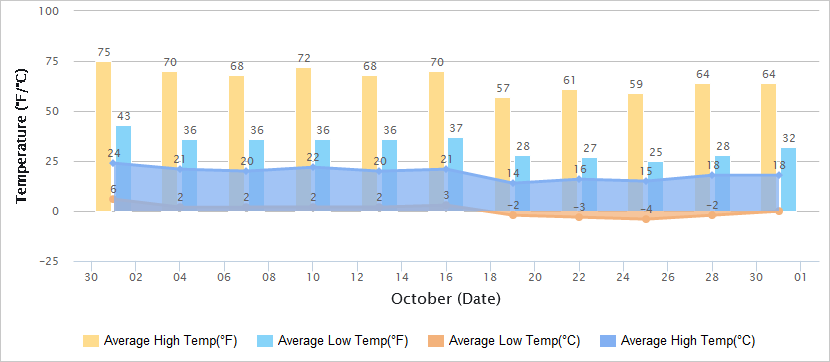 Historical Dunhuang Weather in October
Oct
Temperature
Sunrise / Sunset
Humi-
dity
(%)
High
Low
1
24°C / 75.2°F
6°C / 42.8°F

07:38

/

19:25

16
2
24°C / 75.2°F
6°C / 42.8°F

07:36

/

19:23

12
3
24°C / 75.2°F
6°C / 42.8°F

07:40

/

19:21

11
4
21°C / 69.8°F
2°C / 35.6°F

07:41

/

19:20

21
5
20°C / 68°F
1°C / 33.8°F

07:42

/

19:18

14
6
20°C / 68°F
1°C / 33.8°F

07:43

/

19:17

12
7
20°C / 68°F
2°C / 35.6°F

07:44

/

19:15

10
8
21°C / 69.8°F
2°C / 35.6°F

07:45

/

19:13

14
9
22°C / 71.6°F
1°C / 33.8°F

07:46

/

19:12

12
10
22°C / 71.6°F
2°C / 35.6°F

07:47

/

19:10

12
11
20°C / 68°F
1°C / 33.8°F

07:48

/

19:09

12
12
20°C / 68°F
1°C / 33.8°F

07:49

/

19:07

13
13
20°C / 68°F
2°C / 35.6°F

07:50

/

19:05

11
14
21°C / 69.8°F
1°C / 33.8°F

07:51

/

19:04

13
15
22°C / 71.6°F
0°C / 32°F

07:52

/

19:02

14
16
21°C / 69.8°F
3°C / 48.4°F

07:53

/

19:01

17
17
20°C / 68°F
4°C / 39.2°F

07:54

/

18:59

22
18
15°C / 59°F
-1°C / 30.2°F

07:55

/

18:58

22
19
14°C / 57.2°F
-2°C / 28.4°F

07:56

/

18:56

13
20
13°C / 55.4°F
-2°C / 28.4°F

07:57

/

18:55

12
21
15°C / 59°F
-3°C / 26.6°F

07:58

/

18:54

19
22
16°C / 60.8°F
-3°C / 26.6°F

07:59

/

18:52

26
23
17°C / 62.6°F
0°C / 32°F

08:00

/

18:51

18
24
14°C / 57.2°F
-3°C / 26.6°F

08:01

/

18:49

18
25
15°C / 59°F
-4°C / 24.8°F

08:02

/

18:48

17
26
16°C / 60.8°F
-2°C / 28.4°F

08:03

/

18:47

19
27
16°C / 60.8°F
-2°C / 28.4°F

08:05

/

18:45

17
28
18°C / 64.4°F
-2°C / 28.4°F

08:06

/

18:44

14
29
16°C / 60.8°F
-1°C / 30.2°F

08:07

/

18:43

11
30
17°C / 62.6°F
0°C / 32°F

08:08

/

18:42

13
31
18°C / 64.4°F
0°C / 32°F

08:09

/

18:40

15
- Last modified on Mar. 04, 2019 -