Dunhuang Transportation -- Getting Around
In Dunhuang, there are public buses, taxis, rickshaws and bicycles for tourists to travel around. However, the public transportation to the surrounding scenic areas is not very convenient, so it is recommended to charter a car or join a tour group to ensure a smooth sightseeing.
City-Bus
Downtown Dunhuang is not large, and there are only three city-bus routes running along fixed lines. They start from the urban area and stretch into the countryside in different directions. Buses are mostly of a medium size. They operate between the hours from 07:00 until 21:00 every day, departing every 10 minutes and costing CNY1 for the through trip.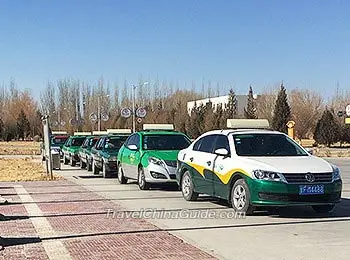 Taxis in Dunhuang

Bus No.1: Guopinchang - Dunhuang Bus Station - Dunhuang Hotel - Nongmao Shichang - Huasheng Shangchang - Panxuan Road North - Sun Hotel - Muqichang - Xibei Hotel - Petrol Station - Suliaochang - Zhangxian Road - Wushuichang - Leijiadun Yidui - Leijiadun Zhuanchang - Leijiadun Sidui - Qinzhou Yidui - Lujiabao Village

Bus No.2: Dunhuang Hospital - Civil Aviation Administration - Shazhou Market - Huasheng Shangchang - Dunhuang Hotel - Forestry Bureau - Qiaotou West - Mianfenchang - Suzhou Nongmao Shichang - Dunhuang Park - Zhongpu Xiulichang - Dongsheng Shichang - Yuqiao Petrol Station - Shaojiaqiao

Bus No.3: Muqichang - Shuidian Gongsi - Shazhou Park - Forestry Bureau - Dunhuang Hotel - Huasheng Shangchang - Panxuan Road South - Dunhuang Traditional Chinese Medicine (TCM) Hospital - Bureau of Municipal Construction - Dunhuang Bus Station - Jinye Hotel - Laowu Shichang - Yangjiaqiao Erdui - Jinglaoyuan - Gongqingyuan - Shiboyuan - Leiyin Temple -
Echoing-Sand Mountain
(
Crescent Lake
)
Tips:
1.The public bus to Mogao Caves departs at the gate of Dunhuang Holiday Inn, costing CNY 8 per person and spending around 40 minutes. The last bus from Mogao Caves back to downtown is at 17:30.
2. City-bus services are not very punctual so it may be necessary for you to take other transport methods if your travel schedule is tight.
Taxi
It is very convenient and easy for tourists to take a taxi in the city. There are many taxis running around the city, or waiting for passengers at the airport, long-distance bus station, railway station, hotels, historical sites and popular scenic areas. The table below shows the taxi rate:
Flag-down Rate
CNY 5 for the first 2 kilometers (1.2 miles)
Unit Fare
1. CNY1.8/km per extra kilometer in the daytime
2. CNY2/km from 23:00 to 07:00 the next day
Empty-run Fee
CNY2.7/km for the extra distance beyond 6 kilometers (3.7 miles)
Chartered Bus
Many tourists hire a taxi or minibus from the downtown to tour the surrounding attractions. The price is usually negotiable and reasonable. Here are the fees for your reference:


To Mengke Glacier: CNY 800 - 1,000


To Yulin Grottoes & East Thousand Buddha Caves: CNY 200


Dunhuang West Line (Dunhuang Ancient City - West Thousand Buddha Caves - Yangguan - Yumenguan - Yardang National Geopark): CNY 350 - 450


Dunhuang East Line (Crescent Lake - Echoing-Sand Mountain - Mogao Caves - Sanwei Mountain ): CNY 150

Rickshaw
Rickshaw is an interesting part of scene in the city. Such vehicles run through the streets and lanes, making your trip flexible and convenient. You can easily hire it in the street. It costs CNY 10-20 per person in general. The price will go up during public holidays. You can negotiate the price before getting on the rickshaw.
Bicycle
The city is not large, and you can get around by bicycle easily and make a close touch with this small city. There are several rental services in downtown area. The fee can be negotiated, generally speaking CNY 50 - 70 per day. Besides, dockless sharing bikes are also available in Dunhuang city. The fares are CNY 1 to 2 for 30 minutes. Tourists can pay the fee or top up by WeChat Pay and Alipay.
- Last updated on Apr. 26, 2021 -
Questions & Answers on Getting Around Dunhuang
Asked by May from MALAYSIA | Nov. 25, 2019 00:20

Reply
How to access Dunhuang attraction places?
Will travel with two persons on 7 Dec-9 Dec. Please advise how to travel those attraction places in Dunhuang- Yadan National Geological Park, Mingsha Mountain Crescent Spring, Mogao Grottoes, Dunguan museum?
Answers (1)
Answered by Liam from SINGAPORE | Nov. 27, 2019 17:51

0

0

Reply
To Yadan National park: You can hire a car or go to tourist center in downtown to take direct bus.
To Mingsha mountain: The common way is to take taxi directly with around CNY20.
Mogao Grottoes: You can take bus from Xiyu Rd Mingshan Rd with CNY8.
Dunhuang Museum: You can take bus No.3 to it or take taxi with around CNY10 if you are in the downtown.
Asked by SY from MALAYSIA | Feb. 28, 2019 03:06

Reply
Hi, I am planning a family trip to Dunhuang in Dec.
What would be the best route to fly into DH from Malaysia? I read some says fly into Beijing/Xi'an then take the train? Most of the postings advised against traveling to DH during winter. Is it really that cold? Am wondering if we can still do the Echoing Sand Mountain and the Cresent Moon Pool in such cold weather?

Appreciate your advise. Thanks.
Answers (1)
Answered by Nathaniel from NEW ZEALAND | Mar. 05, 2019 22:19

0

0

Reply
Yes, you are advised to take a flight to Beijing or Xi'an first. Then take a train to Dunhuang Railway Station. According to the previous weather statistics, the temperature may range from 5C to 15C. You can still tour around Echoing Sand Mountain and the Cresent Moon Pool.
Have a nice journey!
Asked by Aiman from MALAYSIA | Jan. 30, 2019 12:44

Reply
I'm planning to go straight to Crescent Lake from Dunhuang Train Station.
How much normally is the taxi fare?
Answers (1)
Answered by Zion from GERMANY | Jan. 31, 2019 22:34

0

0

Reply
In general, it costs CNY30-40.
Asked by Mr.Teja from CHINA | Jun. 08, 2009 22:40

Reply
When is the best time to visit Dunhuang? Please tell me the train schedule from Xi'an to that city? Xie Xie.
Answers (1)
Answered by Ms.Evelyn from CHINA | Jun. 09, 2009 04:34

0

0

Reply
The best time to come to go there is in late August and early September. The weather is not so hot. What's more, this time is the period of the autumn of fruits. Grapes are very good. But during this time, the difference in temperature is big. In the morning, you need a light coat, but in the early afternoon you need T shirt. Within a day, there is only one train from Xi'an. It's Train K591. The departure time from Xi'an railway station is at 10:56.