Code: TB33
Adventures at Hezuo
Hezuo is the capital city of Tibetan Autonomous Prefecture in southern Gansu Province. Standing at the junction area of
Gansu
,
Qinghai
and
Sichuan
provinces, it is the ligament of central plains region and Amdo Tibetan region. And it is also the business centers for Tibetan and Chinese exchanges in the history.
Located at the northeast edge of the Qinghai-Tibet Plateau, Hezuo is 276 kilometers north of
Lanzhou
. There is no railway traverse from Lanzhou to Hezuo, however, the regular buses are available every 35 minutes from 05:50 to 16:04. It takes about 4 to 5 hours by bus and the ticket fee is different from CNY37.50 to CNY49.50.
It is convenient to find a hotel in Hezuo. Shambhala Hotel (0941-8213222) is located at Ren Min Street, which is might be the best one in that area. It is the first three-star hotel that receives foreign guests. The hotel was built in 1993 and opens to clients in the year 2000. Another hotel which people recommended is Jiaotong Hotel (0941-8221300); it is located in the city center with elegant environment and convenient transportation.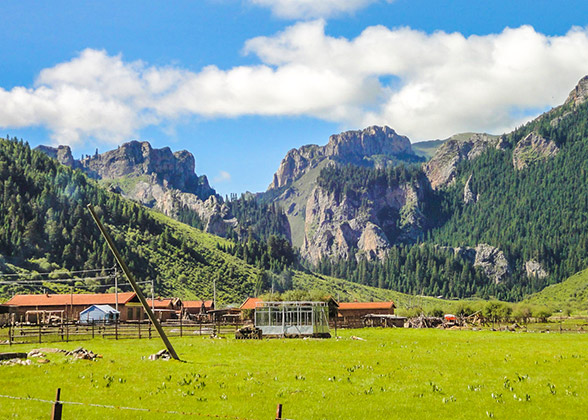 Grassland in Gannan
On the first day, we start the tour by visiting Amdo Milariba Temple. It is said that there are only two temples of this kind in the whole Tibetan area, and the one in Hezuo is only one has nine floors and dedicated to Tibetan Buddhism founder. The temple is about 40 meter high, it was originally built in Qing dynasty, and has a history of more than 200 years. There are perennial resident monks and lamas studying here, formed a unique cultural atmosphere. Then have a short walk around Folk Street and Century Square.
After lunch, visit Tibetan mastiff breeding field, it is located in the southern suburb of Hezuo city. Now there are more than 60 Tibetan mastiffs, all with pure variety. It is a good place for those who'd love to see mastiffs.
Dangzhou Grassland Beauty Spot is 2.5 kilometers south of Hezuo city. It covers an area of 8600 acres, mainly hold activities like folk performances, Tibetan ceremonial reception, Tibetan food tasting and on-site production of performances, perform and teach riding horse and yak and so on.
Praying Tibetans on the way to the temple
On the second day, visit Gangcha limestone cave in the morning. Gangcha is located 26 kilometers north of Hezuo, famous for its fancy cave geomorphology and stone forest scenic features. There are total nine attraction spots in this area. Gangcha Temple, which has a history of 400 years, is still attracting Buddhists from all parts of China, and has great value in studying the distillation of the Tibetan Buddhist religion.
In the afternoon, visit Mt. Taizi. Taizi means the eldest son of the emperor. It was said that the eldest prince of Emperor Qin Shi Huang once had a fight here, and the mountain got its name after that. Mt. Taizi, which is located at 45 kilometers away from Hezuo, is 4332 meters above sea level. It is the boundary of the Qinghai-Tibet Plateau and the Loess Plateau, and is the famous holy mountain at Amdo region.

More Tibet Hiking Itineraries:
Characteristic Gannan Line: Exhibit Tibetan national minority folk custom character, together with prairie scenery.
Drigung Monastery Tour: to discover Drigung Monastery and Dezhong