Jiayuguan Travel Guide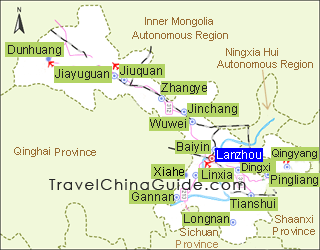 Jiayuguan Facts
Chinese Name: 嘉峪关 (jiā yù guān)
Population: 252,000
Area: 2,935 square kilometers (1,133 square miles)
Location: in the northwest of Gansu Province, northwestern China
Area Code: 0937
Zip Code: 735100
GDP (2018): CNY 29.96 billion (USD 4.53 billion)
Nationalities: Han, Hui, Tibetan, Dongxiang, Yugu, Baoan, Hazake, Tu, Sala, Manchu, and Mongolian

Located in the northwest of Gansu Province, Jiayuguan borders Jiuquan to the east, Xinjiang to the west, Qilian Mountain and Zhangye to the south, Inner Mongolia to the north. The elevation of Jiayuguan is between 1,412-2,722 meters (4,633 – 8,930 feet). The central and western parts of the city are mostly Gobi, where the urban areas and industrial enterprises are located; the southeast and northeast are oases used as agricultural areas. Jiayuguan is also a new industrial city where Jiuquan Iron and Steel Company headquartered. As the traffic hub of the ancient Silk Road and the west starting point of the Great Wall of the Ming Dynasty (1368 - 1644), Jiayuguan is also famous for the Jiayuguan Pass which is dubbed as the world's first grand pass.
The city culture is a combination of Great Wall and Silk Road. It boasts many historical relics referring to these two wonders. The famous ones include Jiayuguan Pass, the Overhanging Great Wall, the First Fire Tower of the Great Wall and Wei-Jin Art Gallery. Apart from these famous attractions, you can also find many other interesting places in this city, such as the famous July 1st Glacier (Qi Yi Bingchuan), Jiayuguan Museum and Jiayuguan Glider Base.
| | |
| --- | --- |
| Jiayuguan Pass | Jiayuguan Railway Station |
How to get to/around Jiayuguan
1. Jiayuguan Airport (JGA) is located 9km away from the city center. Passengers can easily take taxi or airport shuttle bus between the downtown city area and the airport. The airport offers flights from/ to Beijing, Shanghai, Guangzhou, Changsha, Lanzhou and Xi'an.

2. The city has two passenger railway stations. Jiayuguan Railway Station mainly operates non-bullet trains to/from Beijing, Shanghai, Guangzhou, Xi'an, etc. The South Railway Station is a stop along Lanzhou-Xinjiang High Speed Railway, operating high speed trains to/from Urumqi, Turpan, Kumul, Xining, Lanzhou, Jiuquan, Zhangye, etc.



See detailed Jiayuguan Railway Station, Jiayuguan South Railway Station, Jiayuguan - Lanzhou Train, Jiayuguan - Zhangye Train, Jiayuguan - Dunhuang Train, Xi'an - Jiayuguan Train

3. The long-distance bus station is located at the cross of Jingtiexi Road and Shenglinan Road. It provides bus daily traveling to Lanzhou, Dunhuang, Zhangye, Jiuquan, Hami, Urumqi, Jinchang, Yumen, Yinxia, Gaotai, etc.

4. Public bus is a convenient transport for traveling around the city. The bus fare is usually CNY1. Bus 1 is the south bound bus which heads from the centre of town to the train station. Bus 4 can take you from the train station to the the fort.

5. Most attractions in the city are available by taxi. The base fare of the taxi is CNY6 and CNY1.2 is charged per additional kilometer. The taxi fare can be bargain down if your travel journey is far.
Jiayuguan possesses a continental desert climate, warm and aridity with the frost-free period of 160 days. The average temperature is about 6.7

C (44

F) – 7.7

C (18.1

F) , of which the lowest temperature is -21

C (-5.8

F) in January and the highest is 34

C (93

F) in July. It has an annual precipitation of 100 millimeters, with rainfall concentrated in summer. The weather is sandstorm from March to May and strong wind from November to December.

When to Go: The most suitable time is from May to October, because the weather is the most favorable of the year at that period.
Jiayuguan Travel Tips

History: It has a history over 630 years. In 1372, during the Ming Dynasty, a fortress was built to protect the last frontier of the Chinese empire. It was completely built up in 1540 and became a small township engaged in local trading, catering to the needs of the military garrisons stationed at the fort. The city was used to be the pass of the famous Silk Road and the first pass at the west end of the Great Wall in the Ming Dynasty.

Local products: star jelly, Jiuquan Cup of phosphorescent jade, handcraft carpet, jiayu inkstone, camel's hair drawing

Local Highlights: Qinqiang Drama is popular in this place. When traveling there, you should not miss the performance of Qinqiang Drama.
- Last updated on Apr. 15, 2021 -
Questions & Answers on Jiayuguan Travel
Asked by Radzi Saad from MALAYSIA | Jun. 27, 2020 07:20

Reply
Left luggage service at Jiayuguan HSR station
Hi all,
I''m planning to visit Jiayuguan in half day.
I will arrive at Jiayuguan South station at 12.00pm. I have 6 hours to go to Jiayuguan Pass and back to arrive Jiayuguan South station at 6pm to catch next train.
1.Is it enough time to visit Jiayuguan Pass within this time limit?
2. Is there a place around Jiayuguan South station to storage my suitcase luggage?

Regards,
Radzi
Answers (2)
Answered by Ethan from CANADA | Jun. 28, 2020 23:26

0

0

Reply
1. Yes, the time is enough for sightseeing.
2. I remember that you can storage your suitcase at the Jiayuguan South Railway Station.
Answered by Radzi from MALAYSIA | Jul. 06, 2020 16:28

0

0

Reply
Thank you Ethan. Really appreciated your reply
Asked by Robert from SINGAPORE | Oct. 13, 2019 08:00

Reply
Can I take a train from Jiayuguan train station to South train station?
Answers (1)
Answered by Judy from USA | Oct. 15, 2019 19:59

0

0

Reply
No, you can't. You can take taxi to it with around CNY25.
Asked by Janus from SINGAPORE | Aug. 30, 2019 07:09

Reply
Any poplar forest near Jiayuguan?
Hi,

I am planning a visit in late October. I would like to visit the poplar forests nearby for autumn colors. Any suggestions?

Regards,
Janus
Answers (1)
Answered by Lucas from CANADA | Sep. 02, 2019 00:51

0

0

Reply
You can appreciate beautiful ginkgo forests near it.
Asked by Nurul from MALAYSIA | Jul. 03, 2019 09:04

Reply
Taxi price for whole day to tour around Jiayuguan
Hi, May I know how much will cost for hired taxi for 1 day tour to Fort, Overhanging wall & Fire tower of great wall? thank you
Answers (1)
Answered by Orla from CANADA | Jul. 03, 2019 19:26

0

0

Reply
Hi, I don't know about that. Generally speaking, it costs CNY 300 to 500 per day. Maybe you can bargain with driver.
Asked by Note from THAILAND | Apr. 11, 2019 07:19

Reply
Can i leave my luggage in Jiayuguan airport?
Where ?
How much?
Answers (1)
Answered by Shay from FINLAND | Apr. 11, 2019 22:50

0

0

Reply
The airport provides left luggage service. But sorry, I didn't find the price. You are suggested to consult the airport staff when you arriving there.