Gannan Travel Guide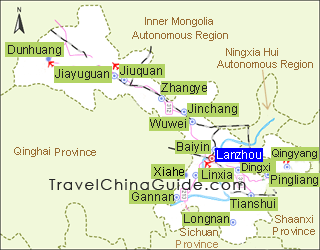 Gannan Facts
Chinese Name: 甘南藏族自治州 (gān nán zàng zú zì zhì zhōu)
Population: 730,700
Area: 45,000 square kilometers (17,374.6 square miles)
Location: in the southwest of Gansu Province, northwestern China
Administrative Division: 7 counties: Lintan, Zhuoni (Jone), Luqu, Maqu, Diebu (Tewo), Zhouqu, Xiahe; 1 county-level city (Hezuo)
Area Code: 0941
Zip Code: 747000
GDP (2018): CNY 15.57 billion (USD 2.35 billion)
Nationalities: Tibetan, Han

Brilliant Tibetan Buddhist Culture
Gannan Tibetan Autonomous Prefecture is situated in the southwest of Gansu Province, neighboring Dingxi and Longnan on the east and Linxia Hui Autonomous Prefecture on the north. It is bounded on the south with Aba Tibetan and Qiang Autonomous Prefecture of Sichuan Province in the neighborhood of Guoluo, and Huangnan Tibetan autonomous prefectures of Qinghai Province on the west. As an important part of the Silk Road, Gannan Prefecture not only shows a vast and beautiful plateau scenery, but also preserves its strong Tibetan Buddhist culture. Dozens of custom activities like the Xianglang Festival, Sho Dun Festival and Double Sixth Festival. You can also take a hike at the Langmu Monastery and witness the holy celestial burial.
| | |
| --- | --- |
| Zecha Stone Forest | Amdo Milariba Buddha Pavilion |
Gannan Attractions - Things to Do

Labrang Monastery: the largest Tibetan religious and cultural center of the Gansu, Qinghai and Sichuan areas, that was first built in 1710 by the first Jamyang Living Buddha.


Video of Labrang Monastery



Langmu Monastery: consists of two Buddhist architecture groups separated by a brook with the north one belonging to Gansu and the south belonging to Sichuan. It was first discovered by some foreign backpackers and has become a well-known assembly area for backpackers.


Video of Langmu Monastery
| | |
| --- | --- |
| Langmu Monastery | Labrang Monastery, Xiahe |

Gahai-Zecha National Nature Reserve: mainly consists of two scenic spots, the Zecha Stone Forest and the Gaihai Migrant Nature Reserve. The former has lifelike stones and the latter is an ideal summer resort with the Gahai Grassland being one of the finest in Asia.


Video of Zecha Stone Forest



Sangke Grassland: is one of the most important stockbreeding bases. There are two reception centers equipped with Tibetan tents. Every July to September, they will prepare dainty food with Tibetan flavor as well as yaks, horses and bonfires to welcome the visitors.



Other Scenic Spots: Chanding Temple (Grand Zhuoni Temple)
| | |
| --- | --- |
| First Bend of Yellow River | Sangke Prairie, Xiahe |
How to get to Gannan
Gannan Xiahe Airport is 72 kilometers (45 miles) away from Xiahe County and 56 kilometers (35 miles) from Hezuo City. It has operated air routes to/ from Xi'an, Chengdu, Yinchuan, Tianjin and Lhasa.

Lanzhou is the main transfer station for south and southeast Gansu, whether by air, by train or by bus. Buses are the only vehicles to get in and out of Gannan. Visitors can find these buses at the New Lanzhou South Bus Station at the junction of No.212 National Highway and Lanzhou-Lintao (Dingxi City) Expressway. In addition, buses to Xiahe County, Langmu Monastery, Maqu County, Diebu (Tewo) County are available in the south bus station in Lanzhou. As the seat of the prefecture government, Hezuo City has many regular buses to surrounding regions, such as Lanzhou, Linxia Hui Autonomous Prefecture, Dingxi City, Aba of Sichuan Province and Xining of Qinghai Province. The bus station is located in Xiyi Lu.
Weather
-
Gannan has a continental plateau climate, featuring high altitude, humid and cold weather. The temperature varies greatly during the day but slightly among four seasons. Its annual average temperature falls around 1

C-13

C (33.8

F-55.4

F).

When to Go: June to August is the best time to visit. The temperature in this period maintains a level of 15

C-30

C (59

F-86

F). The grassland scenery is at its best at this time. In winter, monasteries, no matter whether they are big or small, hold Buddhist ceremonies during the period from the eighth to the sixteenth day of the first lunar month. This is the busiest period.

7 Best August Destinations in China
Gannan Travel Tips

History: Before the Qin State in the Spring and Autumn Period (770BC-476BC) partly governed this area, Gannan was the domain of the ancient Qiang (later Tibetan) people, being one of the main birthplaces and residential areas of the Qiangs. It was in the year of 111AD that the Han Dynasty (206BC-220AD) brought Gannan into the feudal regime of Central China. It has played an important role in proving the relationship between the Han and the Tibetan. The south of the
Silk Road
and the Tang-Tibet Ancient Road all passed through this region. In 1954, the Gannan Tibetan Autonomous Prefecture was established with Hezuo City as its capital.

Physical Features: The prefecture lies in the northeast fringe of the Qinghai-Tibet Plateau at the transition area to the Loess Plateau. The terrain slopes from the northwest to the southeast. It can be divided into three parts: the southern mountainous region with moderate climate, being an important forest zone in Gansu; the eastern hilly area and the eastern meadows and grassland, being the main pasturing area of the province.

Special Local Products: Tibetan souvenirs, such as ornaments, embroidery, Tibetan herbs, silver wares, religious handicrafts

Local Highlights: Xiangbala Tourism Arts Festival, held annually in midsummer, is the largest comprehensive tourism festival in Gannan Prefecture. During the fifth and the sixth lunar months, there are various festivals and ceremonies, such as Xianglang Festival, Erecting Arrow Festival and Caihua (Flower Picking) Festival.

Festivals: Apart from the traditional Tibetan festivals, it also has some special festivals for monasteries. For those who are interested in these Buddhist ceremonies, visitors can visit the Labrang Monastery during the third lunar month.
- Last updated on May. 24, 2022 -
Questions & Answers on Gannan Travel
Asked by Natalia from RUSSIA | May. 22, 2020 02:33

Reply
Buses from Langmusi to Songpan?
Hi. Do you know how to get to Songpan from Langmusi (Lamgmu Tample)?
Or from Zoige (Ruoergai) to Songpan?
Thanks.
Answers (1)
Answered by Hunter from FINLAND | May. 25, 2020 02:26

0

0

Reply
From Langmusi to Songpan: There is one direct coach. I remember that the bus schedule is at 07:00.
Besides, there are several buses from Ruoergai to Songpan.
Asked by James from SG | Sep. 03, 2019 22:51

Reply
Any bus from Gannan to Langmusi and from Langmusi to Tewo?
Thank you.
Answers (1)
Answered by Perry from NEW ZEALAND | Sep. 05, 2019 20:09

0

0

Reply
Gannan covers a large area. I knew there was a direct bus from Xiahe to Langmusi at 7:40, but I'm not sure if it is available now. It is suggested to hire a car from Langmusi to Tewo. It might cost CNY500.

Asked by PS from MALAYSIA | Aug. 25, 2019 22:43

Reply
Zhagana
As per latest today date, is there any public transport - bus from Lanzhou or Gannan to Zhagana? Any possible accommodation in Zhagana (dorm)? TQTQ
Answers (2)
Answered by Alice from CANADA | Aug. 29, 2019 00:12

0

0

Reply
You can take a bus from Lanzhou South Bus Station to Diebu first. It takes about 7 hours and the bus departs at 8:40 every day. It costs around CNY180. Then hire a private car to Zhagana, which takes about CNY80-90.

As for the hotel, it is better to stay in Diebu county, the Luoke Zhouji Hotel is recommended.
Answered by PS from MALAYSIA | Aug. 29, 2019 08:16

0

0

Reply
Thanks for valuable info. Zhagana itself got accommodation? Im ok with any condition even how running down the guesthouse ...
Asked by jasmine from THAILAND | Sep. 21, 2018 08:32

Reply
how to get to zhagana from Lanzhou?
I have plan to Lanzhou in 7.19 am by train how to go to zhagana and how long to get there?
Thank you
Answers (1)
Answered by Nelson from USA | Sep. 24, 2018 20:49

0

0

Reply
There is no direct bus to Zhagana. You need first to take the bus at South Bus Station to Diebu: at present, one bus is operated daily, departing at 08L40am and costing about CNY190 per person. Then take a taxi from Diebu to Zhagana and the fee is about CNY60.
Asked by Francisco from SPAIN | May. 20, 2016 16:12

Reply
Buses from Langmusi to Hezuo or Xiahe
Hi. I'm planning to visit this area this summer. I'd like to know if there are buses from Hezuo or Xiahe to Langmusi. And buses to go back to Hezuo or Xiahe from Langmusi?
Thanks in advance.
Answers (3)
Answered by Hank | May. 21, 2016 02:12

1

0

Reply
Hezuo to Langmusi: 06:30, 10:20 and 12:00; vice versa: 06:30, 10:20 and 12:00. Duration is 3 hours and ticket fare is around CNY 50.
Xiahe-Langmusi: 07:40; vice versa: 14:00. Duration is about 4 hours and ticket fare is CNY 70.
Answered by Francisco from SPAIN | May. 21, 2016 03:21

0

0

Reply
Thank you for your answer Hank. Do you know what time there are buses from Hezuo or Xiahe to Lanzhou and viceversa?
Thanks.
Answered by Hank | May. 21, 2016 03:55

1

0

Reply
Lanzhou-Xiahe: 07:30, 08:30, 09:30, 14:00 and 15:00. Vice versa, 06:30, 07:30, 08:30, 14:30 and 14:50. Duration is 4 hours and ticket is around CNY75.

Lanzhou-Hezuo: 07:00 to 16:30 every 25 minutes. The same for vice versa route. It takes about 4 hours on the way and ticket costs around CNY 75.