Code: TB34
Characteristic Gannan Line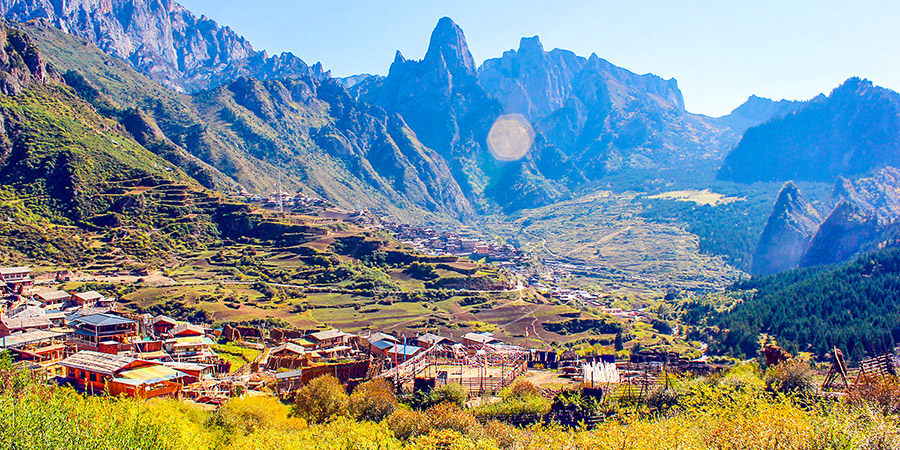 Scenery in Gannan
On the first day, the largest Meiren Prairie near Hezuo will supply an extraordinary alpine meadow territory on the world roof - Qinghai-Tibet Plain. Driving from the Hezuo, you will go approximately for two hours toward the east. With a gentle topography, unusual scenery, and a boundary extension, it fills in the travelers a special vigor. You will not miss an ancient Meiwu Monastery, a series of Buddha activities, horse-riding recreation, mushroom collection, prairie bonfire party and the Tibetan dance and the clothing performances. Meiren Monastery is also a good place for guest visiting to experience the monks' life.
On the second day, the highlight excursion of Kang Duo Gorge scenic area, Zhuoni is highly recommended. This scenic area is located in Zhuoni County, Kang Duo village. Kang Duo Gorge features its magnificent sight, such as weird peaks, strange stones, and millennium ancient pines, which enrich with ages of diversity. Some are complicated and pretty; some lives simply, but vigorously moving towards the sky. A whole day leisurable stay will place you in a tranquil Chinese Buddhist fairyland, together with the turbulent current hitting rocks noisily, the scarce birds calling in the branch, the unusual animals playing in the brush.
Tibetan people in Gannan
On the third day, you are advised to visit the Yeli Pass in Lintan County. Yeli pass means an arch pouch in Tibetan, is located in the northeast the Lintan County, 112 kilometers apart from this county, 90 kilometers from Hezuo (the capital of
Gannan
) in the west, and 160 kilometers from the provincial capital
Lanzhou
. This scenic area is so elegant and owning the reputation of "Lanzhou's back garden" for its picturesque scenery. Yeli Pass scenic area is divided into four parts, Lotus Mountains, west canyon, east canyon and Yehai Lake. The main highlight has the lotus flower, Yemu canyon, red wall glen, and giant reclining Buddha. The admission fee is ¥118.00. The telephone number is 0941-3271344. The opening time is 8:00 -17:00.
For the local cuisine: Many distinguished sorts of Tibetan food are popular in the Gannan area, especially some staple food made from flour.
For the local accommodation: There are many hostels and inns on the way from
Xiahe
to Labuleng Monastery. Some of them own well inner facility and providing heating water. As the local area is cold in the evening, you had better check the heating facility before handle the check-in procedure.
Tip: As scarce people dotted in the some of the Gannan Regions, you are suggested to travel in group. If you want to guest in the Tibetan family, you may bring with some gifts. For camping in the prairie, a pile of need-fire is necessary. Take some medicine for Altitude stress.

More Tibet Hiking Itineraries:
Drigung Monastery Tour: to discover Drigung Monastery and Dezhong
Mt. Kailash and Lake Manasarovar Tour: 10 days of Lhasa - Pangkog County - Nyima County - Dongcuo - Gegye County - Shiquanhe Town – Guge