Linxia Travel Guide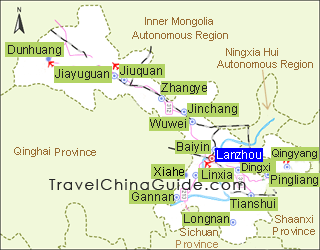 Linxia Facts
Full Name: Linxia Hui Autonomous Prefecture
Chinese Name: 临夏回族自治州 (lín xià huí zú zì zhì zhōu)
Population: 1,960,000
Area: 8,417 square kilometers (3,250 square miles)
Nationalities: Hui, Han

Location: Linxia Hui Autonomous Prefecture is seated in southwest-central Gansu Province on the upper reaches of the Yellow River. It borders Dingxi City in the east, Gannan Tibetan Autonomous Prefecture in the south and the capital city of Gansu, Lanzhou, in the north. With the Anemaqen Mountains forming a natural boundary, it is also bordered to the west by Qinghai Province.

Administrative Division: 5 counties (Linxia, Kangle, Yongjing, Guanghe, Hezheng); 2 autonomous counties (Dongxiang Autonomous County, Jishishan Bonan, Dongxiang and Salar Autonomous County); 1 county-level city (Linxia)
Seat of the Prefectural Government: No.84, Hongyuan Lu

Useful Telephone Numbers:
Tourist Complaints: 0930-6212496
Weather Forecast: 121
Zip Code Inquiry: 184

Bank of China: No.57, Jiefang Lu
China Post: No.8, Minzhu Dong Lu
Linxia Attractions - Things to Do
Liujiaxia Reservoir: is a smooth lake in the high gorges, being the largest inland reservoir in Northwest China. After admiring the reservoir on the way westward, visitors can see the ancient grottoes situated high on the cliffs. They were first excavated in 420AD. Nowadays, the Grottoes at Bingling Temple has become a hot attraction along the ancient Silk Road.

Nanguan Mosque: one of the famous Islamic shrines in China's northwest region first built in the Yuan Dynasty (1271-1368).

Other Scenic Spots: Songmingyan National Forest Park, Lianhua Mountain Nature Reserve
How to get to Linxia
Linxia does not have an airport.
Lanzhou Zhongchuan Airport
is the nearest airport to this prefecture. The city is about two hours from Lanzhou and the airport is a further 80 kilometers (50 miles) from downtown Lanzhou. There is also no railway and visitors should travel to Lanzhou and change buses to get to. The south bus station is seated in Jiefang Lu and the west bus station is just outside the West Gate.
Weather
-
Most regions of Linxia Prefecture lay in a temperate climate zone with four distinct seasons, moderate temperature, and refreshing weather. There is no excessive summer heat and the annual average temperature only falls to around 6.3

C (43.3

F).

When to Go: Summer and autumn are the harvest seasons for fruits and melon, and due to the high altitude, summer is comfortable and refreshing. Therefore, June to August are recommended as the best times to visit there.
Linxia Travel Tips

History: It was formerly known as Han, and was later changed to Daohe and then Hezhou. Since the founding of administrative divisions during the Qin Dynasty (221BC-206BC), it has always been a link between western and central China. Linxia was a vital passage in the ancient Silk Road, Tang-Tibet and Gansu-Sichuan ancient roads, and was praised as the 'dock on land in West China'. The city was established in 1956, being one of the only two autonomous prefectures of Hui ethnic minority.



Physical Features: Situated in the transition zone between Qinghai-Tibet Plateau and Loess Plateau, the land is higher in the southwest and lower in the northeast. It is basically made up of river valley area and a dry loess region with alpine areas.



Special Local Products: horsebean, hemp, apricot, beet, herbs.



Local Highlights:
Nationalities and religions: There are in total twenty-two ethnic groups living in there, including Han, Hui, Dongxiang, Bonan, Salar, Tibetan and Tu, among which the Bonan and Dongxiang are unique to the prefecture. The people of Hui, Dongxiang, Bonan and Salar descent are Islamic, comprising more than fifty-six percent of total local population. Although Tu, Tibetan and some of the Han people believe in Buddhism and Catholicism, it is one of the cradles of Hui ethnic minority with a population of over six hundred thousand.

Three wonders: painted pottery, gourd carving, brick carving.

Folk-Customs: Hua'er, otherwise known as 'Flower', is a type of folk song popular amongst the ethnic minorities in Qinghai, Gansu, Ningxia and Xinjiang. According to different areas, the flower song has two types: Hezhou Hua'er and Gaoqiang Hua'er with Linxia renowned as a hometown of Hezhou Hua'er.


Related Hiking Tour Itinerary Information:
Linxia Exploration: 4 Days Tour of Linxia and Xiahe