Baiyin Travel Guide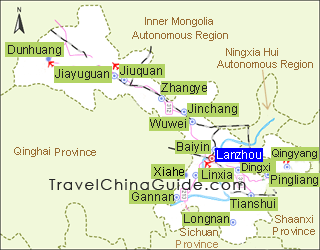 Baiyin Facts
Chinese Name: 白银市 (bái yín shì)
Population: 1,734,200
Area: 21,200 square kilometers (8,185 square miles)
Location: in the central Gansu Province, northwestern China
Administrative Division: 2 districts (Baiyin, Pingchuan); 3 counties (Jingyuan, Huining, Jingtai)
Area Code: 0943
Zip Code: 730900
GDP (2018): CNY 511.6 billion (USD 77.32 billion)

Largest Nonferrous Metal Industrial Base in China
Baiyin City is situated in central Gansu Province, the upper reaches of the Yellow River. It is bordered with Ningxia Hui Autonomous Region to the east and Inner Mongolia to the north. The capital city of the province, Lanzhou is adjacent to its west. Baiyin is rich in mineral resources. In the Ming Dynasty (1368 - 1644), the official set up the Silver Factory (Baiyin Chang) mining here. Hence Baiyin got the name. Now Baiyin is the largest nonferrous metal industrial base in China and an important energy and chemical base in Gansu Province. Within Baiyin, there are a lot of historical relics and the stone forest landscape.
Baiyin Attractions - Things to Do

Yellow River Stone Forest
Nowadays, a geographical park has been established in southern Jingtai County to preserve the Yellow River Stone Forest four billion years ago. Yellow River Stone Forest Scenic Spot is located in Longwan Village in Jingtai District of Baiyin City. It was formed by the rising of the Earth's crust. Just as beautiful as the famous Stone Forest of Yunnan, Yellow River Stone Forest Scenic Spot is composed of many sand stalagmites and stone pillars in various sizes and shapes. Some are about 80-200 meters (262-656 feet) tall. Unique pattern on the cliff sides formed by water and wind erosion made the stone forest more attracting. The fabulous scenes reflect the prodigious craftsmanship of nature's creation. People have imaginatively given many peaks vivid names, such as "Lovers under the Moon", "The Goddess Looks at the Moon", "Qu Yuan Asks Heaven" and "A Gleam of Sky".
The Chinese Mother River – the Yellow River flows east-west through this 34 square kilometers (13 square miles) scenic area, adding dynamic beauty to the landscape. Together with the surrounding deserts, oases and farms, Yellow River Stone Forest Scenic Spot has become a location for many famous Chinese movies and television plays. Attracted by its imposing, wild, and secluded views, more and more visitors come here for sightseeing, and exploration, seeking novelty and recreation.
| | |
| --- | --- |
| Admission Fee: | CNY 40 |

Dunhuang Movie Set
Located on the half way from the Yellow River Stone Forest to the ancient city of Yongtai (Turtle city), the movie set boast pagoda forest, Paifang (arch), Mingqing Street and numerous ancient buildings. This is the first movie set in China carrying on the culture of Dunhuang, having the 1:1 replication of the Mogao Caves.



Other Scenic Spots: Shoulushan Nature Reserve, Faquan Temple
How to get to Baiyin from Lanzhou
This city is 78 kilometers (48 miles) from Lanzhou and only 70 kilometers (43 miles) from Lanzhou Zhongchuan Airport. Through the airport expressway, the Lanzhou airport can be reached from this city in one hour. City Bus Station stands in No.2, Renmin Road, offering buses to Lanzhou every twenty minutes. In addition, the tourist bus station is in No. 12, Shuichuan Road.
Weather
-
Baiyin bears a temperate monsoon climate having both semi-dry and dry zones distributed. It enjoys an average temperature of 6

C-9

C (42.8

F-48.2

F). July to September gathers over sixty percent of the city's rainfall throughout the year.

When to Go: summer and autumn
Baiyin Travel Tips

History: Baiyin means silver. As the name suggested, the city is a treasure land, whose mining industry began as early as the Han Dynasty (206BC-220AD). During the end of Tang Dynasty (618-907) to the start of the Song Dynasty (960-1127), it was once occupied by the Tubo Kingdom of Tibet. By the Ming Dynasty (1368-1644), mine industry of this area reached its zenith, and hence its name.

Physical Features: Located in the transition area from the Tengger Desert and the offshoots of Qilian Mountains to the Loess Plateau, the terrain basically slopes downward from southeast to northwest. The Yellow River zigzags through the city taking on a shape of 'S'.

Special Local Products: lamb, lamb's coat fur, black melon seeds
- Last updated on May. 24, 2022 -
Questions & Answers on Baiyin Travel
Asked by Henry from MALAYSIA | Oct. 22, 2019 06:25

Reply
Can we visit Yellow river stone forest as a day trip from Lanzhou in 1 day?
Hello. Can anyone advise if I start from Lanzhou in the morning, can I take a bus to visit the Yellow River stone forest, and come back to stay in Lanzhou in the same day?

How far is the stone forest from Baiyin town, and how often is the bus schedule from Baiyin city to the stone forest?
Answers (1)
Answered by Gabby from THAILAND | Oct. 27, 2019 19:15

0

0

Reply
Generally speaking, you can visit stone forest and return to Lanzhou in one day. The common way is to take bus from East Coach station to Baiyin Coach station, then you can take tourist bus from there to scenic area. But it only departs from 16:10. So if you rush your time, you need to hire a car after you arriving Baiyin Coach station.
Asked by Ruth from USA | Oct. 19, 2018 13:38

Reply
What is the least expensive way for 5 people to travel from Baiyin to Jingyuan City?
Answers (1)
Answered by Rebecca from USA | Oct. 21, 2018 20:17

0

0

Reply
The cheapest way is to take the only train No. 7515 departing at 11:10 am every day, and the ticket fare of the hard seat is CNY4 per person and the duration is about 1.5 hours.
Asked by Joshua from PHILIPPINES | Jun. 15, 2017 06:32

Reply
is there public transport from Lanzhou to Longwan Village (trains, buses etc)?
I'm planning to visit the stone forest in July, Are they regular? And once in the village is it possible to get to the park by public transport as well? When is the last trip back to Longwan and then to Lanzhou?

Thanks in advance
Answers (1)
Answered by Alex from USA | Jun. 16, 2017 01:52

0

0

Reply
Yes, they're regular. You can take a shuttle bus from Lanzhou East Bus Station to BY Bus Station. Then you can transfer another bus from BY to Longwancun directly. This bus leaves at 08:50 with the duration of around 2 hours. As I know, this bus can take you to the scenic spot directly. The return bus may leave at 15:30 to BY Bus Station.
Asked by LIM BC from MALAYSIA | Apr. 16, 2017 18:03

Reply
Lanzhou West Train Station to Longwan Village
Hi, 3 of us will be arriving in Lanzhou West Train Station around 17:30 in late May 2017. A couple of questions :- 1) Is there a taxi at the station that can take us to Longwan Village, near the Yellow River Stone Forest Park?
2) How much will it cost?

Thank you and best regards
Answers (4)
Answered by Tom from UK | Apr. 16, 2017 20:24

0

0

Reply
It's about 93 miles (150 kilometers) between two places. You are advised to charter a car to go there which will cost around CNY700 for a round trip.
Answered by LIM BC from MALAYSIA | Apr. 17, 2017 02:45

0

0

Reply
Hi Tom, appreciate your prompt reply. We will be staying at LongWan Village as you rightly pointed out the distance precludes the visit as a day trip from Lanzhou. We were just not sure if a taxi is available at Lanzhou West Train Station to LongWan Village which is just a short distance away from the Yellow River Stone Forest Park.
Many thanks
Answered by Tom | Apr. 17, 2017 04:34

0

0

Reply
I'm not sure whether the public taxi will go there. However, you can find a car to go there at the West Railway Station. It's a long distance between two places. The taxi driver will not go there by meter.
Answered by LIM BC from MALAYSIA | Apr. 19, 2017 02:37

0

0

Reply
Hi Tom, noted with thanks. Much appreciated. If anyone else reading this have the answer, will be much obliged. Thanks
Asked by Balraj Dalal from INDIA | Aug. 16, 2013 01:51

Reply
Yellow River and Baiyin in september.
I'm going to be in BY in Gansu for a next month this summer, also planning in going to Yellow River. Is there a good and cheap hotels and church for live etc. let me know hotels name and can live in church. also can find transtetter for language help.
Answers (1)
Answered by Jack from CHINA | Aug. 16, 2013 03:41

0

0

Reply
I heard there is a Mosque at Xiangyang Village and a Christian church at Xicun Village. It is best to ask the local people or turn to your tour guide to find. I'm afraid you are not allowed to live in the church.

I know a Jinyuan Hotel at No. 299, Beijing Road, West Area of BY City. It averagely costs CNY140-150 per night. Is it ok? or you can tell me your budget and I can give you more suggestions.

For the translater, it is better to find one through a travel agency or a good hotel in the city.