Code: TB32
Linxia and Xiahe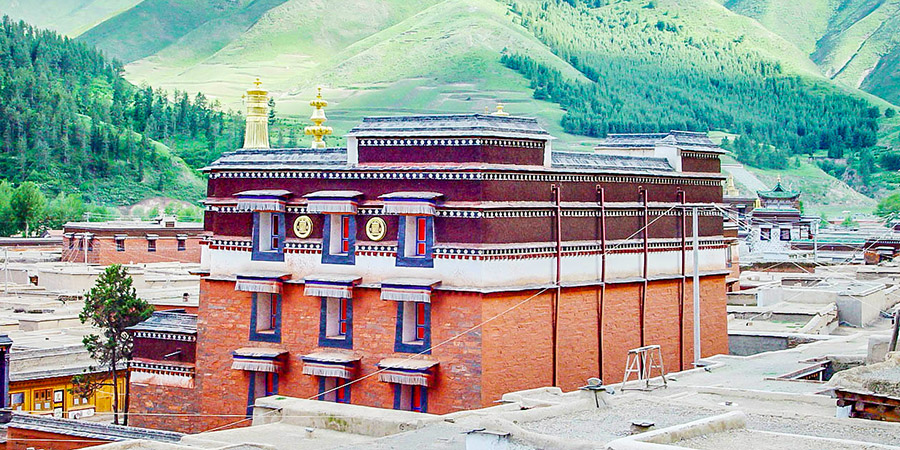 Labrang Lamasery, Xiahe
Take a coach from Lanzhou South Coach Station to
Linxia city
. The coach journey takes around 2.5 hours and coach ticket costs around CNY29.00 net per person. Upon arrival in Linxia, connect a tourist bus to the Songmingyan National Forest Park, which is 65 kilometers from the city. The park contains three mountain peaks center with temples, palaces and pavilions, which are steep and majestic. (Admission fee: CNY20.00 net per person; Opening hour: 08:00 - 17:00) After a half day's tour, transfer back to the downtown area and check in at a local hotel. (Recommended hotel: Linxia Hotel; Address: No. 9 Hongyan Road, Linxia; Telephone number: 0930 - 6212498)
On the second day, hire a taxi to visit the Yeliguan Scenic Zone. With an area of 79,400 hectares, the scenic zone is situated on the northeast part of the Tibetan Plateau, containing four sections of the Lotus Mountain, the West Gorge, the East Gorge and the Yehai Lake. (Admission fee: CNY40.00 net per person) In the afternoon, transfer back to Linxia and connect a coach to Xiahe County, which will take around 3 hours driving. (Recommended hotels in Xiahe: Xiahe Huaqiao Hotel, Address: No. 77, Renmin Street, Labrang Town, Xiahe; Telephone number: 0941 - 7121872; Labrang Redrock International Youth Hostel; Address: No. 253, Yagetang, Xiahe; Telephone number: 0941 - 7123698)
A local Tibetan's family
In the morning of the next day, visit the
Labrang Lamasery
and the Gongtang Pagoda, both of which are located in the downtown area of the county and can be easily accessed by a few minutes' walking or taking a taxi. Founded in 1709 and occupied an area of 8 million 660 thousand square meters, the Labrang Lamasery ranks among the six noted monasteries in Gelu Sect (Yellow Sect) of
Tibetan Buddhism
. And it is one of the most important Tibetan religious and cultural centers in
Gansu
,
Qinghai
and
Sichuan
. (Admission fee: CNY40.00 net per person; sometimes it is free of charge) Located at the southeast corner of the lamasery, the Gongtang Pagoda built in 1805 is perfectly combined the religious significance and architectural art. (Admission fee: CNY10.00 net per person) The last destination of this day is
Sangke Grassland
, which is only 1 kilometer south of
Xiahe
and can be reached by 15 minutes' bus journey with around CNY10.00 net for one way. Or hiring a bicycle is available at the reception desk of Labrang Redrock International Youth Hostel, which costs around CNY15.00 net per day.
On the fourth day, visit the Ganjia Grassland, which is 20 kilometers northwest of Xiahe, by taking a taxi with around CNY120.00 net for one way. If you have a tent, you may travel to the grassland on the third day's afternoon and stay overnight there. Or if you are lucky, you could stay at a local tent with the local people who are friendly and hospitable.

Recommended Tibet Itineraries with Cheap Price:
Tibet In-depth Tour
: 20 Days, Lhasa - Shigatse - Lhatse - Saga - Paryang - Manasarovar Lake - Tarchen - Mt. Kailash - Tarchen - Tsada - Seng Ge Tsangpo - Gertse - Tsochen - Lhatse - Shigatse - Lhasa

More Hiking Routes:
Tibetan adventure at Hezuo
: Two-day tour to Milariba Buddhist temple, Tibetan mastiff breeding field.
Characteristic Gannan Line
: Exhibit Tibetan national minority folk custom character, together with prairie scenery.
Drigung Monastery Tour
: to discover Drigung Monastery and Dezhong