Tongliao Travel Guide
Tongliao Facts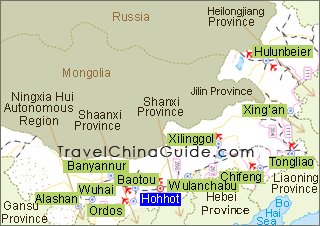 Chinese Name: 通辽 (tōng liáo)
Population: 3,110,000
Area
: 59,535 square kilometers (22,987 square miles)
Nationalities
: Mongol, Han

Location
: Situated in the east part of
Inner Mongolian Autonomous Region
, Tongliao City is bordered by Jiling and Liaoning provinces in the east and the south. It neighbors Chifeng City in the west, situated at the convergence of Northeast China and North China.
Administrative Division
: 1 district - Keerqin; 1 county - Kailu; 5 banners (Kulun Banner, Naiman Banner, Zhalute Banner, Keerqin Left Wing and Central Banner, Keerqin Right Wing and Behind Banner); 1 county-level city - Huolinguole

Useful Telephone Numbers
:
Tourist Complaints: 0475-8239809
Tourist Inquiries: 0475-8255252, 8233516
Weather Forecast: 121
Zip Code Inquiry: 184
Tongliao Attractions - Things to Do
Zhurihe Grassland Tour Zone
Like a gem inlaid in the hinterland of the Keerqin Grassland, Zhurihe Grassland Tour Zone is a comprehensive attraction combining magnificent pastoral view and the Mongolian folklore with strong local flavor. The Keerqin Grassland Horse Race Festival is held there annually.
| | |
| --- | --- |
| Admission Fee | CNY 40 |
| Transportation | take bus from Tongliao bus station to Zhurihe Town and then hire a van to the grassland tour zone. |
Fuyuan Temple
Located in Kulun Town of Kulun Banner, it is a Lama temple combining with Lamaism school built in 1742, and its name was christened by Emperor Qianlong of the Qing Dynasty (1644-1911). Grand summons ceremonies will be held every quarter of a year.



Other Scenic Spots in/near Tongliao: Daqinggou Ecological Tour Zone, Xingyuan Temple
1. Tongliao Bus Station is seated in Nanshun Dajie, opposite the railway station, Keerqin District. Generally, visitors can reach Tongliao in 4 hours from Jilin and 5 hours from Shenyang. The way from downtown Tongliao to the Keerqin Grassland will cost two hours. Tourist buses in the city proper will help visitor to the Fuyuan Temple.

2. Tongliao Airport is 7 kilometers (4.3 miles) southwest of the downtown area. Airport buses are available. Otherwise, the airport dispatches four flights a week to Beijing and one flight every day to Hohhot.
Weather
-
Enjoying a temperate continental climate, Tongliao has dry and windy spring, short and hot summer, cool autumn and chilly winter. Usually, intense rainfall concentrates on summer. In addition, Tongliao has abundant wind energy.



When to Go: Generally, winter is seldom suggested for visitors. Beauty of the sceneries at the rest of the year may cater for their different aesthetic needs.
Tongliao Travel Tips

History: Tongliao is one of the headstreams of Mongolian nation. As early as five thousand years ago, Keerqin Grassland was inhabited and the ancients living there entered the slave society. It belonged to the Yan Kingdom during the Spring and Autumn Period (770BC-476BC) and is brought into the territory of the Qin Dynasty (221BC-206BC) after the union of China.



Physical Features: Tongliao stands at the west of the Songliao Plain, Its northern part lies in the offshoot area of the Great Xing'an Mountains (Daxing'anling). Alluvial plains constitute the central part of the City, and the south and west territory is made up of low hills, ravines and sandy swamps.



Local Highlights:
Keerqin Horse Race Festival (18th August in the Zhurihe Grassland, Keerqin Left Wing and Central Banner)
Andai (Dance) Arts Festival (July in Kulun Banner)



Special Local product: Hanshan white cashmere, Merino fine sheep wool, Keerqin beef, Kulun buckwheat