Chifeng Travel Guide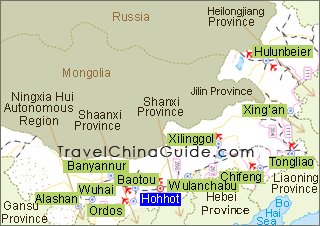 Chifeng Facts
Chinese Name: 赤峰 (chì fēng)
Population: 4,643,000
Area: 90,275 square kilometers (34,855 square miles)
Location: in the southeast of Inner Mongolia, north China
Administrative Division: 3 districts (Hongshan, Yuanbaoshan, Songshan); 2 counties (Ningcheng, Linxi); 7 banners (Alukeerqin Banner, Balin Left Banner, Balin Right Banner, Keshiketeng Banner, Wengniute Banner, Kalaqin Banner, Aohan Banner)
Area Code: 0476
Zip Code: 024000
GDP (2018): CNY 154.98 billion (USD 26.42 billion)
Nationalities: Mongol, Han, Hui, Man
The Most Populous City in Inner Mongolia with Vast Grasslands
Chifeng is the most populous city located in the southeastern Inner Mongolia Autonomous Region at the convergence of Inner Mongolia, Liaoning and Hebei. Its southern extremity is 315 kilometers (196 miles) from downtown Beijing. It treats visitors with a magnificent and beautiful geographical spectacle where mountains, hills, grasslands, forests, rivers, lakes, lava platforms and dunes are all distributed. Chifeng grassland is an important part of Inner Mongolia grassland. The famous grasslands include Ulanbu Grassland, Gonger Grassland and Bahrain Grassland, among which Ulanbu Grassland is the most beautiful grassland close to Beijing. Many cultural and historical sites can also be found in this city such as the Harqin Palace which is the largest existing Mongolian prince's mansion in the Qing Dynasty (1636 - 1912).
Chifeng Attractions - Things to Do
Gongger Grassland
This is the Mongolian grassland nearest to Beijing, where the fascinating Mongolian nomadic culture can be seen against a backdrop of beautiful natural landscapes. The grassland is located in Keshiketeng Banner, boasting one of the world's two remaining stands of Korean spruce wood, which is regarded as a 'living fossil'.

Arshihaty (Asihatu) Stone Forest
The stone forest is classified as a geo-park, where quaternary glacial relics have been carved by the wind and sand over millions of years. Like an ancient castle, the stone forest is set in the vast grassland backing onto spacious a birch forest.

Dalinor Lake
Dalinor Lake, known as "Swan Lake", is the second largest lake in Inner Mongolia where more than 70,000 migrating white swans rest from October to November. The lake is surrounded by a wide range of volcanoes. Summer and autumn is the best time to shoot the natural scenery of Dalinor. A spectacular birds' migration can be seen from April to May, or from October to November.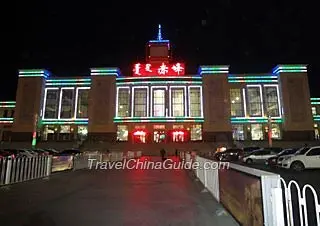 Chifeng Railway Station

Other Scenic Spots: Bokelong Desert Tourist Zone, Longquan Temple
How to Get to/around Chifeng
1. Chifeng Yulong Airport is situated on the southwest outskirts of the city. It has flights to/from Beijing, Shanghai, Guangzhou, Shenzhen, Xi'an and more major domestic cities.

2. Long-distance Bus Station is located in the square in front of Chifeng Railway Station, from where visitors can journey to Beijing, Shenyang, Tianjin and Shijiazhuang. Buses to Chifeng can be easily found in Beijing Xizhimen Long-Distance Bus Station and Liuliqiao Long-Distance Bus Station. The whole journey will take six hours from Beijing to Chifeng.
Weather
-
Chifeng enjoys a semi-dry continental monsoon climate. Spring is dry and windy. Summer is short and the rainfall occurs mainly during this period. The average temperature in summer ranges from 18-23

C (64 - 73

F). Winter is long and chilly. Extremely low temperatures are usually experienced during January and February.



When to Go: The best times to visit Chifeng are from June to September.
Chifeng Travel Tips

History: In the Neolithic Age, the Inner Mongolian ancestors created the brilliant Hongshan Culture in this area. An abundance of archaeological discoveries testify that, as with other noted locations in Central China, Chifeng is also a vital pillar of Chinese civilization. It was once the political, economical and military center of the Liao Dynasty (916-1125) of the Kitanyes. It was named after the red peak northeast of the city.



Physical Features: At the junction of the southeast ranges of the Great Xing'an Mountains (Daxing'anling), Inner Mongolian Plateau, the West Liaohe River Plain and the northern foothills of the Yanshan Mountains, Chifeng is situated in a basin. Medium and low mountains as well as hills occupy the majority of the city's outlying territory, as the city is surrounded by mountains to the north, the west and the south.



Special Local product: Balin Stone, tapestry, Longtoushan precious stone



Local Highlights: Several local ceremonies and activities will be held during August, such as the Balin Stone Festival, Liao and Hongshan Cultural Tourism Festival. Festivals in the city demonstrate its unique folk customs and pastimes and cultural treasures.
- Last updated on Jul. 26, 2022 -
Questions & Answers on Chifeng Travel
Asked by Faizan from PAKISTAN | Jul. 21, 2022 09:23

Reply
Hohhot to Chifeng
How can I go to chifeng from Hohhot?
Answers (1)
Answered by Hank | Jul. 26, 2022 01:55

0

0

Reply
There is a direct train, taking 21 hours or so. You can also make a transfer in Beijing to travel by the high speed train, which take all together 6 hours or so onboard.
Asked by Eleonora Garcia Poza from ARGENTINA | Jul. 26, 2019 16:17

Reply
Hi! How is the transportation for the locals in Chifeng?
For example, in the center of the city, if you need to commute everyday to work, which transportation is available?
Answers (1)
Answered by Ann from USA | Jul. 30, 2019 20:16

0

0

Reply
Locals usually take bus or subway.
Asked by M from CANADA | Feb. 11, 2018 04:23

Reply
Can anyone please tell me a little about the crime and pollution in ChiFeng?
Also is it possible to get vegetarian food there? Thanks!
Answers (2)
Answered by Linda from NORWAY | Feb. 11, 2018 20:33

1

0

Reply
Hi, Roz! Don't worry! It's a nice city, people are friendly to all visitors and the air is also great!
As for vegetarian food, there are many in your choice, like Yuhuazhai Vegetarian Restaurant in 22-5 Yuanlin Rd, Hongshan District, Dexinyuan Vegetarian Restaurant in 53 Yulong Avenue, Songshan District and Juexiyuan Restaurant in 51-42 Yulong Avenue, Songshan District.
Answered by M from CANADA | Feb. 12, 2018 03:26

0

0

Reply
Thanks Linda! Very helpful!
Asked by graeme from SINGAPORE | Aug. 09, 2017 08:13

Reply
Wulan butong grassland trip
I want to go to wulan butong grassland by private rent van and 2nd choice will be public transport. Any transport to go there directly the fastest. Also I will be going to saihanba forest too. Any good suggestion how to plan trip as I arrive in chifeng city first and stay overnight first.

I can speak chinese.


graeme chow
Answers (1)
Answered by Mike from AUSTRALIA | Aug. 09, 2017 22:51

0

0

Reply
As I know, you can charter a car at CF Long Distance Bus Station, where other visitors may share the fare with you, and it takes CNY 250-300. The long distance bus to the grassland is also available at 9:00 at the station.
Saihanba forest is near the grassland, and you can take a local bus there when you arrive at the grassland.

Asked by Azzam Azhar from MALAYSIA | Aug. 13, 2016 08:23

Reply
Hi,
Does chifeng offers horse riding and ATV ride?
Answers (1)
Answered by Wendy from USA | Aug. 13, 2016 21:24

0

0

Reply
Yes. In Chifeng, you can go to Wulan Butong Grassland, where you can have a horse ride and ATV ride. In the grassland, there are agencies operating such activities for tourists. You can have a try.