Chifeng Travel Guide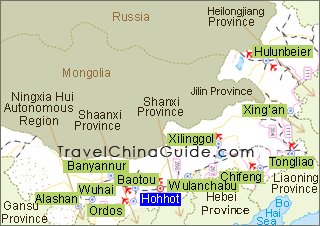 Chifeng Facts:
Chinese Name: 赤峰市 (chì fēng shì)
Population: 4,600,000
Area: 90,275 square kilometers (34,855 square miles)
Nationalities: Mongol, Han
Administrative Division: 3 districts (Hongshan, Yuanbaoshan, Songshan); 2 counties (Ningcheng, Linxi); 7 banners (Alukeerqin Banner, Balin Left Banner, Balin Right Banner, Keshiketeng Banner, Wengniute Banner, Kalaqin Banner, Aohan Banner)
Useful Telephone Numbers:
Tourist Complaints: 0476-8380833
Weather Forecast: 121
Zip Code Inquiry: 184
Bank of China: 0476-8336905
Location: Chifeng is a dynamic city in the southeastern Inner Mongolia Autonomous Region at the convergence of Inner Mongolia, Liaoning and Hebei. Its southern extremity is 315 kilometers (196 miles) from downtown Beijing Municipality.
History: In the Neolithic Age, the Inner Mongolian ancestors created the brilliant Hongshan Culture in this area. An abundance of archaeological discoveries testify that, as with other noted locations in Central China, Chifeng is also a vital pillar of Chinese civilization. It was once the political, economical and military center of the Liao Dynasty (916-1125) of the Kitanyes. It was named after the red peak northeast of the city.
Physical Features: At the junction of the southeast ranges of the Great Xing'an Mountains (Daxing'anling), Inner Mongolian Plateau, the West Liaohe River Plain and the northern foothills of the Yanshan Mountains, Chifeng is situated in a basin. Medium and low mountains as well as hills occupy the majority of the city's outlying territory, as the city is surrounded by mountains to the north, the west and the south.
Climate: The city enjoys a semi-dry continental monsoon climate. Spring is dry and windy. Summer is short and the rainfall occurs mainly during this period. The average temperature in summer ranges from 18-23℃ (64-73℉). Winter is long and chilly. Extremely low temperatures are usually experienced during January and February.
When to Go: The best times to visit the city are from June to September.
Special Local product: Balin Stone, tapestry, Longtoushan precious stone
Local Highlights: Several local ceremonies and activities will be held during August, such as the Balin Stone Festival, Liao and Hongshan Cultural Tourism Festival. Festivals in the city demonstrate its unique folk customs and pastimes and cultural treasures.

Attractions:
Gongger Grassland: This is the Mongolian grassland nearest to Beijing, where the fascinating Mongolian nomadic culture can be seen against a backdrop of beautiful natural landscapes. The grassland is located in Keshiketeng Banner, boasting one of the world's two remaining stands of Korean spruce wood, which is regarded as a 'living fossil'.
Arshihaty (Asihatu) Stone Forest: The stone forest is classified as a geo-park, where quaternary glacial relics have been carved by the wind and sand over millions of years. Like an ancient castle, the stone forest is set in the vast grassland backing onto spacious a birch forest.
Other Scenic Spots: Bokelong Desert Tourist Zone, Dari Lake, Longquan Temple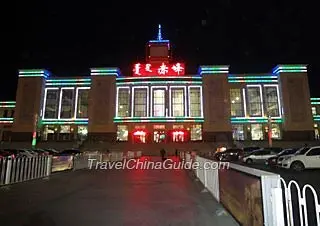 Chifeng Railway Station
Chifeng Travel Tips:
1. Chifeng Airport is situated on the southwest outskirts of the city. Most of the flights operate between Chifeng and Beijing or Hohhot, having flight times of fifty minutes and one hour plus ten minutes, respectively.
2. Chifeng's long-distance bus station is located in the square in front of Chifeng Railway Station, from where visitors can journey to Beijing, Shenyang, Tianjin and Shijiazhuang. Buses to Chifeng can be easily found in Beijing Xizhimen Long-Distance Bus Station and Liuliqiao Long-Distance Bus Station. The whole journey will take six hours from Beijing to Chifeng.
Weather
-