Chongqing Weather in July
In July, the weather of Chongqing is hot. The average daytime temperature is 33°C (91°F), but the daytime temperature in some days may exceed 40°C (104°F), and the average night temperature is 25°C (77°F). The average precipitation is 175mm and the average humidity is 76%. On the whole, the climate of Chongqing in July is hot and humid, but it can't stop tourists' enthusiasm.
Chongqing is known as one of the top 4 hot cities in China, so hot weather is not strange in summer. Drinking a glass of cool beer in such hot weather is great. Chongqing International Music Beer Festival is usually held in Haitang Yanyu Park in late July, where local and international brands of beer are available. In addition, visitors can taste delicacies and enjoy music parties.
Averages for Chongqing Weather in July
Temperature: 28°C / 82°F
High Temperature: 33°C / 91°F
Low Temperature: 25°C / 77°F
Humidity: 76%
Rainfall: 175 mm
Rainy Days: 12 days
Sunrise: 05:57 ~ 06:13
Sunset: 19:47 ~ 19:58
Air Quality in July
Average AQI:33

What to Wear in Chongqing in July
You can wear short-sleeved T-shirts plus shorts or thin skirts, or wear a cotton or a chiffon dress in the daytime, but you should take a thin coat when going out on a drizzly night.


Things to Do in Chongqing in July
Daytime temperature in July is relatively high, so summer resorts are the best travel destinations. Simian Mountain Scenic Area is a famous summer resort which integrates marvelous mountains, fantastic waters, unique Danxia landform and strong cultural contents. Among all the 128 scenic spots, Wangxiangtai Waterfall is the most spectacular, and is the highest waterfall in China and the first heart-shaped waterfall in the world.
If there are two lands of idyllic beauty in the world, one is in your heart and the other is in Youyang.
Youyang Taohuayuan Scenic Area
is a fairy land where you can free yourself from social hustle and bustle and relax completely. It enjoys a good reputation as the "Kingdom of Plants and Natural Oxygen Bar". The main scenic spots are Ancient Peach Blossom Land, Fuxi Grotto, Youzhou Ancient Town and Taohuayuan National Forest Park.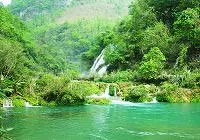 Simian Mountain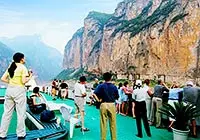 Qutang Gorge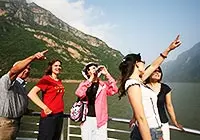 Wu Gorge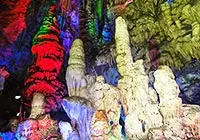 Furong Cave
Top 10 Things to Do in Chongqing
Other Tips
As the temperature is high in July, you need to drink enough water and apply sunscreen or wear sun-protective clothing to protect your skin during outdoor activities. Commonly used medicine is necessary to take, such as medicine for carsickness and heatstroke; in addition mosquito repellent is indispensable. Rail transit is the first transportation choice owing to Chongqing's geographic features.
What is the temperature in Chongqing in July?
High/Low Temperatures of Chongqing in July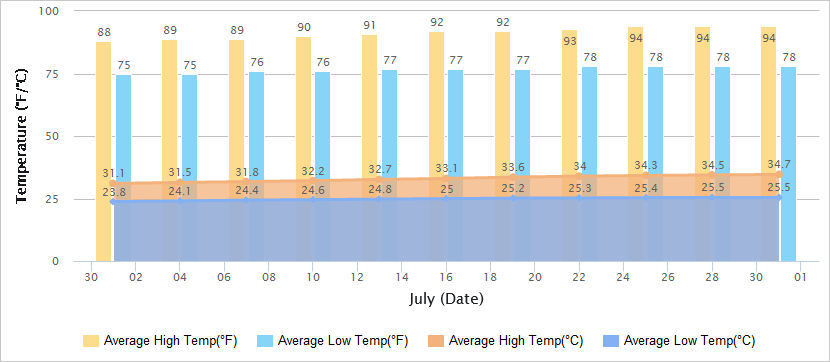 Air Quality of Chongqing in July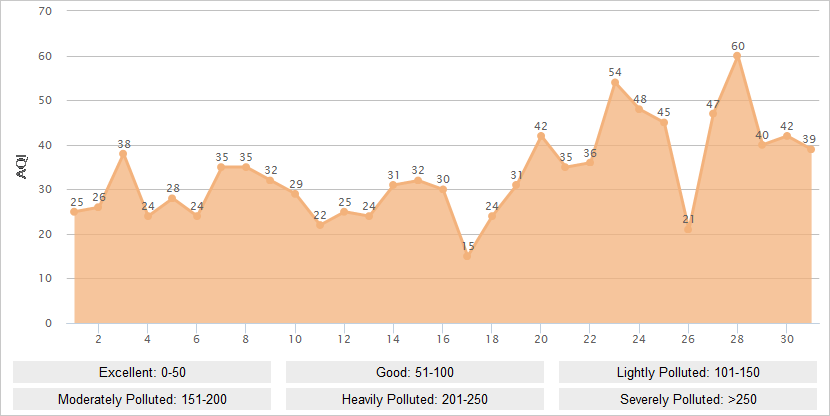 Historical Chongqing Weather in July
Jul
Temperature
Sunrise / Sunset
Humi-
dity
(%)
High
Low
1
31.1°C / 88°F
23.8°C / 74.8°F

05:57

/

19:58

75
2
31.2 °C / 88.2°F
23.9°C / 75°F

05:58

/

19:58

69
3
31.4 °C / 88.5°F
24°C / 75.2°F

05:58

/

19:58

66
4
31.5 °C / 88.7°F
24.1°C / 75.4°F

05:59

/

19:58

62
5
31.6°C / 88.9°F
24.2°C / 75.6°F

05:59

/

19:58

61
6
31.7°C / 89.1°F
24.3°C / 75.7°F

05:59

/

19:58

80
7
31.8°C / 89.2°F
24.4°C / 75.9°F

06:00

/

19:58

64
8
32°C / 89.6°F
24.5 °C / 76.1°F

06:00

/

19:57

60
9
32.1 °C / 89.8°F
24.5 °C / 76.1°F

06:01

/

19:57

61
10
32.2 °C / 90°F
24.6°C / 76.3°F

06:01

/

19:57

61
11
32.4 °C / 90.3°F
24.7°C / 76.7°F

06:02

/

19:57

59
12
32.5 °C / 90.5°F
24.8°C / 76.6°F

06:02

/

19:57

65
13
32.7 °C / 90.9°F
24.8°C / 76.6°F

06:03

/

19:56

70
14
32.8°C / 91°F
24.9 °C / 76.8°F

06:03

/

19:56

87
15
33 °C / 91.4°F
24.9 °C / 76.8°F

06:04

/

19:56

69
16
33.1 °C / 91.6°F
25°C / 77°F

06:04

/

19:55

62
17
33.3°C / 91.9°F
25.1 °C / 77.2°F

06:05

/

19:55

60
18
33.4°C / 92.1°F
25.1 °C / 77.2°F

06:05

/

19:54

70
19
33.6 °C / 92.5°F
25.2 °C / 77.4°F

06:06

/

19:54

78
20
33.7 °C / 92.7°F
25.2 °C / 77.4°F

06:07

/

19:54

65
21
33.8°C / 92.8°F
25.2°C / 77.4°F

06:07

/

19:53

63
22
34°C / 93.2°F
25.3 °C / 77.51°F

06:08

/

19:53

63
23
34.1 °C / 93.4°F
25.3 °C / 77.5°F

06:08

/

19:52

61
24
34.2°C / 93.6°F
25.4°C / 77.7°F

06:09

/

19:52

60
25
34.3 °C / 93.7°F
25.4°C / 77.7°F

06:09

/

19:51

62
26
34.4 °C / 93.9°F
25.4°C / 77.7°F

06:10

/

19:50

63
27
34.5 °C / 94.1°F
25.5 °C / 77.9°F

06:11

/

19:50

72
28
34.5 °C / 94.1°F
25.5 °C / 77.9°F

06:11

/

19:49

55
29
34.6 °C / 94.3°F
25.5 °C / 77.9°F

06:12

/

19:49

53
30
34.6 °C / 94.3°F
25.5 °C / 77.9°F

06:12

/

19:48

55
31
34.7 °C / 94.5°F
25.5 °C / 77.9°F

06:13

/

19:47

63
- Last updated on Jun. 27, 2019 -