Chongqing Weather in November
The weather of Chongqing is a little cold in November with an average temperature of 12°C (54°F) ~ 17°C (63°F). Because of the foggy weather, air quality and visibility may be affected. The average precipitation reduces to 46mm, but the average humidity is 84%, hence the air is not very dry.
After the boom during
National Day
holiday in October, many scenic spots are in off season in November. The tourist volume decreases and admission tickets are cheaper, so visiting Chongqing in this month is a good option.
Averages for Chongqing Weather in November
Temperature: 14°C / 57°F
High Temperature: 17°C / 63°F
Low Temperature: 12°C / 54°F
Humidity: 84%
Rainfall: 46 mm
Rainy Days: 12 days
Sunrise: 07:07 ~ 07:31
Sunset: 17:55 ~ 18:07
Air Quality in November
Average AQI:55

What to Wear in Chongqing in November
Long-sleeved T-shirts or thin hoodies plus thin jeans or cotton and linen suits are suitable in daytime. You are advised to add a wind coat or a cardigan sweater when going out at night.


Things to Do in Chongqing in November
It is a good time to appreciate red leaves in November. Red leaves in the
Three Gorges
will feast your eyes with wide distribution and fiery color. Red leaves in the
Wu Gorge
of
Wushan County
are the most attractive with a variety of shapes and distinct colors. The fiery red forests, green mountains and clear water complement each other, forming an amazing scene.
The natural beauty of the Three Gorges makes visitors indulge in non-stop pleasure, similarly cultural relics along the gorges are worth of visiting. Fengdu Ghost City is a treasure of folk culture, which integrates the cultures of Confucianism, Taoism, and Buddhism and ghost culture. Baiheliang is a natural stone beam with inscriptions on it and is the only existing ancient hydrologic station in the world. Shibaozhai is the largest column-and-tie construction in China and is regarded as a pearl on the
Yangtze River
.
Top 10 Things to Do in Chongqing
Other Tips
Generally, you will spend almost three nights on the ship during the Three Gorges cruise, so you'd better take a thick coat or a sweater and rain gear because the climate in the gorges is changeable. Don't stand on the deck for a long time in case you catch a cold. There are many attractions in the Three Gorges Scenic Area, and you need to disembark the ship and walk a short distance or climb stone steps; therefore, you should wear a pair of comfortable and skidproof shoes.
What is the temperature in Chongqing in November?
High/Low Temperatures of Chongqing in November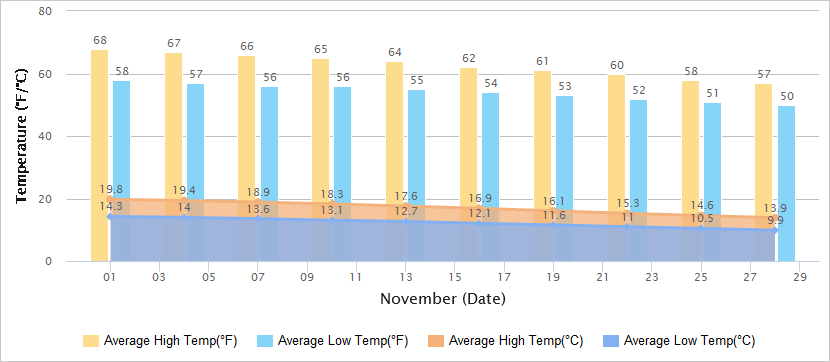 Air Quality of Chongqing in November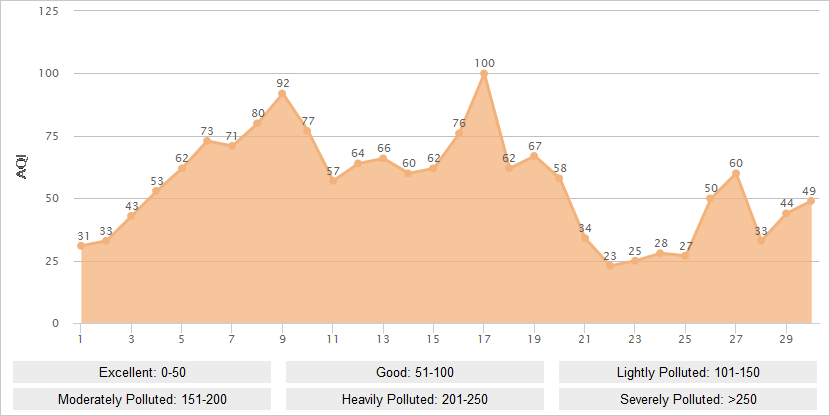 Historical Chongqing Weather in November
Nov
Temperature
Sunrise / Sunset
Humi-
dity
(%)
High
Low
1
19.8 °C / 67.6°F
14.3°C / 57.7°F

07:07

/

18:07

59
2
19.6°C / 67.3°F
14.2 °C / 57.6°F

07:08

/

18:06

58
3
19.5°C / 67.1°F
14.1°C / 57.4°F

07:09

/

18:06

58
4
19.4 °C / 66.9°F
14°C / 57.2°F

07:10

/

18:05

59
5
19.2°C / 66.6°F
13.8 °C / 56.8°F

07:10

/

18:04

70
6
19.1°C / 66.4°F
13.7 °C / 56.7°F

07:11

/

18:04

84
7
18.9°C / 66°F
13.6°C / 56.5°F

07:12

/

18:03

86
8
18.7°C / 65.7°F
13.4 °C / 56.1°F

07:13

/

18:02

89
9
18.5°C / 65.3°F
13.3 °C / 55.9°F

07:13

/

18:02

75
10
18.3°C / 64.9°F
13.1°C / 55.6°F

07:14

/

18:01

68
11
18.1°C / 64.6°F
13°C / 55.4°F

07:15

/

18:01

68
12
17.9 °C / 64.2°F
12.8°C / 55°F

07:16

/

18:00

72
13
17.6 °C / 63.7°F
12.7 °C / 54.9°F

07:17

/

17:59

86
14
17.4°C / 63.3°F
12.5°C / 54.5°F

07:18

/

17:59

71
15
17.1°C / 62.8°F
12.3°C / 54.1°F

07:18

/

17:58

66
16
16.9 °C / 62.4°F
12.1°C / 53.8°F

07:19

/

17:58

83
17
16.6 °C / 61.9°F
12°C / 53.6°F

07:20

/

17:58

75
18
16.4°C / 61.5°F
11.8°C / 53.2°F

07:21

/

17:57

71
19
16.1 °C / 61°F
11.6°C / 52.9°F

07:22

/

17:57

83
20
15.9 °C / 60.6°F
11.4°C / 52.5°F

07:22

/

17:57

74
21
15.6°C / 60.1°F
11.2°C / 52.2°F

07:23

/

17:56

77
22
15.3°C / 59.5°F
11°C / 51.8°F

07:24

/

17:56

91
23
15.1°C / 59.2°F
10.9°C / 51.6°F

07:25

/

17:56

90
24
14.8 °C / 58.6°F
10.7°C / 51.3°F

07:26

/

17:55

87
25
14.6°C / 58.3°F
10.5 °C / 50.9°F

07:27

/

17:55

60
26
14.4°C / 57.9°F
10.3 °C / 50.5°F

07:27

/

17:55

64
27
14.1°C / 57.4°F
10.1 °C / 50.2°F

07:28

/

17:55

61
28
13.9°C / 57°F
9.9 °C / 49.8°F

07:29

/

17:55

58
29
13.7°C / 56.7°F
9.8 °C / 49.6°F

07:30

/

17:55

66
30
13.5°C / 56.3°F
9.6 °C / 49.3°F

07:31

/

17:55

61
- Last updated on Jun. 27, 2019 -