5 Best Places to Go for Chinese New Year
The Chinese New Year is the most important festivals of the country. The distinctive landscapes and interesting festive customs vary a lot in different places. If you are eager to witness the whole nation celebrating its greatest festival, you will certainly have an exceptional experience during your travel in her large territory.
However, you need to book the tickets for flight and train in advance as there will be horrific Spring Festival Rush in China, referred to as the largest annual human migration in the world. Around Chinese New Year, everyone struggles to return to their respective hometowns to reunite with their families. It is a time when the whole country faces extremely high traffic load and terrible travel condition. There are also shortages of air, train and bus tickets. To some extent, it is not only a festival, but also a challenge for tourists coming to China. It is thus best to avoid coming to China during this period.

Followings are some top recommended destinations during the auspicious festival, where you can enjoy the authentic holiday culture to the fullest!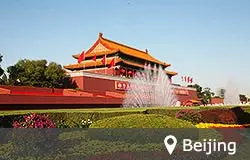 The most outstanding character of Beijing during the Chinese New Year can be found in the many parks in the city where various
temple fairs
display their different themes. One would get to enjoy the local customs and imperial cultures, as well as a chance to purchase cultural products and a taste of local snacks. They are the best destinations to enjoy traditional Beijing culture.
Recommendation rate:


Beijing Tours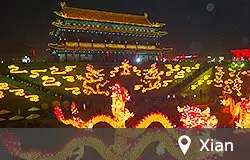 With a long history, Xi'an pays more attention on this traditional festival. Well before the holiday begins, the Xi'an City Wall would be well decorated with all kinds of lanterns.
Combining traditional custom and modern technology, it will definitely impress any visitor. The best time to go there would be in the evening. If folk culture is what you are looking for, then head to the Tang West Market and Small Wild Goose Pagoda. Lion dance, paper-cutting, sugar figurine making and other cultural heritage shows can be seen there.
Recommendation rate:


Xi'an Tours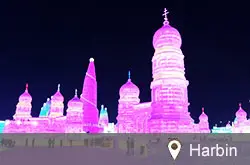 It is very distinctive to spend the festival in Harbin, a city covered with ice and snow during this time of the year. Enjoy both the local customs and the outstanding ice and snow shows. The Central Street is the best choice if you want to learn Chinese culture. Visit Harbin Ice and Snow World and the Ice Lantern Garden Party to enjoy the city's profound ice culture. Alternatively, enjoy an exciting experience by getting close to the Siberian tigers at the Siberian Tiger Park.
Recommendation rate:


Harbin Tours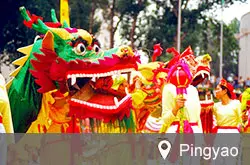 The old town of Pingyao is decorated with red lanterns everywhere during the festival, just like having Christmas trees on Christmas Day. Red lanterns not only decorate houses, but also the cold and dark nights. Shehuo is a famous local activity and is the essence of Chinese traditional culture during the Lunar New Year celebration. It is thus a must see activity if you plan to go there. Staying in smalls inns operated by the local people, and spending the holiday with the locals would be a fantastic experience for foreign visitors.
Recommendation rate:


Pingyao Tours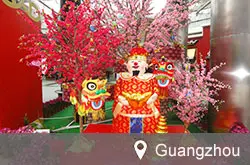 Guangzhou, also called the Flower City, has the Chinese New Year Flower Fair attracting worldwide attention. On the Festival's Eve, almost all streets and lanes are filled with flowers and bonsais.
People sell and buy flowers along the streets until midnight or early morning on the first day of the Lunar New Year. The Cantonese pay a lot of attention on the red envelopes, given to visitors when they come during the celebration. It is their local etiquette to do so. Even shopping malls decorate their kumquat trees with many of them. They are strategically placed in front of their malls to wish everyone good luck.
Recommendation rate:


Guangzhou Tours
If time permits, travel to
Hong Kong
or
Macau
. The Chinese New Year Flower Fair in Victoria Park, Hong Kong, is a good place to find all kinds of flowers. Fancy decorated vehicle parade is the highlight on the festival's first day. Horse Racing is also worth going. Macau attracts many people too because of the casinos. Even officials are able to gamble during the festival.
Tips for Visitors coming to China during the Lunar New Year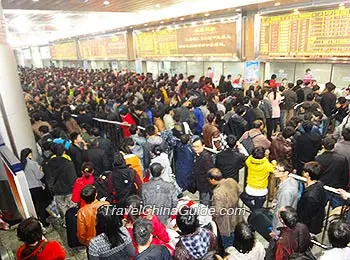 Spring Festival Rush
1. Transportation becomes a serious problem, especially on the railway services. Plane tickets are also hard to buy, but not as bad since they are more expensive and discount hard to get. Please thus make advance preparation, including hotel reservation.


Tips on Train Travel during Holidays
2. Spending the festival with local families is the most wonderful experience, because the local home is the best place to learn the authentic culture of Chinese New Year. So ask your Chinese friends for a chance to celebrate this holiday with their family members. If you are alone in some big cities of the country, you can choose to go to some parties held by some communities to enjoy the interesting festival.


Destinations Abroad for the Festival
Alternatively, you may choose to go to Chinatown in your countries to enjoy the festive season. There are many Chinatowns in countries like Britain, USA, Singapore, Italy, Mexico and so on. The number is growing because of the increasing number of Chinese people going abroad. There are about 70 Chinatowns in America alone!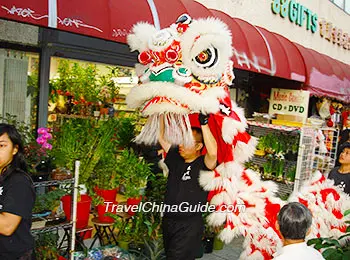 Celebration in Chinatown
The Chinese communities in America usually hold performances, including art performance and writing couplets. There are dragon and lion dances in San Francisco Chinatown. In Washington, activities normally happen in a local shopping centre, attracting many local shoppers.

The Paris City Hall Plaza is usually decorated with red lanterns and you can also enjoy a Chinese style parade in Paris. Go to Chinatown in the 13th arrondissement of Paris, which is the earliest Chinese settlement. Since 1989, make-up parade held by Chinese organizations attracted more than 100 thousand people annually.

Finally, the Chinatown in Vancouver has the famous Chinese restaurants from around the world and you may join in the fun by having a reunion dinner there.


See Chinese New Year Celebrations around the World.
- Last modified on Dec. 14, 2018 -
Questions & Answers on 5 Best Places to Go for Chinese New Year
Asked by Jnnie from AUSTRALIA | Feb. 08, 2018 08:05

Reply
Forbidden city museum during Spring Festival
How is the crowd like during Chinese Year week or a week before chinese new year? if i just want to go to the museum, is there a different ticket queue from the forbidden city visit?
Answers (1)
Answered by Max from DENMARK | Feb. 08, 2018 20:16

0

0

Reply
In general, there will be less people during a week before Chinese new year. You are advised to visit there during that period of time. There is no different ticket queue. But you are still suggested to get a ticket from the ticket window is opened near the Meridian Gate. It is important to get there and buy tickets as early as possible, especially during holidays.
Asked by Mukhtar from PAKISTAN | Dec. 23, 2015 01:28

Reply
Will tourist places remain open during Chinese year? like great wall, glass bridge in zhangjiajie?
If not, what is the best time to visit these places?
I am looking for a tour to many cities in china during chinese new year.
Answers (2)
Answered by Bill from MALAYSIA | Dec. 23, 2015 20:31

2

1

Reply
Yes, these places are open during Chinese New Year.
Answered by FANN | Dec. 27, 2017 03:06

0

0

Reply
I can show you someplace in xi'an,because I'm native
Asked by William Barnard from UK | Jun. 09, 2013 12:48

Reply
Guiyang chunjie
I,m looking for lower tier cities who hold traditional spring festivals. These include traditional costumes and the lantern festival.
Answers (1)
Answered by Jelly from SWEDEN | Jun. 10, 2013 04:02

1

2

Reply
You want to know the festival costume of lower tier cities in China.
Take Guiyang as an example, as far as I know the local people will go to worship in temples. Besides, they have similar custom with other cities.