5 Best Places to Go for Chinese New Year
China is large in territory, therefore the landscape and New Year customs vary a lot in different places. The top recommended destinations to spend the Chinese New Year should be Beijing, Xi'an and Pingyao, which are all historical cities keeping the most authentic New Year activities of north China. A tour to Harbin in the far north would give you an exceptional experience of ice and snow funs, while a holiday in Guangzhou in the warm south would be a refreshing time with spring flowers.

One thing should be done beforehand – book hotels and train or flight tickets as early as possible, in case of being affected by the annual Spring Festival Travel Rush. Then pick up the following guidelines on the 5 best Chinese New Year destinations, where you can feel the essence of this greatest festival to the fullest!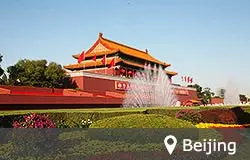 Reasons:
traditional
temple fairs
, flower fairs, ice and snow funs, low season discounts
1.
Ditan Park: It features the most time-honored temple fair of Beijing commencing since 1985. During the weeklong fair, you can see traditional Chinese decorations and folk performance, join various games, and taste authentic local snacks. Longtan Park, Shijingshan Park, and Grand View Garden also have interesting temple fairs.
2.
Summer Palace: plum blossom and wintersweet bonsais show; skating on Kunming Lake.
3.
Beihai Park: temple fair; skating.
4.
Beijing Botanical Garden: orchid show; skating.
5.
Longqing Gorge: ice lantern festival; ice and snow sculpture shows.
6.
Huaibei International Ski Resort: ski while appreciating the winter scenery of Great Wall around the resort.

Beijing Tours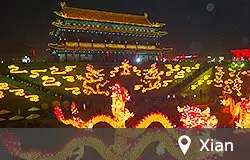 Reasons:
spectacular lantern fairs, intangible cultural heritage shows, temple fairs, local snacks
1.
Xi'an City Wall Lantern Fair: During the one and half month around the Chinese New Year, the ancient City Wall is decorated by numerous colorful lanterns in artistic shapes – some showing folktales, some delivering local features, while some in kids' favorite cartoons. The lantern fair in Tang Paradise Park is also worth visiting.
2.
Giant Wild Goose Pagoda: bell-ringing ceremony on the Lunar New Year's Eve.
3.
Daming Palace Site Park: song and dance performance; local shehuo performance.
4.
Yongxingfang: authentic Xi'an snacks; traditional handicraft showcase including sugar figurines and papercutting.
5.
Tang West Market: temple fair; local art performances.
6.
Cuihua Mountain: skiing; festive activities with ice and snow.

Xi'an Tours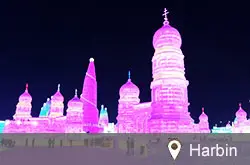 Reason:
The world's longest ice and snow festival, from Jan. 5th to the end of Feb.
1.
Ice and Snow World: ice and snow sculptures; outdoor sports and entertainments like ice slide, skating, skiing, sledding, snowboarding, snowshoes, ice canoe, hockey, and dragon boat race on ice.
2.
Sun Island: International Snow Sculpture Art Expo; International Snow Sculpture Competition; winter swimming in Songhua River.
3.
Zhaolin Park: Ice Lantern Garden Party.
4.
Yabuli Ski Resort: The longest alpine ski run in Asia.
5.
Snow Town: snow fairyland for photography; various winter sports like skiing, sledding, and snowmobiling; traditional New Year decorations; interesting folk activities of northeast China.

Harbin Tours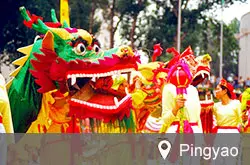 Reason:
Pingyao Ancient City is the very place retaining the most complete and diversified New Year traditions of North China.
1.
Stay in a Traditional Courtyard Style Inn: Try papercutting, paste Spring Festival couplets, make dumplngs, and set off firecrackers with the house owner and other visitors.
2.
Enjoy Night View: Major streets are decorated with red lanterns, and a colorful lantern show is held outside the South Gate of the Ancient City.
3.
Watch Shehuo Parade: Shehuo is a famous local festive activity. In the South Street, West Street, Government Office Road, and City God Temple Road, you can see the costumed Shehuo parade with traditional yangko dance, waist drum, stilt walk, dragon and lion dance, land boat, and fan dance.
4.
Folk Performance: The square outside the South Gate holds various shows, including local opera and monologue story-telling. Inside the Ancient City, there are the ancient county governor's inspection tour, guest welcoming ceremony, and acrobatic shows.

Pingyao Tours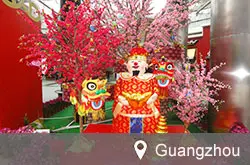 Reasons:
New Year flower fairs, south China folk customs, mild weather
Where to Go & What to Do:
1.
Spring Flower Fairs: After the family reunion dinner on the New Year's Eve, people attend the flower fairs, where streets are lined with all kinds of blooming flowers. Kumquats, peach blossom, and daffodils are the most popular for their lucky meanings.
2.
Flower City Square: The square and the nearby Haixinsha Park are best sites to enjoy the night view – the Canton Tower, Pearl River, and the New Year Light Concert.
3.
Yuexiu Park: festival lantern fair at night.
4.
Guangfu Temple Fair: Starting from the 15th day of the New Year, it is a weeklong event held around Zhongshan Road and Beijing Road, with folk performances, costumed parade, handicraft shows, and local food market.

Guangzhou Tours
Tip: If time permits, travel from Guangzhou to
Hong Kong
to spend the holiday. The New Year horse racing in Sha Tin Racecourse, the flower fair in Victoria Park, and the decorated vehicles parade are the highlights. The nearby
Macau
is also worth going.
Destinations Abroad for the Festival
If you have not got a travel plan to China yet, alternatively, you may spend the festival in the Chinatowns. There are many Chinatowns in countries like the USA, Canada, UK, France, Russia, Singapore, Malaysia, Japan, and Thailand, where there are decorations of red lanterns, Chinese style costumed parade, dragon and lion dances, and other performances and activities.


See Chinese New Year Celebrations around the World.
- Last updated on Nov. 11, 2022 by Catherine He -
Questions & Answers on 5 Best Places to Go for Chinese New Year
Asked by Jnnie from AUSTRALIA | Feb. 08, 2018 08:05

Reply
Forbidden city museum during Spring Festival
How is the crowd like during Chinese Year week or a week before chinese new year? if i just want to go to the museum, is there a different ticket queue from the forbidden city visit?
Answers (1)
Answered by Max from DENMARK | Feb. 08, 2018 20:16

0

0

Reply
In general, there will be less people during a week before Chinese new year. You are advised to visit there during that period of time. There is no different ticket queue. But you are still suggested to get a ticket from the ticket window is opened near the Meridian Gate. It is important to get there and buy tickets as early as possible, especially during holidays.
Asked by Mukhtar from PAKISTAN | Dec. 23, 2015 01:28

Reply
Will tourist places remain open during Chinese year? like great wall, glass bridge in zhangjiajie?
If not, what is the best time to visit these places?
I am looking for a tour to many cities in china during chinese new year.
Answers (2)
Answered by Bill from MALAYSIA | Dec. 23, 2015 20:31

2

1

Reply
Yes, these places are open during Chinese New Year.
Answered by FANN | Dec. 27, 2017 03:06

0

0

Reply
I can show you someplace in xi'an,because I'm native
Asked by William Barnard from UK | Jun. 09, 2013 12:48

Reply
Guiyang chunjie
I,m looking for lower tier cities who hold traditional spring festivals. These include traditional costumes and the lantern festival.
Answers (1)
Answered by Jelly from SWEDEN | Jun. 10, 2013 04:02

1

2

Reply
You want to know the festival costume of lower tier cities in China.
Take Guiyang as an example, as far as I know the local people will go to worship in temples. Besides, they have similar custom with other cities.