Chinese New Year Gift Ideas
Chinese New Year (Spring Festival), as the most important festival in China, is usually the best chance for friends, relatives and colleges to visit each other. People will give New Year gifts to express their affection and love. Gift selection must be done very skillfully when you are going to give the present in person. When giving to different people, the presents also vary a lot.

In general, for people who are in need, pragmatic things are recommended; for people who are wealthy, the ingeniousness of the present is stressed.

Most Popular Gifts
During During the Chinese New Year, there are five categories of things that will never be out of fashion. However, it doesn't mean that you can give them to everyone. You still need to select according to the receivers' need.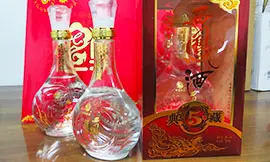 Alcohol
Alcohol: If your friends like drinking alcohol, you can get fine wine as the New Year gift.

Cigarettes: If your host smokes a lot, prepare two cartons of cigarettes in the brands that they usually use. A packet of cigarettes is improper.

Tea and fruits: Tea and fruit are safe gift ideas, which can benefit nearly everyone. For fruits, you'd better take some apples or oranges in boxes. Pears should be avoided.

Healthcare Products: Healthcare products are always ideal for the old people, especially tonic foods.

Red Envelope: Giving a red envelope is the most direct and straight way. If it is really hard to find an ideal present, just prepare red packets with lucky money inside for kids.

New Year Gifts in Right Color
When you have decided what to buy, you need to pay attention to the color. Red is always the most popular color, for it is believed to be auspicious in China. Golden and yellow are also favorable colors, for they stand for wealthy and prosperity. If you choose something in other color, you'd better get it wrapped in red by the vender or yourself. Nice and exquisite wrapping paper is more favorable. Things in black and white should not be chosen, for they are related to occasions like funeral.
New Year Gifts in Right Number
Chinese people believe that good things should be in pairs, so the presents should not be in odd number. For example, liquor is usually given in two bottles, and cigarettes in two cartons, too. If you are going to give lucky money, the amount of the money should be an integer or an auspicious number like 6, 8 and 9. Here are some examples of the appropriate amounts: RMB 200, 500, 800, 1,000, 666, 888 and 999.
Proper Gifts for Parents and Parents-in-law
Fitness Equipment: The fitness equipments are always welcomed by the old. Massage chair, foot spa machine and massage pillow are all good choices.
Tonic Products: For seniors in poor health, you can prepare some tonic products, such as cubilose, ginseng and cordyceps.
Clothes and accessories: Chinese Chinese Spring Festival falls in winter. The old people are afraid of coldness, so clothes, hats, scarf and gloves are pragmatic.
Crafts: If the old people have special hobbies, you can choose things according to their interests. For example: paintings and ceramics for antique fans; tea set for a tea lover; or a chess set for a chess nerd.
Proper Gifts for Kids
Snacks: Candy, chocolate and pastry are always a kids' favorite, which can surely win their heart. However, if the kids are teething, sweets should be avoided.
Toys: A funny toy will grasp kids' attention successfully. Barbie dolls are appropriate for little girls and intelligence toys are suitable for boys.
School Supplies: For school age kids, stationery supplies will helps a lot. Books, schoolbags, pens, dictionary or palmtop are greatly welcomed.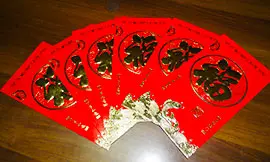 Red Envelopes
Red Envelope: The red envelope is always popular, and that enables children to have money at their command. If possible, get some crisp changes wrapped in the envelope.

Gift Giving Etiquette
Removing the price tag
No matter how much your presents are valued, you need to tear off the price tag in advance. It is not wise to remind the receiver of the price even though it is expensive. Present is not an equal exchange, but a way of showing your blessing.
Giving in private
If you are thinking of giving presents to a special person at a public occasion, it may not be wise to do so. Other attendees may feel disdained and ignored. Nevertheless, at some occasions such as a birthday party or a wedding ceremony, it is acceptable.
Avoiding opening immediately
When the receiver gets the present, do not expect them to open it immediately. In China, opening the present at once will embarrass the givers. In the same way, when you get a present from Chinese people, you should set it aside and unpack it in private.
Checking the expiration date
If you choose tonic, food and cosmetics, you should check the expiration date. If the item is out of warranty or approaching the best-before date, the host will think that you choose the present mindlessly.
Cautious selection on belt, ties and necklace
People should avoiding giving necklaces, belts or ties to normal friends. These items are too personal, which are usually present for boyfriend or girlfriend.

Further Reading:
Ten Gifts to be Avoided in China
Chinese New Year Taboos
Chinese New Year for Kids
Chinese Etiquette