Chinese New Year for Kids – Why they like it so much?
Chinese New Year
is the happiest time for kids throughout the year. People say that the New Year atmosphere is fading gradually, because for adults, the rare 7-day holiday seems to weigh more than the celebration itself, but for kids, the excitement of the festival never changes.
During the winter vacation, all kids eagerly anticipate the festival's coming. Setting off firecrackers, eating dumplings, wearing new clothes, receiving red envelopes… Many traditions are actually observed by kids, with pure joy and great passion. Why do they like the festival so much? Let's see the top 8 fun things of Chinese New Year for kids.
1 Month Long Vacation off School – the happiest thing for kids!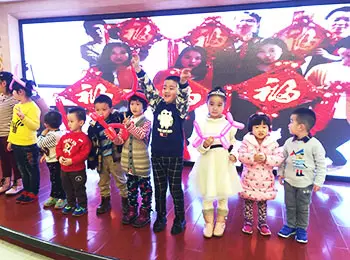 About 15 to 20 days before the festival, all children will get a 1-month winter vacation and they will no longer be troubled by school work.

Totally soaked themselves in the long relaxing time, they do not need to get up early. When finishing the homework, they can have fun with buddies, doing sports or playing games. For kids in north China, winter vacation means a lot of fun with ice and snow.

Wear New Clothes
Wearing new clothes is always a tradition of Chinese people to observe the New Year. In the past, people in need cannot afford for new suits in normal days, so they only bought new things for the biggest festival of a year.

Things have changed and now new clothes are not exclusive to festivals, but people still keep this custom, especially for kids. On the New Year's Day, all kids are happy with their brand new look from head to toe, for new clothes indicate goodbye to the past and good luck in the New Year.

Receive Lucky Money in Red Envelopes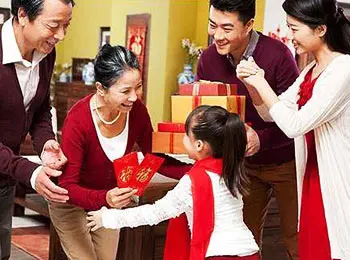 Receive Red Envelopes from Grandparents
Red envelope is the biggest attraction of Chinese New Year for kids. This is a long tradition since the ancient time, when red envelopes were given in order to scare away the evil spirits.

Now kids can receive many red envelopes from parents, grandparents, and senior relatives, and delightedly have the lucky money at their own command, buying candies, toys, or whatever they like. However, a red envelope with a big mount is usually needed to be submitted to parents who can help the kids better manage the money.


Receive New Year Gifts – toys, lanterns, stationery…
For kids, there is no happier thing than getting gifts. Every visitor to others' houses during the Chinese New Year will bring gifts, among which there are must special things for kids, including foods, toys, clothes, and school supplies. The animal toys of the zodiac sign of the New Year are popular gifts.

There is an interesting tradition in some places that uncle should buy a toy lantern every year for his nephew under 12 years old, which is believed to bring fortune and blessings.

Read more about New Year Gifts for Kids


Kids' Fun in New Year Preparations – make dumplings & decorate the house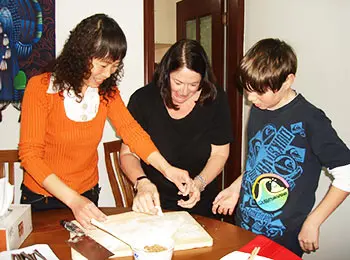 Learn to Make Dumplings
Although it is adult's duty to do the clean-up and home decoration before the festival, sometimes parents let their kids join the preparations so that the kids could have fun while getting more acquainted with the festival traditions.
On the New Year's Eve, a house would be full of laughter when the kids learn to make dumplings and try paper cutting with their parents. Some also help pasting the Spring Festival couplets, Fu characters and Door Gods pictures to add festive atmosphere to the house.

Enjoy Rich Festival Foods
Chinese New Year is a feast for children. Various festival foods win kids' heart easily. The New Year dinner is sumptuous and delicious, with all kinds of delicacies. Dumplings and a whole fish are must dishes on every table.

Beside meals, children can enjoy their favorite candies, chocolates, desserts and other snacks with abandon during the festival.

7 Chinese New Year Foods that will Bring You Good Luck


Recipes of 10 Lucky Dishes on Chinese New Year Dinner

Join Public Festivities – temple fairs, lantern fairs, folk performances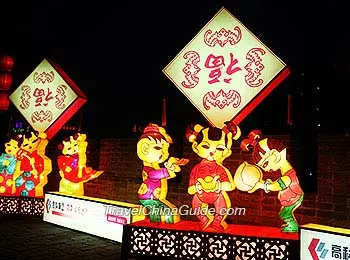 Lantern Fair
Traditional temple fairs are held in parks or business areas. There are a lot of snacks, toys and knickknacks, which would be children's biggest interest.

In some places, there are superb firework shows and dazzling lantern fairs. The costumed parade of Shehuo prevails in north China and the dragon and lion dances are popular in south China, which are all great excitement for kids.

A lot of Traveling – visit relatives or sightseeing
The New Year holiday is a time for reunion and socials. Kids could travel with their parents to visit relatives far apart. When the parents busy meeting uncles and aunts, the kids are happy to play with buddies with similar age.

Some family would have a domestic tour or even travel abroad to spend the holiday. The children get relaxed time staying with parents while widening their view and mind.
- Last updated on Feb. 16, 2021 -
Questions & Answers on Chinese New Year for Kids
Asked by Rose from USA | Feb. 13, 2018 00:54

Reply
I live in USA and have Chinese students living at my house. What is appropriate food to cook?
Also what day and time would be the start of spring festival eve in Pittsburgh PA. DAYLIGHT SAVINGS TIME?
Answers (2)
Answered by Evan from UNITED KINGDOM | Feb. 13, 2018 21:51

0

0

Reply
2018 Chinese New Year Eve falls on Feb. 16 in in Pittsburgh PA. local time. It is the Year of the Dog according to Chinese zodiac. The preparation starts seven days before the Chinese New Year's Eve, and the holiday celebration will last to the Lantern Festival on the 15th day of the first lunar month. Dumplings, fish, Spring Rolls will be suitable foods.
Answered by HKong | Feb. 16, 2021 11:05

0

0

Reply
I am chinese and we would eat dumplings, oranges, and others for luck