Chinese New Year For Kids
As for the most important festival in China, Chinese New Year (Spring Festival) is always much anticipated by Chinese people, especially for children. The festival falls on the first day of January in Chinese lunar calendar, which varies between January 21st and February 20th in Gregorian calendar. It is about the time of winter vacation for students in China. During the vacation, kids always expect that the New Year can arrive earlier. They usually wait for the festival anxiously by counting the days. For them, it would be the happiest time throughout the whole year. Why do they favor the festival much? Let's see what the festival means to kids.

A Long Vacation off School
About 15 – 20 days before the Spring Festival, all the kids will get about one-month winter vacation off and they will no longer be troubled by school work. Totally soaked themselves in the long relaxing vacation, they neither need to get up early nor do piles of homework. The fun fact is that Chinese parents will demand them to finish the vacation task in advance so that children can enjoy the free holiday days. In addition to the anxious expectation to the festival, the vacation seems longer.
A New Look
Wearing new clothes is always a tradition for Chinese people to observe the New Year. In the past, people in need cannot afford for new suits in normal days, so they may buy it at the turn of a new year. Dressing in new items means saying goodbye to the past and welcoming a branded-new life. Therefore, new clothes, shoes and hats are really necessary for children. Usually on the New Year's Eve, kids changes their new dressing and show around with pride on the first day. To keep clean and neat, they are cautions to do with their clothes. Sometimes, parents may buy several suits of garments for each of sons or daughters.
Red Envelopes Reapper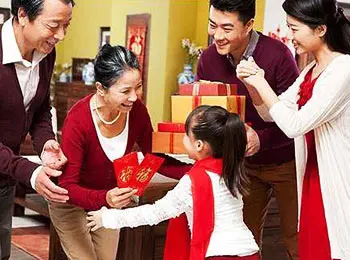 In the past, the
red envelopes
were given to kids to scare away the evil spirits, so receiving the lucky money is really children's privilege. They are delighted to get red packets from parents, grandparents, uncles and aunts, which enable them to have money at their own command. Usually speaking, they would save up the money and use a small amount every time in the entire year. However, if getting red envelopes with a big mount, they need to submit them to parents.
A Feast for Delicacies
Various
festival foods
are another interest for kids, and they fancy candy, chocolate, dessert and other snacks a lot. During the festival, they can enjoy them with abandon. Meanwhile, the meals in the New Year holiday are also delicious and rich, with delicacies in a great variety. Literally, Chinese New Year is a feast for children.
Dazzling Gifts
Every kid is the apple of the whole family, so people get used to preparing
New Year gifts
for them when visiting friends or relatives. Most gifts come from candies, toys, clothes and stationery tools, which can win kids' heart easily. For them, there is no happier thing than getting surprises, so unique presents would be good.
Set off Mini Toy Firecrackers
When children get together with their little buddies, a lot of ideas are come up. The most interesting entertainment activity should be setting off the mini toy firecrackers and
fireworks
, especially for boys. It is a bit dangerous but full of fun.
Join the Lantern Fair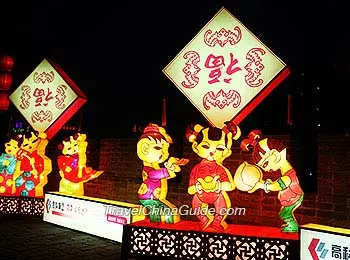 Colorful Lanterns at the Lantern Fair
During the
Lantern Festival
, no activity is more interesting than enjoying the lantern shows outdoors. In various images, colors and shapes, lighting lanterns can be seen everywhere. Children may make or buy small lanterns to go for a lantern parade with their fellow partners. Meanwhile, there are also riddle games. If children can resolve and guess the riddles on the lanterns, they will be rewarded with surprising prize.
Join the Temple Fair
In the northern area of China, people keep the tradition of joining the temple fair during the New Year holiday. In Beijing, kids go along for the noisy and interesting temple fairs. Usually, there are a lot of local vendors selling various snacks, toys and knickknacks, and those would be children's biggest interest.
Buying Zodiac Animal Mascots
Every New Year starts with a new
zodiac animal
, so there are a lot of shops selling the zodiac animal themed products like New Year pictures, red envelopes, animal paper cutting and animal toys. Especially the lanterns with different animal patterns, children can selected ones matched their Chinese zodiac signs.
Take Part in Preparation Work
Although it is adult's duty to do the cleaning up and paste
spring couplets
and Fu character, sometimes parents get their kids involved in those work so that they could get more chance to acquire the festival traditions and inherit them.
Traveling with kids during the rush days would be a great challenge for parents, troublesome and exhausting. The transport is disordered and overloaded, so the safety is the main matters that parents need to notice. Considering the accidents caused by crowds, it would be better to avoid traveling with kids during the rush time or choose proper travel mode.

Further Reading:
Chinese New Year Dates
Best Palces to Go
Legend of Monster Nian
Questions & Answers on Chinese New Year For Kids
Asked by Rose from USA | Feb. 13, 2018 00:54

Reply
I live in USA and have Chinese students living at my house. What is appropriate food to cook?
Also what day and time would be the start of spring festival eve in Pittsburgh PA. DAYLIGHT SAVINGS TIME?
Answers (1)
Answered by Evan from UNITED KINGDOM | Feb. 13, 2018 21:51

0

0

Reply
2018 Chinese New Year Eve falls on Feb. 16 in in Pittsburgh PA. local time. It is the Year of the Dog according to Chinese zodiac. The preparation starts seven days before the Chinese New Year's Eve, and the holiday celebration will last to the Lantern Festival on the 15th day of the first lunar month. Dumplings, fish, Spring Rolls will be suitable foods.