Chinese Firework
Fireworks, also called firecrackers or Baozhu in China, are widely used in occasions like festivals, weddings and business-opening ceremonies. As an indispensable part of Chinese folk culture, it has a history of more than 2,000 years. The largest usage of fireworks in China usually comes from the celebration of the
Chinese New Year
(Spring Festival).
Origin and History of Fireworks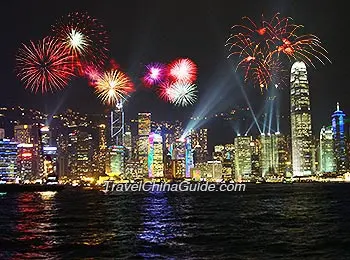 Fireworks Show at Victoria Harbour, Hong Kong
The predecessor of Chinese fireworks is "pao chuk", exploding bamboo, which refers to the bang and cracker sound caused by heating bamboo with fire. A legend has it that people used this simple device to ward off evil spirits, ghosts and monsters who are afraid of loud sounds, fire and the color red.

With the invention of black powder in the Tang Dynasty (618 - 907 AD), an inventor Li Tian from Liuyang, Hunan, managed to cram gunpowder into bamboo tubes to make louder sounds, and he used the crackers to expel beasts and evil spirits. Therefore, he is reputed to be the Chinese Father of Fireworks. After a series of improvements in the Song Dynasty (960 - 1279 AD), bamboo tubes were replaced with paper casing. A string of tiny crackers linked by a powder train was invented later, making continuous cracker sounds for a long time. This technology of firecracker making is inherited and still in use today.

Major Manufacturing Bases
Endowed with rich saltpeter and charcoal resources, Liuyang, the hometown of Li Tian, is at the center of fireworks production. Today the manufacturing bases are mainly located in Liuyang of Hunan Province and Pingxiang of Jiangxi Province. In nearby Liling, people are also occupied in work related to firecracker production and most of them take it as their primary career. The entire supply of fireworks used in China comes from these areas, and a great deal is also exported.

Occasions to Use Fireworks – Why light fireworks?
With the most massive usage of fireworks on this planet, Chinese apply it in many recreational and ceremonial occasions like public festivals, weddings and even funeral ceremonies. Here is a list of the most common occasions.

Chinese New Year
Among all traditional festivals and holidays, firecracker use is the most massive during the Chinese New Year. People will set off them on Chinese New Year's Eve, First New Year Day and the Lantern Festival. It is meant to say goodbye to the old and welcome the new, and people believe it brings good luck and happiness.
Qingming Festival
This is a woeful occasion, so the usage is not for celebration but for commemoration. It is said that the deceased will be awakened by the sound and take the offerings. Now this custom is usually seen in rural areas.
Wedding Ceremony
When people have their wedding ceremonies, especially the traditional style of wedding, the firecrackers are quite necessary, bringing blessings and happiness to the newlyweds.
Funeral
In funerals,

firecrackers

are used to memorialize, and people use them to see off the dead.
Housewarming
When moving into a new house, the house owner's friends and relatives will come to celebrate the move by setting off firecrackers.
Opening a Shop
People set off firecrackers to foreshadow a favorable business start. It is also a good way to make people around get to know the new shop instantly.
Project Start and Completion
When a construction project is started, firecrackers will be utilized to call for smooth development and accident avoidance. Sometimes, when a great project is accomplished successfully, people will also set off fireworks for celebration.
Best Places to See Firework Shows
Liuyang, Hunan Province
There is a grand show held biennially at the Liuyang River bund area. The show usually takes place in October and lasts for three or four days. It is a show to display the new products, which is always full of surprises.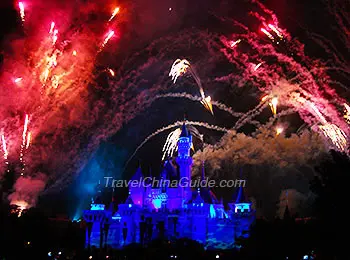 Firework Show in Hong Kong Disneyland
Shanghai International Music Firework Festival usually falls on the late September to the early October. The event takes place in the
Century Park
, and there you can view the magnificent shows conducted by different countries, such as Germany, Canada, Spain, UK and Austria.
Firecracker Ban
In recent years, there have been more legal restrictions on fireworks in terms of manufacture, selling and possession as well as individual use. People can only get firecrackers in designated shops and set off them in restricted periods and zones.

The ban is looser in rural areas, and the tradition of setting off fireworks is widely kept, but there are truly a lot of problems. There are many accidents caused by firecracker explosions every year. During the Spring Festival, fire hazards are frequent, leading to damages and loss in different levels. In addition, the smog of firecrackers posts a threat to air quality.
- Last updated on Apr. 14, 2021 -
Questions & Answers on Chinese Firework
Asked by hi from SINGAPORE | Nov. 22, 2019 18:39

Reply
Firework on western new year Eve
Hi, may I know if have any firework in Shanghai in the Western New Year eve 31th December this year.
Thank you
Answers (1)
Answered by Aria from CAPE VERDE | Nov. 24, 2019 21:41

0

0

Reply
Well, I am afraid that there is no firework show during that period of time.