How do Chinese People Celebrate the Lunar New Year?
Chinese New Year, also known as the Spring Festival, is the most important festival for Chinese. Some people do traditional Chinese New Year celebrations, while others choose a more modern style of celebrating CNY. The followings offer a brief introduction to several celebrations, which are generally the most popular and symbolic things that Chinese will do.

Do the following like a traditional Chinese does:
Make Preparations One Week Before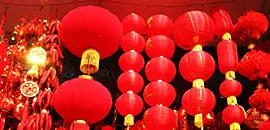 Generally, a thorough sweeping of the house forebodes the beginning of traditional Chinese New Year celebrations. People sweep away dust from furniture, walls, floors and kitchen ware, and throw away old useless things to sweep away bad luck and welcome the coming year. Next, it's time for New Year shopping to buy foods, drinks, new clothes, snacks and other special products from crowded shopping malls and markets. Moreover, New Year decorations must be on the shopping list. Spring Festival couplets, red lanterns, Fu character posters, red paper cuts, and New Year pictures with images of Chinese zodiac animals are most popular ornaments.


Read more about How to Decorate for Chinese New Year.

Return Home before the New Year's Eve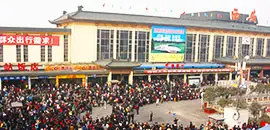 Since Since Chinese New Year is quite significant for Chinese, no matter how far a person is, they will always try to return home regardless of how far they must travelling and other problems they are experiencing. The result is the so-called Spring Festival Travel Rush.

Everyone wants to return home before the New Year Eve and have a reunion dinner with their family.

Celebrations Reach the Peak on the New Year's Eve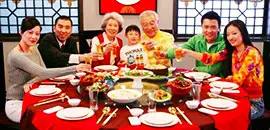 On the morning of the New Year's Eve, people sweep the tombs of their ancestors, and then return home to do the last decorations for their house. When they finish pasting the Spring Festival couplets and hanging the red lanterns, it's time for the grandest Chinese New Year celebration – the family reunion dinner, the most sumptuous banquet of the year, with various delicious and lucky dishes, and of course the Chinese dumplings. At 8:00 pm, every TV set will be tuned to CCTV's New Year Gala, and the sounds of firecrackers at midnight highlights the festival night.

First Day Spent at Home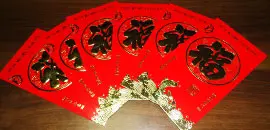 People usually spend the first day of the Chinese New Year with their family members at home. They usually have dumplings or niangao as the first meal of the New Year. After breakfast, little kids put on new clothes and give New Year greetings to their parents and grandparents. Both the kids and un-married adults may receive monetary red envelopes from seniors in the family. Some people will go to temples in hope of having good luck the whole year.

Visit Relatives for Several Days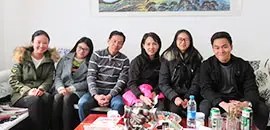 Chinese New Year celebration is not exclusive to immediate family members, but among all relatives and friends. Married couples should visit the wife's parents on the second day of the New Year. During the following days, people visit different relatives, bringing gifts and red envelopes to express care, love, and good wishes. Hearty feasts are held from one house to another. People enjoy the food and drink, chat, laugh, and sometimes play mahjong for entertainment.
New trends for celebrating the Chinese New Year:
Have Reunion Dinner at Restaurant
Recently, lots of families have chosen to have reunion dinner at a restaurant for convenience. Restaurants offer abundant feasts with a variety of delicious dishes. Lots of young people are not good at cooking and they are in pursuit of simplicity and convenience.

Less People Watch CCTV's New Year Gala
Watching CCTV's New Year Gala is not as fascinating as preciously. There is less audience from the south and little innovations or changes in performances. Many younger generations organize their personal activities, like chatting with a group of friends through Wechat, singing together in KTV or getting cyber red envelopes by shaking mobile phones. However, the older people continue the traditional Chinese New Year celebration.

Fewer People Set off Firecrackers
During recent years, fewer and fewer people set off firecrackers mainly for two reasons: one is that it's easy to get hurt; the other is that setting off firecrackers pollutes the environment. It's forbidden to personally set off firecrackers and fireworks in large cities, like Beijing, Shanghai and Xi'an. It's normal to watch public fireworks show at fixed locations.

Travelling During CNY
Travelling instead of staying at home to celebrate Chinese New Year has become more popular during the past few years. With the rapid development of transportation, especially high-speed railways and airways, it's more convenient for Chinese to travel during the 7-day holiday, which provides a good opportunity for people to relax and take a break.
- Last updated on Nov. 18, 2022 by Catherine He -
Questions & Answers on How do Chinese People Celebrate the Lunar New Year?
Asked by HAIM COHEN from ISRAEL | Dec. 02, 2018 02:29

Reply
public fireworks show in Beijing. going to visit 4-9 Feb 2019
Can you point the locations and periods of the public fireworks show ?

regards
haim
Answers (1)
Answered by Paul from UNITED KINGDOM | Dec. 03, 2018 13:39

0

0

Reply
It seems there is no public fireworks show in Beijing.