WeChat – The Most Popular Instant Messaging & Payment App in China

Chinese Name: 微信 wēi xìn
Developer: Tencent
Initial Release: January 21st, 2011
Monthly Active Users: 1.26 billion (2022)

What is WeChat? It is a super popular multi-functional social media app on almost every Chinese mobile. In addition to basic messaging, people use it to pay, for all things from groceries to real estate, to read from subscription accounts, to play games, to hail taxis, and to make a reservation at the doctor's. WeChat is now a mobile wallet and an indispensable social connection portal, and its developer Tencent still endeavors to offer more technology support to make it the "App for Everything".
10 Things You Should Know about WeChat
1
Daily Routine of WeChat Users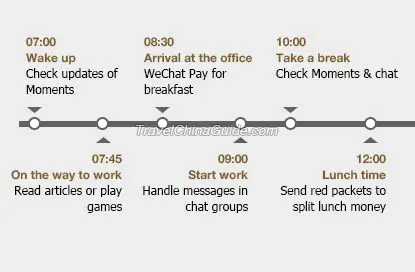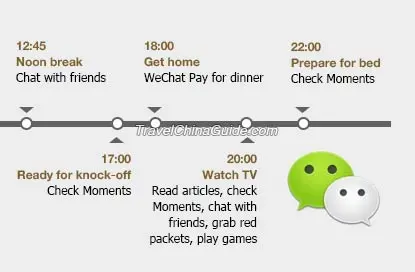 2
Why is WeChat so Popular?
First, it is free! Second, it is all-inclusive and easy to use. Let's see the major functions and features of WeChat:
- Messaging: text, voice, stickers, photos, group chat, video conference, location sharing…
- Moments: friends' updates via text, images, music, videos, articles, and allows likes and comments, just like Facebook and Twitter.
- Official Accounts: enterprise accounts and subscription accounts offer services to and update feeds for subscribers.
- WeChat Pay: a digital wallet allowing mobile payment for goods or services, money transaction and digital red packets between friends.

3
Can't Help Opening the App When New Messages Pop Up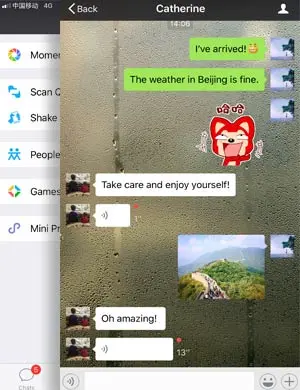 People now prefer to exchange WeChat ID instead of cell phone number with each other and statistics suggest that WeChat app is launched 14.5 times a day on a single device.

Many users say that they feel uncomfortable when they see the red corner mark on the app, reminding them of unread messages. People with a stronger addiction to this app, often check their messages first thing after waking up and last thing before sleeping.

4
Chatting without Stickers is Boring
Interesting stickers, consisting of a funny face and a few words, have become best practice amongst WeChat users, especially youths. In 2016, there was an experiment called 'no sticker in 24 hours'. Thousands of users took part but 30% failed. For most young people, if their thoughts can be expressed by stickers, they definitely won't bother to type. Besides getting stickers from sticker galleries and chat groups, some people even make their own stickers on drawing apps, using pictures of friends, colleagues, and movie stars.

5
Updating WeChat Moments is Becoming a Daily Ritual
If you are curious to find out about your friends' current status, you don't even need to call or send them a message. Just check their Moments.

For most Chinese people, posting their lives on Moments has become routine, especially during holidays when on a journey or going out with friends. A journey or a big meal is not complete without posting Moments. So it is not surprising to find Moments feeds full of pictures of scenery and delicacies. Other popular themes on Moments are selfies and love life.
6
More Thumbs-up Friends in Moments
People often like to add new friends and join in chat groups to build social relations and exchange information. Typically, after some time, only a few friends on the contact list send the occasional greeting. Others may only click 'like' on Moments to prove their existence.

7
WeChat Payment for Daily Expenses
WeChat Pay has widely infiltrated people's daily life. Using cash is not necessary as most supermarkets, restaurants, and stores accept mobile payment, including WeChat Pay and Alipay. Furthermore, paying utilities and credit card debts, as well as topping up mobile phone can all be done this way.

Since the app has launched the cash transfer function in 2014, transferring money at bank counters or through online banking has become outdated. One can easily set up a WeChat payment by scanning the receiver's QR code, and the money goes directly to the receiver's WeChat wallet. Even companies process transactions via WeChat.
8
National Craze on Grabbing WeChat Red Packets
It is a well-known Chinese tradition to give red packets to children on Chinese New Year. Thanks to the electronic red packet, lucky money doesn't have to be wrapped in physical red envelopes and can also be sent between friends. On New Year's Eve, 2022, 1 billion users sent out digital red packets, with CNY 8.88 being the most popular amount. In a chat group, a red packet can be divided into several parts with a random amount in each. The one who gets the luckiest draw is usually the next packet sender.
9
Read Subscription Accounts
Nearly all WeChat users follow several subscription accounts for reading articles and staying up to date with the latest news. A recent survey showed that Chinese people read, on average, 5.86 articles a day via the app and also willingly share articles to Moments or directly to their friends. The top three most popular contents are emotional stories, health and wellbeing, and political news.

Some enterprises have also established their own subscription accounts to publish company news and provide instant services, such as flight schedule inquiry, bank account balances checking, and food reservation.

10
WeChat Shops and Overseas Purchasers
Nearly all users have friends running WeChat shops of various kinds of products, such as cosmetics, snacks, and clothes. Some even sell homemade cookies and handicrafts by posting pictures to their Moments and chat groups. Users in foreign countries may also be willing to help friends in China buy foreign products.

However, this feature has led to advertisements flooding the WeChat feed, and undoubtedly causing inconvenience amongst users, while making Moments no longer a platform for them to share their life with friends. In this case, most users usually block Moment updates from sellers. On the other hand, some sellers update advertisements at a lower frequency or use a working account to minimize disturbance to WeChat users. Another major problem is the difficulty for ordinary users to identify genuine products on WeChat. To monitor this issue, the developer has opened a channel for users to report instances of fraud.
- Last updated on Apr. 16, 2023 -
Questions & Answers on WeChat
Asked by Chris from GERMANY | Apr. 16, 2023 11:07

Reply
WeChat Pay as an tourist
Is it possible to use WeChat Pay as a tourist without a Chinese bank account? Could a person send me money to my wallet if I give them cash in return? Or is there another way that I can send money to my wallet myself?
Answers (1)
Answered by Scott | Apr. 16, 2023 22:58

0

0

Reply
It's possible to use WeChat pay without a Chinese bank account, but you must go through real name authentication with your passport. After finishing the real name authentication, you can receive money to your WetChat wallet from others.
Asked by Robert Roth from US | Dec. 15, 2018 06:55

Reply
We Chat tranlation
Does WeChat have translation ability, and if so what does it cost? I am being told by a lady in China, that it does, and costs around 200 US a month? I am trying to find out if this is true, or whether or not she is just using that to get the money out of me.
Answers (2)
Answered by Thomas from NEW ZEALAND | Dec. 23, 2018 18:43

0

0

Reply
As I know, no fare is needed about this function.
Answered by Elaine from CHINA | Jun. 24, 2019 18:54

0

0

Reply
WeChat translation is free totally.
Asked by Lawrence Ross from UNITED STATES | Dec. 04, 2018 19:45

Reply
Can a wechat user in China find a wechat user in the USA or is there some prefix neede on the id?
Several times when I have talked to friends in China on a dating app and we exchange Wechat id's they don't seem to work. Nor can I find them with the search function. I live in the US.
Answers (1)
Answered by Jason from NETHERLANDS | Dec. 10, 2018 21:43

0

0

Reply
I'm not very clear about this but maybe you can go to the Wechat official website for help.
Asked by Ear from USA | Nov. 22, 2018 20:15

Reply
How to set up payment using us dollars in Wechat?
Answers (2)
Answered by Amy from NEW ZEALAND | Nov. 27, 2018 17:37

0

0

Reply
It can only use Chinese RMB now and cannot set up using dollars.
Answered by Elaine from CHINA | Jun. 24, 2019 19:11

0

0

Reply
WeChat Pay supported RMB only, other currencies are not accepted. But you can top up WeChat wallet RMB on vpayfast.com if you have no Chinese bank account, and then you can use WeChat Pay easily.