Rights & Duties in China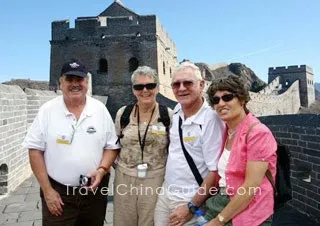 Visitors on the Great Wall, Beijing
The General Principles of the Constitution of PRC: the People's Republic of China protects the lawful rights and interests of foreigners within Chinese territory, and while on the country's territory foreigners must abide by the law of the People's Republic of China.

Will my legitimate rights be protected in China?

Answer: Yes. Within Chinese territory, the legitimate rights and interests of the foreign visitors are protected.
---

Can I enjoy freedom in China?

Answer: Yes. The freedom of foreign visitors is as inviolable as that of the Chinese nationals. Within the period of their visas, foreign visitors can freely visit the areas open to foreigners. They should, however, respect the traditions and customs of local areas. Those who want to visit areas that are not open to foreigners should apply for a Foreigners Travel Permit from the local public security organ. Only after the approval is granted, can they enter the area legally.
---

Do I need to abide the law of China like the Chinese citizens, or are there special regulations for foreigners?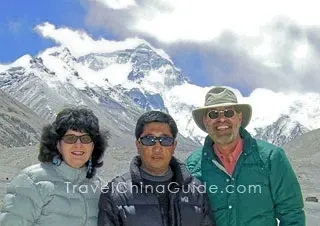 Visitors on Mt.Everest, Tibet

Answer: Similar to nationals, all foreign visitors must abide by the law of the People's Republic of China. Any activities that disrupt public order, threaten public security, or infringe upon the interests of the state; the society or the collective would be punished according to the laws of the country.
---

If I met something unfair in China, how can I protect my rights?

Answer: If your legal rights and interests are infringed or something unpleasant happens to you, you may complain to related organs.
Complain to the National Tourism Administrative Bureau directly or to the Institutions of Supervision over Quality in each province, when:
•Your travel agents, hotels or other travel operators offer you poor service or do not follow the agreement
•The guides or other travel staffs extort money from you
•You are injured or your baggage is damaged/ lost due to the fault of the travel operators
Also, all large tourist cities have hot lines for visitors to voice their complaints. Most of the complainants were satisfied with the verdicts, which were determined after thorough investigations and verification of facts.

Further Reading: Complaints
- Last updated on Jul. 30, 2019 -
Questions & Answers on Rights & Duties in China
Asked by Carl from UNITED STATES | Nov. 11, 2014 18:13

Reply
Is it allowed to carry a pocket knife in china?
Answers (2)
Answered by Lisa from INDONESIA | Nov. 12, 2014 00:40

1

1

Reply
Carl, you can't take it on the plane or the train. Otherwise, it will be confiscated.
Answered by Anonymous from CHINA | Jan. 23, 2018 21:49

0

0

Reply
yes,but you can't carry in train or airline,you can carry in bus or taxi.
Asked by Ely from AUSTRALIA | May. 25, 2014 20:37

Reply
I'm going in and out of China, do I need more than one visa?
I'm going to china for 2 months in August-October, I'm spending 2 weeks in mainland china then flying to hong king for a week, then from Hong Kong I am flying to Taiwan for two weeks and out of Taipei into shanghai for another two weeks in china before flying out of Hong Kong. I have an Australian passport. I am worried a regular L type won't cover me going in and out of the country so often?
Answers (1)
Answered by Flora from ITALY | May. 25, 2014 20:53

0

0

Reply
Yes, you need to have a double entry L type for your itinerary.
Asked by Isabel from AUSTRALIA | Jul. 10, 2013 20:05

Reply
Do I need to report to Chinese local government office of where I live during my stay in China?
I was told by a Chinese friend who's holding an Australian passport that she might need to report of where she lives n whom she lives with during her stay in China since 01/07/2013. Is that true??
Answers (2)
Answered by Amy from CANADA | Jul. 16, 2013 04:14

0

0

Reply
Yes, this is always required after entry. She should register her address to the nearest police station.
Answered by Alex from CANADA | Oct. 23, 2014 22:06

1

1

Reply
It is required. The fine if you are caught not doing so is negotiable, but between 300-700rmb is mostly likely.
Asked by Smurfette from CANADA | Jun. 08, 2013 19:46

Reply
Can I leave from hongkong to beijing to take my exit international flight without a 2 entry visa
I will be travelling in china in june with a single entrance visa and was thinking of visiting last hongkong, but i need to exit via beijing for my international flight home. Can i fly from hongkong to beijing and stay in the airport for my connecting flight and thus, not need a two entrance visa? or would i need to apply for the second entrance ?
Answers (1)
Answered by Mars from AUSTRALIA | Jul. 16, 2013 04:17

0

0

Reply
If you are travelling with a Canadian passport, you can fly from HK via Beijing, and you are allowed 72 hour free transit if you have confirmed ticket for leaving. It is not necessary to apply visa.
Asked by Mr.chris from CANADA | Jun. 03, 2010 00:52

Reply
I am flying through Beijing Airport and have a 12 hour layover. Is there an airport hotel where I can get a day room and will not require a visa?
Answers (1)
Answered by Mr.Dan | Jun. 05, 2010 03:25

0

0

Reply
Hi Chris,

I assume that you just transit at Beijing Airport, right? If so, you can stay in the airport for 24 hours without a visa. If you go out of the airport for lodging, you will be required a visa.

I don't think there are hotels inside the airport. You'd better confirm this with the Beijing Capital International Airport.

Tel:010-54541111
010-64541100