10 Chinese New Year Traditions You Don't Know
As the most significant and oldest festival in China,
Chinese New Year
, aka Spring Festival, is associated with many traditions and customs. Some of these traditions are dying out, so people feel that the festival becomes less interesting and conventional. Well, let's discover the 10 vanishing Chinese New Year traditions you may not know.
1. Worshiping the Kitchen God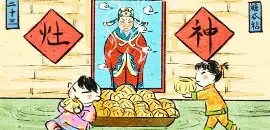 Legend has it that on December 23rd of lunar calendar, the Kitchen God will make a year-end report about each human's good and evil deeds to the Jade Emperor of heaven.

Toward evening, each family is anxious about their evil deeds exposed to the emperor, so they burn incense, set off firecrackers, and worship the god with 'bribery' like cakes, nuts, and dried fruits. Therefore, the Kitchen God will only report their good side. In fact, the enshrining activity is mainly for a smooth, wealthy, and healthy expectation for the future life. Nowadays, most people use gas stove and electric cooker instead of the traditional fire stove, so the tradition is disappearing. You may realise how dangerous it is to worship by a gas cooker with burning incense and firecrackers indoors.


2. Kowtowing to Elders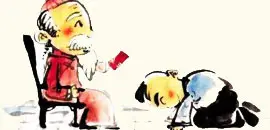 Chinese New Year traditions regarding greeting are not like kissing, embrace, and handshaking in western countries. In the past, the first thing for a Chinese New Year visit started with kowtowing to the elders. No matter how old you are, if there is someone older than you, you need to kneel down to show respect and grateful feeling to the elders. It is really physically challenging work if you have a big family and you happen to be the youngest.

Nowadays, the young generation rejects such a way of greeting, so the etiquette is abandoned gradually in modern cities, while in some rural areas, the tradition is still kept.


3. Staying Up on Chinese New Year's Eve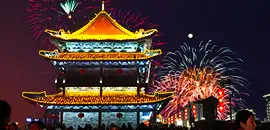 According to a legend story, the fierce monster Nian would come to harm people and live stock on the Eve, which would cause great damage to people's a whole year efforts. To avoid its attack, people should shut doors and stay sober.

When staying up all night, people will find something to kill the time, such as chatting, watching TV, playing cards or mahjong. It is really difficult to stay awake for a whole night, so Chinese people are beginning to abandon this Chinese New Year tradition.


4. No Sweeping and Dumping on the Lunar New Year's Day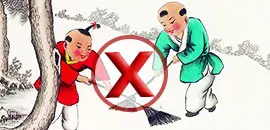 In the olden days, it was considered improper to make sweep, or dump rubbish on the first day of the festival, for it foreboded that all the good luck and fortune would be driven far away.

However, people nowadays are likely to keep the house clean and tidy, especially when they have guests. Therefore, the practice is becoming obscure.



Read more about 16 Things You Should Never Do during Chinese New Year


5. Opening-door Firecrackers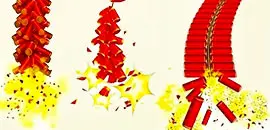 People will fall over each other to set off firecrackers in the early morning of Chinese New Year's Day. Once they wake up, it is the first thing they do. People wish to welcome the good luck inside when they open their doors in the morning. Some companies will also set off opening-door firecrackers during the 6th to 8th of lunar January, when people return to work.

The firecrackers lead to air pollution and also bring potential hazard, so now this Chinese New Year tradition is more commonly seen in rural areas.


6. Offering Sacrifices to the God of Wealth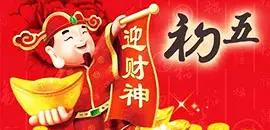 Folklore has it that the fifth day of the Spring Festival is the God of Wealth's birthday. People want the god to bestow their houses with good luck, so they prepare a big dinner at home to celebrate the god's birthday.

The sacrifices ceremony, where the meal is offered to the God of Wealth, and left to go cold, so the god can take his fill, usually begins around midnight to 01:00 am on that day. During modern times, the custom has been gradually vanishing.


7. Staying Indoors on the Third Day of the New Year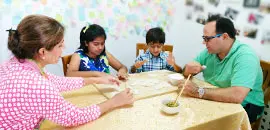 The third day is called Chigou's Day. Chigou, literally 'red dog', is the God of Rage, who is irritable. If people travel outside, they may have a squabble or quarrel with others.

Now, Spring Festival is a good chance for separated friends and families to get together, so people do not care about the taboo at all.


8. Sending the Poor Devil Away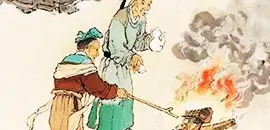 The sixth day of Chinese New Year is the time to send the Poor Devil away in folklore. The Poor Devil is said to be a short and thin man who likes dressing in rags, and eating rice-porridge. Even given new clothes, he would only wear them after tearing the clothes, or burning holes in them. After his death, people mark the sixth day as the day to dispel him.

On this day, all the trash should be dumped, which symbolizes that all the poverty and hardship will be thrown away.


9. Going to the Butcher's on December 26th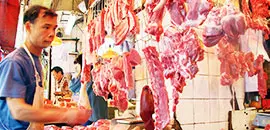 December 26th of the lunar calendar used to be the day to go to the butcher's for meat shopping. In the past, people could only enjoy the meat during festivals because of poverty. Some people raised livestock on their own, and they would ask a butcher to slaughter their pigs, oxen, or sheep.

Nowadays, people seldom prepare the festival food on a fixed day, but buy meat as they wish.


10. Washing and Bathing on December 27th or 28th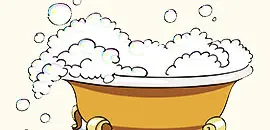 Before Chinese New Year, people will wash all their dirty clothes, because they think all the filth will be washed away, and good luck is coming. Taking a bath on December 28th of the lunar calendar is also needed, as all sickness will be expelled outwards, and health will be sustained.

Since every household now has a washing machine, and people get used to taking daily shower, so this custom has also faded away.

- Last updated on Feb. 07, 2023 -
Questions & Answers on 10 Chinese New Year Traditions You Don't Know
Asked by Mei Ming from USA | Feb. 03, 2023 09:31

Reply
Is there a special meaning if the head of the family dies on the first day of Lunar new year?
Answers (1)
Answered by Cindy | Feb. 07, 2023 16:54

0

0

Reply
Nothing special. But Chinese usually do not hold funeral ceremony on that day.

Asked by Andrew from MYANMAR | Jan. 29, 2023 13:31

Reply
Pai tian Kong within mourning period
Can we pray Jade Emperor( on day 9th of new year) while someone in family pass away a month ago ?
Answers (1)
Answered by Daisy | Jan. 29, 2023 16:33

0

0

Reply
Yes, you can. It does not offend the Jade Emperor.
Asked by Asuncion Chua Hufano from PHILIPPINES | Jan. 22, 2023 18:20

Reply
can we have a hair cut before the jade emperor festival (jan ()
Answers (1)
Answered by Daniel | Jan. 28, 2023 17:37

0

0

Reply
According to traditional Chinese folk customs, people could not cut their hair in the whole lunar January.
Asked by ted from SINGAPORE | Jan. 21, 2023 09:58

Reply
burning joss stick throughout the whole night on new years eve.
I have a friend who tells me that on new years eve at 1159pm, I have to start burning a joss stick and make sure its consistency and the offering cannot be stopped. once the current one is about to extinguish, I should add another 3 more. what is that for?
Answers (1)
Answered by Lisa | Jan. 28, 2023 17:33

0

0

Reply
It's to pray for good luck and the wishes coming true.
Asked by no from NORWAY | Feb. 09, 2022 03:42

Reply
what do people eat on the 23 day of the lunar calendar
what do they eat
Answers (1)
Answered by Helen | Feb. 23, 2022 10:23

0

0

Reply
Traditionally, on the 23rd day of the 12th lunar month, people put sweets in the kitchen as a sacrifice to the Kitchen God. Usually these candies are eaten by kids. There's no other special food for the day.