Gift Giving Etiquette – Rules for Giving Chinese New Year Gift
To avoid the embarrassment caused by cultural difference, one need to know the basic Chinese New Year gift giving etiquette, which is of great help in selecting proper gifts for your Chinese friends or inviters, enhancing the feeling of the receivers, and improving the relationship. If you don't know the following three main rules for Chinese New Year gift traditions, your good wishes through the gifts might be spoiled.

Choose proper Chinese New Year gifts from the first column, while avoid things in the second column which bear negative meanings in Chinese culture.
Liquor
Cigarettes
Tea
Fruits
Healthcare Products
Red Envelopes
See more
Great Gift Ideas
vs
2
Chinese New Year Gifts in Right Colors – choose Red & Gold; avoid Black & White
When you have decided what to buy, you need to pay attention to the color of the gifts. Red is always the most popular color, for it is believed to be auspicious in China. Gold and yellow are also favorable colors, for they stand for wealth and prosperity. If you choose something in other colors, you'd better get it nicely wrapped in red.

Things in black and white should not be chosen, for the two colors are considered ominous in traditional Chinese culture, and usually apply to occasions like funerals.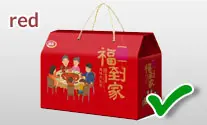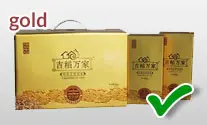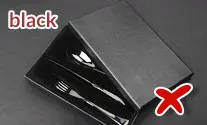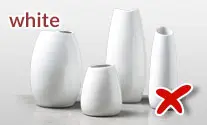 3
Chinese New Year Gifts in Right Numbers – choose Even Number; avoid Odd Number
The major etiquette mistakes people make would be on numbers. Chinese people believe that good things should be in pairs, so the presents should not be in odd number. For example, liquor is usually given in two bottles, and cigarettes in two cartons. If you are going to give a
red envelope
, the amount of the money should be an integer or an auspicious number like 6 and 8. Here are some examples of the appropriate amounts: CNY 200, 500, 800, 1,000, 666, and 888.
Taboo on Number 4
Just like number 13 in some western countries, 4 is the most unwelcome number in China. People try to avoid number 4 in phone numbers, car numbers, and flat floors. The reason is simple: the pronunciation of 'four' (四 sì) is similar with the word 'death' (死 sǐ), which is the ultimate taboo for Chinese people. Therefore gifts related to number 4 should be abandoned.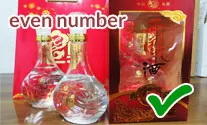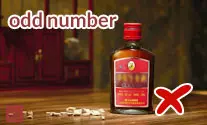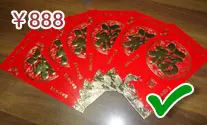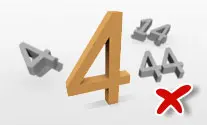 See more about
Lucky Numbers in China
.
9 Tips on New Year Gift Giving and Receiving Etiquette

1. Are host gifts always required?
It might be acceptable to visit others' home without a gift if you are frequently visited friends and if it is during normal days. However, according to the New Year gift traditions, you should always bring proper presents to a Chinese home during the festival even if the host says not to bring.


2. Remove the price tag:
No matter how much your presents are valued, you need to tear off the price tag in advance. It is not wise to remind the receiver of the price even though it might be expensive. Present is not an equal exchange, but a way to show your care and love.


3. Check the expiration date:
If you choose tonic foods or cosmetics, you should check the expiration date carefully. It is considered impolite if the gift is out of warranty or approaching the best-before date.

4. Cautious selection on personal items:
One should better avoid giving necklaces, belts, ties, or something that is size dependent to normal friends. These are too personal, which are usually things giving between couples.


5. Is it okay to give cash?
Yes. If you do not have a certain idea on what material items to give, and then the monetary gift is a good choice during Chinese New Year. Chinese people like to exchange red envelopes with luck money inside. Especially for kids, the red envelopes are recommended.


6. Give in right time:
The best time is upon arrival. Give the gift after greetings. If you miss this chance, the second best time would be the moment after sitting down and the receiver is preparing tea for the guests. It is better not to give the gift at the last moment when you are about to leave.


7. Give in private:
Knowing Chinese New Year gift giving etiquette, it is not wise to give presents to a special person at a public occasion, where other attendees may feel disdained and ignored. Nevertheless, it is acceptable in a birthday party or a wedding ceremony.


8. Avoid opening immediately:
Do not expect a receiver to open a present directly. In China, opening the present at once might embarrass the givers. In the same way, when you get a present from a Chinese friend, you'd better unpack it later in private.


9. Do you need to send a thank you note?
No, it is not Chinese etiquette. The receivers should show gratitude to the givers at the moment of receiving, face to face or by texting messages. A handwritten thank-you note is not needed.
- Last modified on Dec. 07, 2018 -