Chinese Etiquette
China is a country that has long been known for its ceremonies and etiquette through the ages. However, it can be something of a culture shock when it comes to the differences between the social niceties between the country and the western world. The following is an introduction to the daily manners and courtesies of social life in China.

Make Introductions
In this section, you can learn some Chinese about how to introduce yourself to others and some tips of self-introduction.
An introduction is the first step to establish an interpersonal relationship. A successful introduction makes the people being introduced feel closer and creates a good first impression.

Self-introduction
With regard to introducing yourself there is little difference between China and elsewhere. It is considered polite to give your full name, job positions and the place you work for, especially on more formal occasions. Only your full name with a simple greeting is enough on informal occasions:
Chinese Pinyin
Chinese
The same meaning in English
Ni Hao, Wo Jiao...
你好, 我叫......
Hello/Hi, I'm...
Ni Hao, Wo Shi...
你好, 我是......
Ni Hao, Wo De Ming Zi Shi...
你好, 我的名字是......
Hello/Hi, My name is...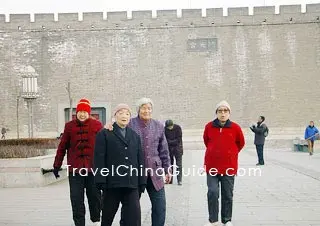 Through introductions, the four
seniors become good friends.

Being introduced
If someone is making the introductions, to introduce your self is considered disrespectful. So when it is your turn to be introduced, stand up, smile and look at the people also being introduced with ease. After being introduced, you can shake hands with each other and give mutual greetings, sometimes with an exchange of calling cards.



Introduce to others
In China, there are many strict conventional rules on introduction to others:
a. The junior should be introduced to the senior first;
b. The male should be introduced to the female first;
c. The inferior should be introduced to the superior first;
d. The host should be introduced to the guest first.
These ways of introduction is to show high respect to the senior, the female, the superior and the guest. However, if you are in a generally more informal occasion, the introduction to others can be less ceremonious.

Further Reading : Chinese Names

| | |
| --- | --- |
| Table Manner | Visiting a Chinese Family |
- Last updated on Apr. 23, 2023 -
Questions & Answers on Chinese Etiquette
Asked by America Gordon from UNITED STATES | Apr. 21, 2023 18:08

Reply
40 year old businessman visiting my husband from China my husband has known the family for many year
This was the first time meeting the now 40 year old successful businessman grandson.
I am the wife and will be meeting him tomorrow when my husband brings him to our home. We have arranged hotel for him to stay in not in our home. We have a hobby farm with dogs peacocks etc and thought others better to have home stay in nearby gorgeous hotel He has brought a gift for me
Do I need to have a gift for him?
What is a good gift?
Is it okay we had him
Stay at the hotel not our farm house
Answers (1)
Answered by Andy | Apr. 23, 2023 19:50

0

0

Reply
If he brings you a gift, then you'd better prepare one for him too, to show your equally care towards him.
As for where is better to stay, if I were him, I would feel being cared staying in grandpa's home rather than in a hotel. And I think it's the opinion of most Chinese. Of course, it's another thing if there is no extra bedroom. But it also depends. As you mentioned he is a successful businessman, maybe he will feel more comfortable in a hotel on him own.
Asked by Melissa from DESCHUTES | Nov. 18, 2019 20:24

Reply
Hitching a ride
My father is friends with a very well to do Chinese family. They have been invited to, and have accepted an invite to my brothers wedding. We are going to be guests on their jet to the location of said wedding. What do you get as a thank you gift that would express our gratitude for their kindness? I heard red is a sign of happiness, and that they are very picky about their tea..any suggestions would be welcomed.
Answers (1)
Answered by Eva from CANADA | Nov. 19, 2019 19:22

0

0

Reply
Yes, red is a sigh of happiness and lucky. You can also prepare some local lucky things and elements to them. I think it will be welcomed.
Asked by Scott from USA | Jul. 04, 2019 16:34

Reply
Is it an offense to touch a man to show affection?
I'm currently staying in a hotel owned by a Chinese couple. They have been gracious and we've become friends. During a photo opportunity, I squeezed my host's shoulder and thanked him, in gratitude. He has been very polite, so I don't think he would tell me, if I offended him by doing so.
Answers (1)
Answered by Angela from CANADA | Jul. 07, 2019 21:00

0

0

Reply
Well, generally speaking, you don't need to worry about this problem. I think that this action won't lead to some misunderstanding.
Asked by Susan Andonucci from USA | May. 17, 2019 16:58

Reply
Welcoming Chinese guest to a wedding
When welcoming Chinese guests to a wedding is it polite for me to bow to them after I say the welcome?
Answers (1)
Answered by Elijah from CANADA | May. 21, 2019 20:40

0

0

Reply
Yes, it is polite. Don't worry.