Visiting Chinese Family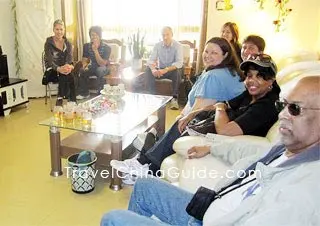 Visit a Chinese Family

Chinese people are hospitable. If you are invited by or wish to pay a visit to a Chinese family, there are some formalities that you should follow:
a. Make an appointment in advance, and then you should always be punctual for the appointment.
b. Choose an appropriate time to have the visiting, avoid visiting at other's dining or resting time. The best time is the period after noon or supper.
c. Bring some gifts as a polite gesture.
d. Hand your hat, overcoat, raingear, etc...to the host for placement.
e. Greet to all people in the family no matter whether they are acquaintances or not.
f. Be seated only when invited to do by your host.
g. Usually you will be offered tea, beverage, cigarette, fruits, candies socks and dim-sum. Just express your thankfulness then you can help yourself to them.
h. Never poke fun about anything in the host's house.
i. Generally do not stay more than an hour unless being asked by the host to stay longer.
j. Always express your thanks to the host when you leave.

By the way, do you feel puzzled when you want to buy some gifts for your Chinese friends? Hope you will have a clear idea after reading the following words: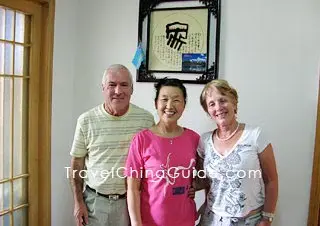 Take a Photo with the Host
Chinese people set store by gift giving. As we say in English, it is the thought that counts. Giving a gift to Chinese people should be appropriate for the condition or occasion. If you pay a visit to a Chinese family, it is smart to bring gift for the hostess like bouquet, cosmetic, or scarves. Toys, candies, books are good for the children if they have them. If you attend a wedding party, the artistic adornment, bouquet, or some practical items are the best choice. During the traditional festivals, you can bring wines, cigarettes, tea, candies, fruits, or some of your local products. However, there are some tips for you to note, which is considered to be unpropitious:
a. Clocks should never be presented as gift to others, especially to elders.
b. Pears can not be sent to couples.
c. People who are unwell may not be given medicine as gift.
d. Intimate items of clothing may not be gifts for friends of the opposite sex.

Tips:
1. If you choose to travel to Xi'an with TravelChinaGuide, we could arrange a
Chinese family visit
for you! Typical local family will be chosen to hold the activity in which you can see the ture daily life of common Chinese people.
2. If you are interested in Chinese food, you can join a
Chinese food cooking class
during the family visit.

Recommended Tours including a Chinese family visit:
Xi'an Package Tour
: 3 Days historical Xi'an
Beijing Xi'an Tour
: 6 Days Trip of Beijing and Xi'an
- Last updated on Apr. 04, 2019 -
Questions & Answers on Visiting Chinese Family
Asked by Queen from UNITED STATES | Mar. 14, 2019 11:11

Reply
I'm a teenager and I'm going to China for a school trip. I do not know what to bring?
I am from Chicago.
I don't want to offend anyone or have it be something difficult to bring through customs
Answers (1)
Answered by Fred from MALAYSIA | Mar. 14, 2019 18:30

0

0

Reply
Hi, you can search for Entry Regulations of China on this website to know more information about that. Generally, your teacher will also tell you some matters needing attention. Have a nice trip!
Asked by Brian from UNITED STATES | Feb. 04, 2019 22:01

Reply
I am going to China to meet my Fiance, her Father and her siblings for the first time.
What would you suggest I bring them for gifts?
Answers (1)
Answered by Anna from AUSTRALIA | Feb. 10, 2019 18:10

0

0

Reply
Hi, you are suggested to communicate with your fiance and know about their habits or interests. Then you can prepare some gifts they like.
Asked by Jacqueline from UNITED STATES | Oct. 30, 2018 20:36

Reply
My daughter's in laws came to United States for the holidays. What should i cook and give as gifts?
My daughters in-laws just flew in from China to spend the holidays ( Thanksgiving & Christmas) with their son. I always cook for the holidays and was wondering what would be appropriate to cook for them in addition to our traditional food. Also, any thoughts on gifts for his mother and father.
Answers (1)
Answered by Banner from UNITED KINGDOM | Oct. 31, 2018 19:23

0

0

Reply
Hi, maybe you can prepare some simple Chinese dishes or desserts like Scrambled Eggs with Tomatoes. You can find some teaching classes on this website. As for the gifts, maybe you can prepare scarves since the winter is cold. Hope helpful.
Asked by caz england from UNITED KINGDOM | Aug. 25, 2018 13:25

Reply
We have been invited to our Chinese neighbours for a meal. What should we take as a gift?
Answers (1)
Answered by Julian from BELGIUM | Aug. 26, 2018 20:52

0

0

Reply
You can take some fruits!