Visiting Chinese Family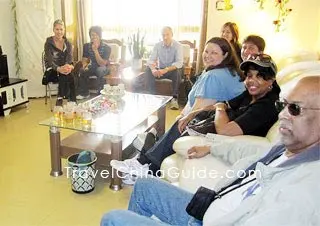 Visit a Chinese Family

Chinese people are hospitable. If you are invited by or wish to pay a visit to a Chinese family, there are some formalities that you should follow:
a. Make an appointment in advance, and then you should always be punctual for the appointment.
b. Choose an appropriate time to have the visiting, avoid visiting at other's dining or resting time. The best time is the period after noon or supper.
c. Bring some gifts as a polite gesture.
d. Hand your hat, overcoat, raingear, etc...to the host for placement.
e. Greet to all people in the family no matter whether they are acquaintances or not.
f. Be seated only when invited to do by your host.
g. Usually you will be offered tea, beverage, cigarette, fruits, candies socks and dim-sum. Just express your thankfulness then you can help yourself to them.
h. Never poke fun about anything in the host's house.
i. Generally do not stay more than an hour unless being asked by the host to stay longer.
j. Always express your thanks to the host when you leave.

By the way, do you feel puzzled when you want to buy some gifts for your Chinese friends? Hope you will have a clear idea after reading the following words: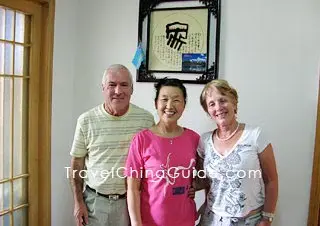 Take a Photo with the Host
Chinese people set store by gift giving. As we say in English, it is the thought that counts. Giving a gift to Chinese people should be appropriate for the condition or occasion. If you pay a visit to a Chinese family, it is smart to bring gift for the hostess like bouquet, cosmetic, or scarves. Toys, candies, books are good for the children if they have them. If you attend a wedding party, the artistic adornment, bouquet, or some practical items are the best choice. During the traditional festivals, you can bring wines, cigarettes, tea, candies, fruits, or some of your local products. However, there are some tips for you to note, which is considered to be unpropitious:
a. Clocks should never be presented as gift to others, especially to elders.
b. Pears can not be sent to couples.
c. People who are unwell may not be given medicine as gift.
d. Intimate items of clothing may not be gifts for friends of the opposite sex.

Tips:
1. If you choose to travel to Xian with TravelChinaGuide, we could arrange a
Chinese family visit
for you! Typical local family will be chosen to hold the activity in which you can see the ture daily life of common Chinese people.
2. If you are interested in Chinese food, you can join a
Chinese food cooking class
during the family visit.

Recommended Tours including a Chinese family visit:
Xian Package Tour
: 3 Days historical Xian
Beijing Xian Tour
: 6 Days Trip of Beijing and Xian