Photography in China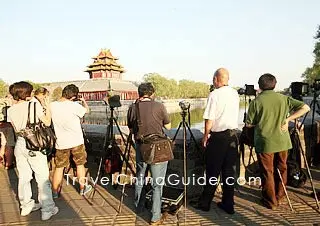 Take Photos of Forbbiden City
Remember to bring a camera with enough film (usually more than you think) or a digital camera with sufficient memory for your China trip. Definitely, the vast territory of the country will impress you with beautiful views.
You can purchase film or digital memory cards in China, but preparing these things before your departure is suggested. After all, not all the films or memory cards will match your camera well. Additionally, don't worry if you come to China, without taking along a camera. Many stores, retailing quality cameras, can be easily found in the major cities.
Best Sites for Shutterbugs
1. You can record the Chinese historic culture relics at the Great Wall, Forbidden City and Temple of Heaven in Beijing, as well as the Terracotta Warriors and Horses Museum in Xi'an.
2. The natural beauty of western China can be recorded with your camera. The highly recommended sites include the Populus Euphratica in Ejina National Nature Reserve of Inner Mongolia, Jiuzhaigou Valley in Sichuan and Zhangjiajie Scenic Areas in Hunan, etc.
3. Zhouzhuang, Wuzhen, Xitang and Zhujiajiao Water Towns can give you the typical water views of southern China.
4. As for the natural scenery and the ethic minority people's life, you can take very good pictures in Yunnan and Guizhou, where there are many ethnic minorities.
Restricted Photo Taking Sites
In Chairman Mao Memorial Hall in Beijing and the Hall of Dr. Sun Yat-Sen's Mausoleum in Nanjing, visitors are not allowed to take pictures. Besides, in most of the museums or some national-preserved attractions, you can find the marks saying "No Photos" or "No Flashing" marks. Therefore, when visiting those places, please take pictures according to the marks. The most typical ones are the Mogao Caves in Dunhuang, the Potala Palace in Lhasa and the Terracotta Warriors Museum in Xi'an.

Tips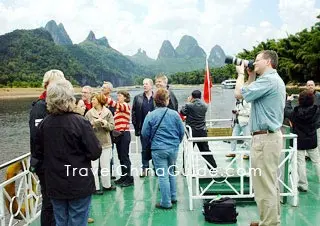 Take Pictures of the Li River Scenery
1. Do not buy roll film or memory cards in local tourist areas; bring what you need from home.
2. Bring extra batteries and adaptor units for recharging batteries.
3. Keep weather conditions in mind to gain the best photographic effects.
4. Do not take photos in politically sensitive areas such as military bases, customs or airports. Otherwise, you might be regarded as a terrorist or a person who has certain threat.
5. Certain places or backgrounds may incur fees. Be sure to clarify the amount before taking photos.
6. For religious reasons and for relic protection, many scenic spots such as museums, grottoes, temples, monasteries, palaces and cultural relics do not allow the taking of photos. 'No Photos' signs mark restricted areas.
7. Before taking photos of Chinese people which show their way of life or a street scene, you should first ask permission.
8. In some special wildlife reserves, taking photos close to the animals is not allowed for the sake of tourists' safety. Please pay attention to the signs in these places.
9. In special areas such as Tibet, photography is strictly limited. Typical local customs and religious places such as palaces or monasteries can not be photographed unless you pay for your photo taking or get the permission.
10. It is illegal to take photos regarding other people's private actions or some embarrassing scenes by using the telephoto lens.
11. Film processing is convenient and fast in China, with good print quality. Photography studios can be easily found in most Chinese cities.
12. As you take photos in museums or some exhibition halls, for the protection of cultural relic, photoflash lamp and A-frame camera should be avoided.
13. Besides photography, videography is also a good way to remember your trip.

China Photo Gallery
- Last updated on Apr. 28, 2023 by Catherine He -
Questions & Answers on Photography in China
Asked by Gunner from USA | Apr. 11, 2021 12:18

Reply
Sun Yat-Sen mausoleum
Hello, I have a question, inside the mausoleum as you enter there is a flag of the Kuomintang above the ceiling inside the mausoleum. Is it not allowed to take pictures?

-Gunner
Answers (1)
Answered by Eira | Apr. 18, 2021 18:32

0

0

Reply
Well, as I know, you are not allowed to take photos.
Asked by Angela from USA | Nov. 25, 2019 16:33

Reply
Is there a limit on camera lens length I can use? What's good average range for tourist sites?
Answers (1)
Answered by Lillian from UNITED KINGDOM | Nov. 25, 2019 18:05

0

0

Reply
Well, as I know, there is no such limitation about the camera lens length. Don't worry.
Asked by Chris Johnson from AMERICA | Mar. 18, 2019 08:39

Reply
Are you limited to take photos in the dragons's back/Chinese wall?
Answers (1)
Answered by Lucy from MALAYSIA | Mar. 18, 2019 18:21

0

0

Reply
No, there is no limit.
Asked by J. Larkin from CANADA | Sep. 17, 2018 11:34

Reply
Can I use iPad camera for photos in china?
Answers (1)
Answered by Bill from BELGIUM | Sep. 17, 2018 19:10

0

0

Reply
Of course you can.
Asked by Norman from UNITED KINGDOM | Apr. 12, 2018 05:52

Reply
Can i use my Tripod in Badaling Great Wall?
Answers (1)
Answered by Kayla from USA | Apr. 12, 2018 20:53

0

0

Reply
As I know, you can bring the tripod. Don't worry.