Dress Code in China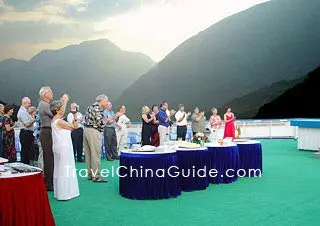 Wear formal dress for
the welcome party on the cruise ship
China has different dress codes from other countries. Visitors should better follow some dressing rules to wear suitably in certain occasions. As we know, the westerners are particular about clothes wearing. They wear different clothes on different occasions. These occasions can be specified and include wedding, party, church, holyday, business, office and recreation and so on.

However, still some people hope to be special. For instance, when they are asked to wear black tie, they wear a pair of slippers; when they are invited to barbeque in the open air, they wear a swallow-tailed coat. Anyway, dress code is just dress code but not everybody use the same one.

Similarly, Chinese people pay much attention to their suit. As China is a very traditional oriental nation, it attaches much importance on etiquettes. Take dress wearing for an example. They think to respect others and esteem themselves, they should wear decent dress. So, it's infrequent to see Chinese girls in the very low dress in public. Wearing like that is a great challenge for them indeed.

As a foreign tourist who is getting around the coastal cities of China, you will seldom see bikini girls on the seashore. In many aspects, the easterners are more conservative than the westerners. Therefore, if you are a western lady, you are suggested to wear kind of conservative swimming suit. Otherwise, you will become a very eye-catching icon among the people.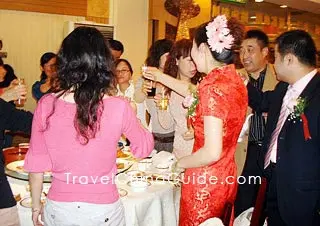 Bride prefers to wear
red clothing in her wedding.
During the traditional festivals like the Chinese New Year, Chinese like dressing them up to join the banquet. Mid-aged woman like to wear cheong-sam or skirt; man usually wear a suit. Indecent clothes can make your dignity lost. Compared with senior people, youngsters would like to dress themselves semiformally even when they are on the banquet. Fortunately, the seniors are always very kind to forgive the juniors.

In addition, Chinese like red color very much. At festivals or great ceremonies, they prefer to wear red clothing. Even if some people don't like red, they also choose brightly-colored clothes. In their mind, red symbolizes luck and fortune; only bright colors can match the atmosphere of festivals. If you travel to the country or visit your Chinese relatives during the Chinese New Year, please prepare some brightly-colored coat in advance. This is so-called ' When in Rome, do as Romans do.'

If you are going to visit a Chinese family, please don't worry about your clothing. Although Chinese people value various etiquettes, they are not very fussy about their guests' clothes. As long as you don't wear too weird or body-revealed, it will be fine. Plain clothes are also acceptable.

When you're arranged to go on a package tour, you'd better prepare one formal dress at least, as sometimes the travel agency will arrange formal dinners, concerts or operas for you. If you look too unkempt due to your coat, you may not be allowed to enter in. For instance, if you come to Xi'an, China, you will have a chance to try the Dumpling Banquet and watch the Tang Dynasty Music and Dance Show. On these occasions, please wear formal clothes.



If you want to know more about Chinese clothing, like history, pattern, color, decoration and types, etc, please click Chinese Clothing.
- Last modified on May. 06, 2019 -
Questions & Answers on Dress Code in China
Asked by Tanya from AUSTRALIA | Jun. 22, 2019 22:48

Reply
Is it acceptable for a young man travelling to Shanghai on business to have a long fringe?
Answers (1)
Answered by Catherine from FRANCE | Jun. 23, 2019 20:06

0

0

Reply
Well, generally speaking, it will be ok. Don't worry.
Asked by Terry Taylor from UNITED STATES | Jun. 02, 2019 14:02

Reply
Is it acceptable to wear shorts while on daytime summer tours throughout China
Answers (2)
Answered by Emerson from FINLAND | Jun. 03, 2019 22:43

0

0

Reply
Yes, it will be fine. However, when you touring around museums, you'd better not to wear shorts. Pants will be ok.
Answered by Shelly Wang from USA | Jun. 06, 2019 17:07

0

0

Reply
I went to China and wore short shorts in the summer. I got a lot of stares but if your shorts aren't super short then you'll be fine.
Asked by Ann C from U.S.A. | May. 22, 2019 10:38

Reply
Is it acceptable and/or practical to wear white slacks on tour in large cities in China?
Answers (1)
Answered by Maya from DENMARK | May. 23, 2019 20:29

0

0

Reply
Yes, it will be ok. Don't worry.
Asked by Naomi from UNITED STATES | May. 16, 2019 23:48

Reply
Business women in mid-May for business
I am visiting several suppliers from
Shanghai to Suzhou, Changzhou then Ningbo. What should I wear in 78-90 degrees weather to the company as a quality engineer meaning business but without putting myself in a heat stroke? I'll be there 2 weeeks and traveling my train
Answers (1)
Answered by Alexander from DENMARK | May. 21, 2019 22:43

0

0

Reply
You are suggested to wear T-shirts, short sleeved shirts, pants and sport shoes. It will be ok.
Asked by Ben from USA | May. 04, 2019 05:40

Reply
Can men wear tank tops in China?
Are tank tops acceptable for men to wear while visiting China?
Answers (1)
Answered by Henry from GERMANY | May. 06, 2019 22:38

0

0

Reply
Yes, generally speaking, you can wear tank tops. However, if you travel to some formal occasions, like visiting museums, you are not advised to wear it.