Chinese Table Manners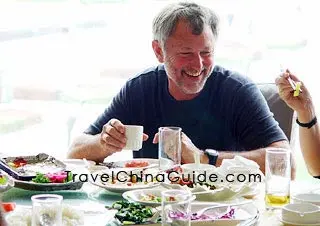 Dining in a Chinese restaurant
A multitude of etiquette considerations occur also when dining in China. There are some special differences in table manners from western countries.
a. A round dining table is more popular than a rectangular or square one. As many people who can be seated comfortably around it conveniently face one another. The guest of honor is always seated to the right of the host; the next in line will sit on his left. Guests should be seated after the host's invitation, and it is discourteous to seat guests at the place where the dishes are served.
b. Dining may only begin once the host and all his guests are seated. The host should actively take care of all his guests, inviting them to enjoy their meal.
c. On a typical Chinese dining table there are always a cup, a bowl on a small dish, together with the chopsticks and spoons. Dishes are always presented in the center of the table.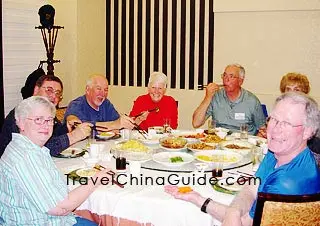 Our guests enjoy delicious Chinese food
d. Apart from soup, all dishes should be eaten with chopsticks. The Chinese are particular about the use of chopsticks. There are many no-no's such as twiddling with chopsticks, licking chopsticks, or using them to stir up the food, gesture with them or point them at others. Never stick chopsticks in the center of rice, as this is the way to sacrifice and is therefore considered to be inauspicious.

e. Keep your dining pace accorded with other people. Never smoke when dining.

f. A formal dining is always accompanied by tea, beer or distilled spirit. The one who sit closest to the teapot or wine bottle should pour them for others from the senior and superior to the junior and inferior. And when other people fill your cup or glass, you should express your thanks. Guests can not pour tea or wine themselves.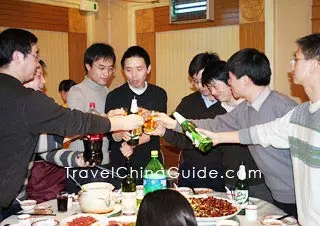 Cheers when dining together in China
g. A toast to others is a characteristic Chinese dining. When all people are seated and all cups are filled, the host should toast others first, together with some simple prologue to let the dining start. During the dining after the senior's toast, you can toast anyone from superior to inferior at their convenience. When someone toasts you, you should immediately stop eating and drinking to accept and toast in response. If you are far from someone you want to toast, then you can use your cup or glass to rap on the table to attract attention rather than raise your voice. However, it is impolite to urge others to drink.

h. Conventionally, if you are invited to a formal banquet, all the dishes should not be eaten up completely, or you will give the host the impression that he has not provided a good banquets and the food was insufficient. After dining, guests should leave once the host has left the table.



Further Reading: Food and Drink
- Last modified on Mar. 27, 2020 -
Questions & Answers on Chinese Table Manners
Asked by Karson from UNITED STATES | Mar. 25, 2020 07:24

Reply
Is it disrespectful to watch someone eat?
I'm asking this because I have seen it before and no one there said anything.
Answers (1)
Answered by Judith from FINLAND | Mar. 27, 2020 17:56

0

0

Reply
Well, generally speaking, it is not disrespectful to watch someone eat on the table.
Asked by --------- from AUSTRALIA | Aug. 11, 2019 21:50

Reply
Can you put your elbows on the table?
Answers (2)
Answered by Parker from UKRAINE | Aug. 11, 2019 22:46

0

0

Reply
Yes, it will be ok for you to put elbows on the table. :)
Answered by -------- from AUSTRALIA | Aug. 12, 2019 03:46

0

0

Reply
Thanks
Asked by Ralph from AUSTRALIA | Apr. 06, 2019 06:08

Reply
Is it very impolite to talk with your mouth full? I see it so often.
Answers (1)
Answered by Bill from USA | Apr. 07, 2019 19:03

0

0

Reply
It is not so polite. However, in daily life, especially when you are with friends, it is not so serious. In some formal occasions, it is better to avoid that.
Asked by ZAC from AUSTRALIA | Sep. 18, 2017 01:51

Reply
What are some disrespectful mannerisms at the dinner table?
Please reply ASAP because this is for an assignment that is due tomorrow. Thank you
Answers (5)
Answered by Emzie McNarwhal from ATLANTIS | Sep. 18, 2017 21:50

12

4

Reply
some disrespectful mannerisms are:
-licking your chopsticks
-pointing chopsticks at someone
-fiddling with chopstick
PS I'm only helping, not doing your assignment for you. I hope you find this helpful. :D
Answered by ZAC from AUSTRALIA | Sep. 19, 2017 03:50

4

4

Reply
thank you so much for that...yeah I realise...I wasn't going to copy it word for word anyway but thank you it really helped
Answered by Emzie McNarwhal from ATLANTIS | Oct. 13, 2017 17:41

7

3

Reply
your welcome, happy to help.
Answered by Lysistrate from GREECE | Jun. 25, 2018 10:10

0

0

Reply
Oh, also never stick your chopsticks in the food and leave them there if you're not actively eating. it's considered disrespectful and has something to do with death (because of incense sticks that burn at funerals, if i recall correctly).

I may be wrong though.
Answered by JerryL from USA | Nov. 19, 2019 00:42

0

0

Reply
I consider infoprmation ne opbtains from you to be part of his research. He found your information, directly contacted the source of the information, and is welcome to it all in my opinion. Most importantly, Wow! Thank you so much for this information! So helpful. I am moving to Shenzhen next week to teach English and these details will help me be informed and show proper respect. :)
Asked by Alexis from NEW ZEALAND | Jul. 25, 2017 23:03

Reply
Is it okay to talk while at the table?
Not while there is actually food in your mouth, but say after you've swallowed, could you compliment the cook?
Answers (1)
Answered by Sarah from AMERICA | Jul. 26, 2017 02:34

12

4

Reply
Of course! Complimenting the host on the food will make them feel happy that they have prepared a sufficient amount of delicious food.