Wangjiang Pavalion Park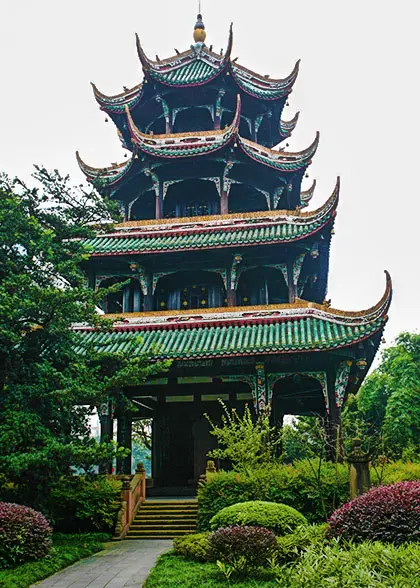 Wangjiang Pavalion

Park, Chengdu
Located on the south bank of Jinjiang River, Chengdu, Wangjiang Pavalion Park, also known as Wangjianglou Park, is one of three famous cultural relics in Chengdu, along with Wuhou Temple and the Thatched Cottage of Du Fu .'Wang Jiang Lou' literally means 'River Watching Tower' in English. While Wuhou Temple honors the legendary minister of Shu, Zhuge Liang, and Du Fu Cottage honors the Sage of Poetry, River Watching Tower (Wangjiang Tower) is dedicated to a woman, Xue Tao, a poet in the Tang Dynasty (618-907). Since in the past women lacked social status, the story of Xue Tao is all the more fascinating.

Xue Tao was born in a turbulent society so her father named her 'tao' wave in Chinese. She led a hard life after her father's death, eventually becoming a singer. She was versatile and beautiful. History records that she wrote 500 poems and that her contemporaries greatly admired her.

Bamboos will get your attention as you enter the park. Xue Tao loved bamboo; over 150 kinds of bamboos from home and abroad grow here in her honor. Wangjiang Pavalion Park with its elegant garden of bamboo is the finest in Chengdu.

Built in 1889, River Watching Tower has become a Chengdu landmark. Legend has it that the sponsor wanted the building to conform to Fengshui to enhance literate luck. It was only after the tower was completed that the sponsor revealed in two poems that his true motivation was to honor Xue Mao.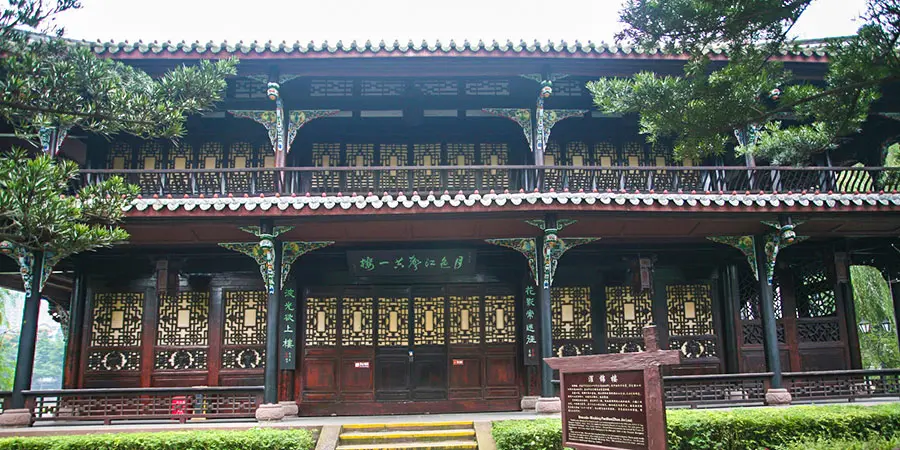 Zhuojin (washing brocade) Tower
The 39-meter- (128-foot-) high tower is the greatest building in the Wangjiang Pavalion Park. It is also called Chongli (grand and beautiful in Chinese) Tower, derived from an ancient article describing Chengdu as beautiful and grand. Of the four stories of the tower, the upper two are octagonal while the lower two are square with every eave layer exquisitely decorated with sculptures.

Other memorial buildings like Yinshi (poems-chanting) Building, Wuyunxian (five fairy clouds) Hall, Quanxiang (fragrance of spring) Pavilion, Pipa (loquat) Alley, Qingwan (refreshing and pretty) House, and Huanjian (paper-washing) Pavilion are elegantly arranged, featuring Sichuan-style gardens.

Xue Tao Well should not be missed. Not only a poet and beauty, Xue Tao was a clever inventor inventing Xue Tao Paper with water from the well. Superior to the yellow and coarse paper used at that time, her Xue Tao Paper was colorful and delicate.

The white marble statue of Xue Tao deep in the bamboos is poetry in stone.
| | |
| --- | --- |
| Xue Tao Well | White marble statue of Xue Tao |
Visitors can enjoy tea made from Xue Tao Well water, read poems and couplets left by celebrities, and become intoxicated by the ethereal surrounding.
How to get to Wangjiang Pavalion Park
Take Bus 19, 35 or 1107 to Wangjianglou Gongyuan (Wangjiang Pavalion Park).
Chengdu Bus / Metro Search
Entrance Fee
CNY 20 for the historic relics
Free for the park area
Opening Hours
08:00 -18:00 for the historic relics
06:00 - 21:00 for the park area
Recommended
Time for a Visit
One hour
- Last modified on Jul. 26, 2019 -
Questions & Answers on Wangjiang Pavalion Park
Asked by Arturo from SPAIN | Sep. 10, 2016 10:52

Reply
I went to Chengdu Xuetao mausoleum in October 2015 and it was closed for repairs.
Anyone knows if it is already open?

Best
Arturo
Answers (1)
Answered by Frank from INDONESIA | Sep. 10, 2016 21:14

1

0

Reply
As I read some tourists' reviews, it is already open now.