Dujiangyan Panda Valley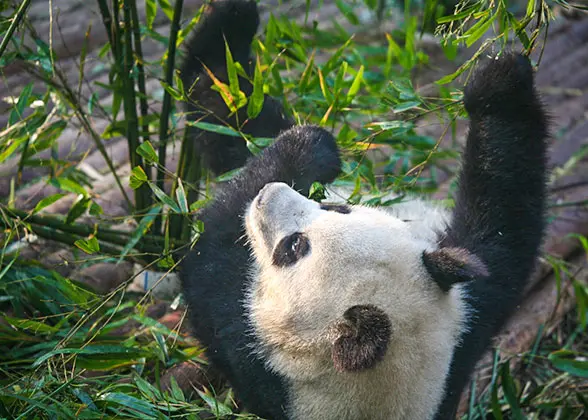 Located 60 kilometers (37 miles) from Chengdu, Panda Valley is in the Baima Village, Yutang Town, Dujiangyan City. The whole valley covers an area of 1.34 square kilometers (331 acres). Dujiangyan Panda Valley is organised in such a way that that giant pandas are encouraged to return to the wild. Visitors can have close contact with the lovely animals by volunteering to care for them.

In the Dujiangyan Panda Valley, the giant pandas are gradually reintroduced to the wild. During the semi-original wildness transition experiment, they temporarily live in dens that look like blockhouses. They will continue receiving training to complete this transitional stage until the researchers confirm they have the ability to return to the wild.

The first batch of the residents, Xingrong, Xingya, Gongzai, Yingying, Zhizhi, Qiqi, moved into Dujiangyan Panda Valley on January 11th, 2012. They all possess their own characteristics. Xingrong and Xingya are twins; Yingying likes playing and resting in a tree; Zhizhi is very active and Qiqi looks quite pretty. A lot of people may already have heard of Gongzai: being the prototype for the animated film Kung Fu Panda 2, he is the star of the whole valley. Gongzai is very outgoing and strong for his age. Chengdu Panda Base spent nearly one year selecting them from 108 giant pandas in the various aspects of genealogy, health, genetic background, gender matching, etc. At sub-adult age, which is equivalent to human childhood, their growth is rapid and their ability to adapt to a new environment is very strong.

Taking Photos Holding a Panda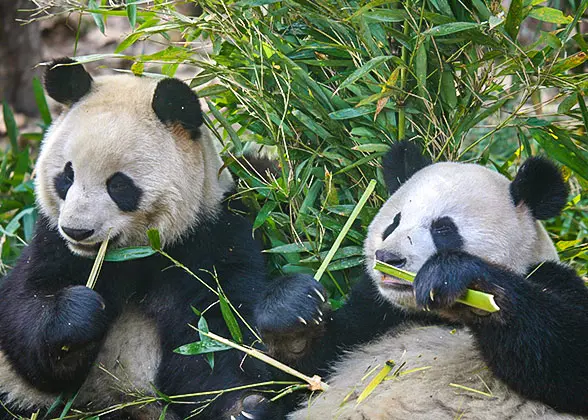 Dujiangyan Panda Valley provides an opportunity for visitors to have a close contact with giant pandas by having photos taken holding a cub. Although the process only takes a few minutes, one should be very careful, wear special protective clothing and follow staff instructions.
Cost: CNY 1,800 - 2,000

Since Feb. 1, 2018, the program of Taking Photos Holding a Panda will be suspended, and it's unclear when it will be resume.
Volunteer Program
Volunteering in Dujiangyan Panda Valley will give visitors a very rare experience and a deep understanding of this lovely animal. The volunteers' work is mainly about two aspects, sweeping and feeding. Volunteers will have to clean the cages and prepare and distribute the food to the pandas.
Cost: CNY 800 – 900 per day

Note: Both programs need to be booked in advance. Visitors can enquire by calling at +86-028-87296600.



See tour offered by TravelChinaGuide:

2-Day Chengdu Panda Keeper Program Tour from $329

How to get to Dujiangyan Panda Valley from Chengdu
1. Take the Intercity High Speed Train in
Chengdu Railway Station
and get off at Dujiangyan Railway Station. Then, take a taxi to the Panda Valley.
2. Take a bus to Dujiangyan from North City Bus Station, Airport Bus Station or Xinnanmen Bus Station. Then, take a taxi to the valley.
Entrance Fee
CNY 58
Free of charge for children under 1.3 meters (4.3 feet).
Opening Hours
8:30 - 17:00

Further Reading:

Dujiangyan Panda Base
: 19 km (11 miles) from the valley.

Chengdu Research Base of Giant Panda Breeding
: just 10 km (6 miles) from downtown Chengdu.

Ya'an Bifengxia Base of China Conservation and Research Center of Giant Panda
: in north Ya'an, 150 km (93 miles) southwest of Chengdu.

Wolong National Nature Reserve
: 130km (80 miles) from Chengdu.

Read more information about Chinese Giant Panda:
Facts
Growing Process
Diplomacy
FAQs

Top 10 Things to Do in Chengdu
- Last modified on Sep. 21, 2018 -
Questions & Answers on Dujiangyan Panda Valley
Asked by ASIA SEUC from USA | Oct. 08, 2017 19:53

Reply
Hi, I would like to know what options I have to hold a panda.
What places offer this option? Also, what are the steps to register/sign up to hold one and take a picture with them. thank you.
Answers (1)
Answered by Gloria from AUSTRALIA | Oct. 08, 2017 21:55

1

0

Reply
Dujiangyan Panda Base now is the only site where you are allowed to hold the cute creature. It requires reservation. You can contact them at pandaeducatecenter

163.com or +86-28-69290315.
Asked by Mohd from MALAYSIA | Jul. 28, 2017 03:10

Reply
Hi, I would like to know which Panda's center is better, can't go to too many places
Either;
1. Dujiangyan Base
2. Dujiangyan Valley
3. Chengdu Research Base of Giant Panda Breeding Center
Answers (1)
Answered by Liela from UNITED KINGDOM | Jul. 30, 2017 19:46

0

0

Reply
You are suggested to visit Chengdu Research Base of Giant Panda Breeding Center, which keeps more pandas and is more convenient to go.
Asked by Michelle from HONG KONG | Apr. 25, 2016 02:31

Reply
Does Panda Holding still exist??
I just called twice and both times the lady on the phone said Holding has never existed in the valley! Does anyone know whether this phone number is legit or can provide other contact information to the Valley for enquiries to holding a baby cub!
thanks Michelle
Answers (1)
Answered by Anne from UNITED KINGDOM | Apr. 25, 2016 03:41

0

0

Reply
Dear Michelle, you can hold the cute animal at Dujiangyan Panda Base, not the valley. It is located in Shiqiao Village, Qingchengshan Town. :)
Asked by Starlit Simon from CANADA | Feb. 07, 2016 18:53

Reply
holding pandas in dujiangyan
Good evening, I have been contemplating taking a trip to China and fulfilling a life long dream - holding one in my arms. I have read that two other sites have suspended allowing guests to hold and take a photo with a bear and am wondering what your sancuary's rules are currently on this. I am hoping to be in Chengdu in late March of this year.

Please let me know at your earliest convenience. I would not want to take such a big trip if I was unable to hold one as I am coming from East Coast Canada.

Thank you,

Starlit Simon
Answers (3)
Answered by Harrison from DENMARK | Feb. 15, 2016 02:22

0

0

Reply
Oh, Only Panda Valley provides holding program for tourists nowadays. You can have intimate contacts with those cute animals. Generally speaking, the fare is CNY 1,800 to 2,000.
Answered by Emma from UNITED KINGDOM | Feb. 15, 2016 02:35

0

0

Reply
Hi
How do we book this as no tour guides can help and state this is not possible
Answered by Harrison from DENMARK | Feb. 15, 2016 18:42

1

0

Reply
Well, you are suggested to go there earlier in the morning. After purchasing the entrance tickets, you can consult the official staff of the scenic area. Or try to dial 028-87296600 to know more details about the holding program. :)