Dujiangyan Panda Valley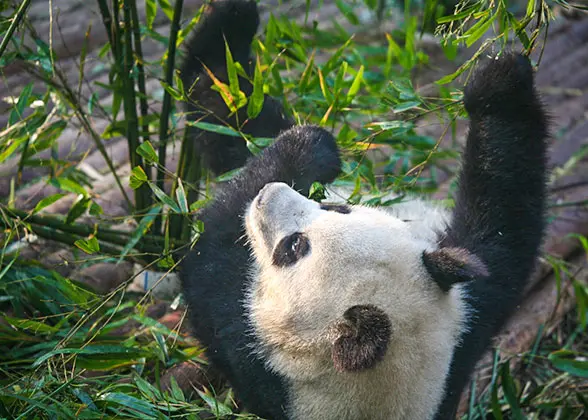 Located 60 kilometers (37 miles) from Chengdu, Panda Valley is in the Baima Village, Yutang Town, Dujiangyan City. The whole valley covers an area of 1.34 square kilometers (331 acres). Dujiangyan Panda Valley is organised in such a way that that giant pandas are encouraged to return to the wild. Visitors can have close contact with the lovely animals by volunteering to care for them.

In the Dujiangyan Panda Valley, the giant pandas are gradually reintroduced to the wild. During the semi-original wildness transition experiment, they temporarily live in dens that look like blockhouses. They will continue receiving training to complete this transitional stage until the researchers confirm they have the ability to return to the wild.

The first batch of the residents, Xingrong, Xingya, Gongzai, Yingying, Zhizhi, Qiqi, moved into Dujiangyan Panda Valley on January 11th, 2012. They all possess their own characteristics. Xingrong and Xingya are twins; Yingying likes playing and resting in a tree; Zhizhi is very active and Qiqi looks quite pretty. A lot of people may already have heard of Gongzai: being the prototype for the animated film Kung Fu Panda 2, he is the star of the whole valley. Gongzai is very outgoing and strong for his age. Chengdu Panda Base spent nearly one year selecting them from 108 giant pandas in the various aspects of genealogy, health, genetic background, gender matching, etc. At sub-adult age, which is equivalent to human childhood, their growth is rapid and their ability to adapt to a new environment is very strong.

Taking Photos Holding a Panda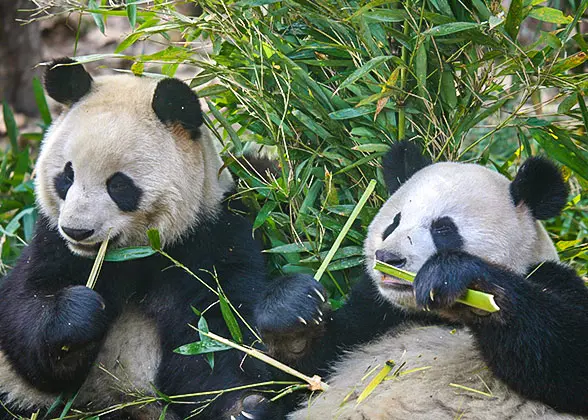 Dujiangyan Panda Valley provides an opportunity for visitors to have a close contact with giant pandas by having photos taken holding a cub. Although the process only takes a few minutes, one should be very careful, wear special protective clothing and follow staff instructions.
Cost: CNY 1,800 - 2,000

Since Feb. 1, 2018, the program of Taking Photos Holding a Panda will be suspended, and it's unclear when it will be resume.
Volunteer Program
Volunteering in Dujiangyan Panda Valley will give visitors a very rare experience and a deep understanding of this lovely animal. The volunteers' work is mainly about two aspects, sweeping and feeding. Volunteers will have to clean the cages and prepare and distribute the food to the pandas.
Cost: CNY 800 – 900 per day

Note: Both programs need to be booked in advance. Visitors can enquire by calling at +86-028-87296600.



See tour offered by TravelChinaGuide:

2-Day Chengdu Panda Keeper Program Tour from $329

How to get to Dujiangyan Panda Valley from Chengdu
1. Take the Intercity High Speed Train in
Chengdu Railway Station
and get off at Dujiangyan Railway Station. Then, take a taxi to the Panda Valley.
2. Take a bus to Dujiangyan from North City Bus Station, Airport Bus Station or Xinnanmen Bus Station. Then, take a taxi to the valley.
Entrance Fee
CNY 58
Free of charge for children under 1.3 meters (4.3 feet).
Opening Hours
8:30 - 17:00

Further Reading:

Dujiangyan Panda Base
: 19 km (11 miles) from the valley.

Chengdu Research Base of Giant Panda Breeding
: just 10 km (6 miles) from downtown Chengdu.

Ya'an Bifengxia Base of China Conservation and Research Center of Giant Panda
: in north Ya'an, 150 km (93 miles) southwest of Chengdu.

Wolong National Nature Reserve
: 130km (80 miles) from Chengdu.

Read more information about Chinese Giant Panda:
Facts
Growing Process
Diplomacy
FAQs

Top 10 Things to Do in Chengdu
- Last modified on Sep. 21, 2018 -