Top Chengdu Attractions
More Things to Do
Top 10 City Tours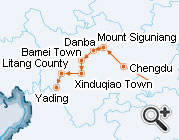 Explore Daocheng & Yading in Western Sichuan
CD10:
8 Days Private Tour of Chengdu - Mount Siguniang - Danba - Yading
From
$1849
per person
Free Inquiry

Departure: Apr 20-Jun 10 & Sep 01-Nov 01
Best Time: Oct 15-Nov 01

Itinerary Highlights

Visit primitive Tibetan villages and residences. Learn the culture of Tibetan Buddhism and ethnic minorities.

Follow the footsteps of Explorer Joseph Rock to seek for the mystic Shangri-La described in the book Lost Horizon.
Sincere greetings & airport-hotel transfer. Wuhou Temple, Jinli Street.
Giant pandas
This remarkable private Chengdu - Yading tour will start the moment you touch down at Chengdu Airport. You will be escorted to the hotel by a private drive after meeting our guide outside the exit. After a short rest, we will head for our first destination -
Wuhou Temple
where you can get to know the history of the Kingdom of Shu (221 - 263). Then our guide will lead you to loiter around
Jinli Street
to feel the traditional culture of the city and enjoy local handicrafts and cuisines as well.
Meals: No meals, advice freely available
Accommodation:
Holiday Inn Chengdu Oriental Plaza





Friendly Tips
Altitude Reaction: Much energy will be taken for hiking and climbing in high altitude environment during the tour in the following days. We suggest you listen to your own body condition and avoid running or jumping.
Road Conditions: This route mainly passes mountain areas. Sometimes there might be falling rocks blocking the way, so it is suggested you prepare for the possible route adjustment and pack some food and water just in case.
Day 2
Chengdu - Mount Siguniang
Chengdu - Mount Siguniang land transfer. Gengda Panda Base in the Wolong Nature Reserve. (B+L+D)
Snow mountain
After breakfast, you will be picked up at the hotel and then head for the Mount Siguniang. En route, we will make a stop at the Gengda Panda Base in the
Wolong Nature Reserve
after around 2 hours' ride. There you can see lovely pandas eating bamboo, rolling on the ground, and climbing trees. Please have your camera ready to capture adorable moments of them.
After lunch, we will spend another 2 hours crossing the lofty Balang Mountain and finally make it to a town at the foot of the Mount Siguniang. Check in a local hotel for one night's stay.
Meals: Western buffet breakfast, Lunch, Dinner
Accommodation: Mt. Yue Hotel
Day 3
Mount Siguniang - Danba County
Shuangqiao Valley of the Mount Siguniang. Mount Siguniang-Danba County land transfer. Stop over at local Tibetan villages and relics. (B+L+D)
Danba Tibetan Villages
Mount Siguniang
means 'mountains of four girls' in Chinese. It consists of four undulating mountains symbolizing four maidens. Snow and ice covering the peaks are just like the girls' veils, and hence the name. After breakfast, our guide will accompany you to visit the Shuangqiao Valley (Double-Bridge Valley) of the Mount Siguniang to enjoy refreshing natural scenes of snow peaks, prairies, forests and mirror-like lakes.
After lunch, continue our private Sichuan tour itinerary to Danba County. During the 3 hours' car ride, we will stop over at local Tibetan villages and relics left by red army of China's Communist Party during the Long March (1934 - 1935).
Upon arrival at Danba County, we will check in a local Tibetan-style hostel to spend the night.
Meals: Breakfast, Lunch, Dinner
Accommodation: Herui Buke Yard Inn
Suopo Tibetan Village including Suopo Towers. Home-cooked lunch. Jiaju Tibetan Village. (B+L+D)
After breakfast, we will take a ride to
Suopo Tibetan Village
around the Danba County to see the distinctive Suopo Towers, which used to be the outpost and granary of Tibetan tribes. Before entering the village, the driver will stop at the best viewing spot for you to take in the full view of these towers. We will have a home-cook lunch at a local family at noon. In the afternoon, you will be taken to the Jiaju Tibetan Village where hundreds of local residences terraced against hillside.
We will return to the hotel in Danba when the whole day's itinerary is finished.
Meals: Breakfast, Lunch, Dinner
Day 5
Danba - Bamei Town - Xinduqiao Town
Danba-Bamei Town-Xinduqiao Town land transfer. Huiyuan Temple, Bamei Stone Forest, Tagong Prairie, Tagong Temple. (B+L+D)
Huiyuan Temple
Today, we will depart from Danba after breakfast and head for the Xinduqiao Town which is renowned as the photographers' paradise because of the impressive natural scenery. Along the way, you will see gurgling small streams running at the foot of rolling hills with white Tibetan-style buildings, Mani stones, and colored flags dotted among lush plants on the hillside. Mount Yala covered by snow and ice all year round stands in a distance with steep ranges resembling silver swords pointing to the sky. You can easily take good pictures from any angle. We will make a short stay at Huiyuan Temple in the midway. Nestling among rolling mountains, the temple seems like standing in the center of a lotus and that's why locals consider it a blessed temple.

Lunch will be arranged when arriving at Bamei Town. After that, continue our trip to Xinduqiao. We will stop by Bamei Stone Forest, Tagong Prairie and Tagong Temple on the way to view refresh scenes and take pictures. Among them, the Tagong Temple has been around for over 1,000 years and our guide will show you around to let you feel the profound religious atmosphere there.

We will check in Xinduqiao Paradise Hostel upon arrival. It is suggest you slow down the pace while staying there as the town is located at an altitude of 3,300 meters (10,800 feet).

Meals: Breakfast, Lunch, Dinner
Accommodation: Xinduqiao Paradise Hostel
Day 6
Xinduqiao - Litang County - Yading Town
Xinduqiao-Litang County-Yading Town land transfer. Changqingchun Ke'er Monastery. (B+L+D)
Rural sceneries en route
After breakfast, we will set out today's private Chengdu tour to Daocheng Yading. During the journey, you will see the roadside scenery gradually transfer from high mountains to wide prairie and the architectural style of Tibetan residences changes as well. Around noon, we will arrive at Litang County, also nicknamed as 'the city in the sky' for occupying an altitude of 4,014 meters (13,169 feet). After having a simple lunch, our guide will accompany you to visit the Changqingchun Ke'er Monastery. The full view of the Litang County will be presented in front of you once climbing up to the Incense-Burning Platform of the temple.

Afterwards, continue to drive to Yading Town and we will pass by the Haizi Mountain in the midway, where you can see a lot of naturally-formed lakes embedded on the plateau.

We will spend 6-7 hours in total on the road. Upon arrival at Yading, our guide will escort you to check in a local hotel. It is suggested you have an early sleep after the fulfilling and enjoyable trip today.

Meals: Breakfast, Lunch, Dinner
Accommodation: Tibet Ga Ji Lin Hotel
Full day at Yading Nature Reserve. (B+L+D)
Yading Nature Reserve
Today, we will have a whole day exploring the
Yading Nature Reserve
to seek for the mystic Shangri-La described in the book Lost Horizon. Yading is endowed with all the beauties of snow-covered plateau, like solemn snow mountains, vast meadows, primitive forests, and crystal clear lakes. After breakfast, we will drive for around 1.5 hours to the Yading Nature Reserve to start our adventure. At noon, we will have lunchboxes in the scenic area. After visiting Yading Nature Reserve, our guide and driver will accompany you back to the hotel in Yading Town.
Meals: Breakfast, Lunch, Dinner

Friendly Tips
Sightseeing car inside Yading Nature Reserve shuttles between Chonggu Monastery and Luorong Pasture, but it only reaches the foot of the mountains. You still need to climb uphill to view the lakes. The fare for the car is included in our price.
There are horses for rent in the scenic area as well, but we suggest you not to ride for your safety.
Day 8
Departure from Yading
Hotel-airport transfer & see you off. A nice journey home! (B)
Today is the last day of this 8-day Chengdu to Yading tour package. After checking out the hotel, our guide and driver will transfer you to the airport for your leaving flight. Please kindly notice that most planes leave from Yading Airport early in the morning due to the high altitude and climate restriction. Considering the 1.5 hours' drive between the hotel and the airport, you may need to get up early and the hotel will provide boxed meal for breakfast.

If you want to extend your tour to Shangri-La, please feel free to contact your travel consultant. We will continue our journey from Yading to the next tourist province - Yunnan for more fun.

Meals: Breakfast
B-- Breakfast
L-- Lunch
D-- Dinner
Price Includes
Hotel accommodation with breakfasts
Lunches and dinners as itinerary specifies
Private English-speaking guide(s)
Private driver(s) & air-conditioned vehicle(s)
Entrance fees to tourist sites
Price Excludes
International airfares
Entry Visa fees
Personal expenses
Tips or gratuities for guides and drivers
Itineraries you may also like:
The above routes do not meet your requirements? Please click
Tailor My Trip