Nanjing Nightlife
Where to Go
Nanjing 1912 - a place where the youth could have a vibrant nightlife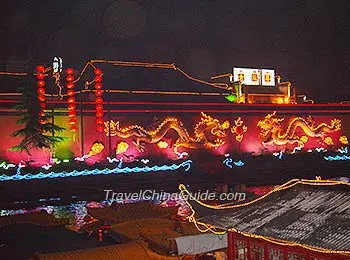 Qinhuai River at Night
Where is the liveliest place in Nanjing after 10 p.m.? The local fashion elites would reply, "Nanjing 1912." It refers to an entertaining area in present Nanjing. One could see the Presidential Hall in this area where Dr. Sun Yet-sen, the forerunner of China's democratic revolution, had his presidential office erected in the year 1912. Seventeen well-preserved historical buildings from that period and four entertainment squares can be found in this area in today's Nanjing.
Nanjing 1912 is a blend of the old days in China and the modern styles of the West. Gray-bricked buildings, simple-styled balconies, floral-carved windows and pinnacle tops picture the old China. Today, western culture has seeped in the city. Nanjing 1912 is home to world-branded coffee shops such as Starbucks, the Coffee Beanery, and Kathleen Five, Japanese and Korean restaurants, Asian-famous spas and beauty salons. It is like the Xin Tian Di in Shanghai!
Feature: all kinds of bars, pubs, discos, and teahouses
Customers: mid-class citizens, businessmen, and foreigners spend the evening in Nanjing 1912
Cost:50-100 RMB/pax
High Time: 11:00 p.m. to 12 p.m.

Hunan Lu - a night street for gourmands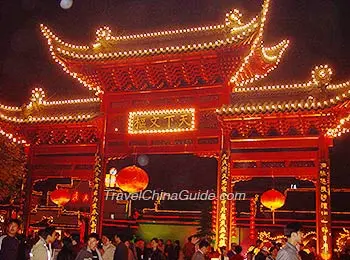 Night Scene of Gongyuan Street
Another way to spend the night is to walk through the crowded
Hunan Lu
dining and shopping area to satisfy your palate with all sorts of delicious food. The night scene of the street is also beautiful.
Fuzimiao Dining Street- a night street for gourmands
The riverside area near Fuzimiao (Confucius Temple) dotted with numerous snack shops, restaurants housed in traditional Chinese buildings is also a popular night entertaining venue.

Directory of Entertaining Places

Cinema
Shuguang Cinema
Address: No.7, Zhongshan Beilu, a block east to the Drum Tower Square)
Honglou Cinema (Red Mansion)
Address: No.136, Zhongshan Donglu, opposite the Stadium

Theatre
Culture& Art Center
Address: No.101, Changjiang Lu in Xinjiekou area
Qinhuai Theater
Address: a theater located right in the famous tourist area of Qinhuai River

Teahouses
Tianming Teahouse
A teahouse in a classic-style garden
Address: No.1, Dazhongting, Gulou District (Drum Tower District)
Capacity: 50 people
Tianyu Teahouse
Address: No.26, Huaqiao Lu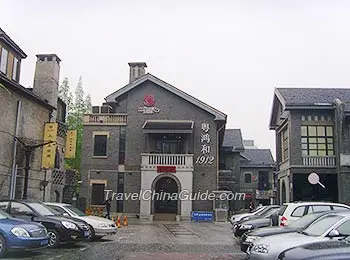 1912 Bar Street

Discos & Bars
Century 2000 (Shi4 Ji4 2000)
Address: No.10, Lubeiting Xiang, Zhongshan Donglu
Purple Rose (Zi3 Mei2 Gui4)
Address: No. 88, Rehe Lu
Gone with the Wind (Luan4 Shi4 Jia1 Ren2)
Address: Drum Tower area
Jidi 77
Address: near the Xinjiekou Crossing
Wei Cai Yin Xiang
Address: Xuanwu Gate
Time Tunnel
Address: Taiping Nanlu