Nanjing City Wall
Nanjing City Wall is one of the key historical and cultural remains of Ming Dynasty (1368-1644) under state protection. It is a masterpiece of China's ancient architecture. With an original perimeter of about 35 kilometers (22miles), the City Wall has a height of 14-21 meters (46-67 feet). The footing has a width of 14 meters (about 46 feet). The present remains have a length of about 21 kilometers (13 miles). Nanjing is one of the few cities in China that still have old city walls, and its City Wall is better preserved with most part still remained. Even though it has a history of about 600 years it is still spectacular and of great value in terms of cultural relics protection.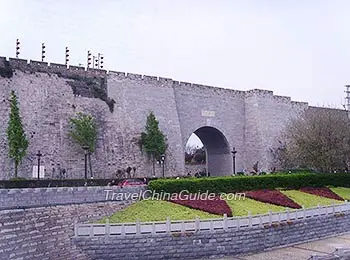 In 1366 AD Zhu Yuanzhang, the first Emperor of the Ming Dynasty, accepted the suggestion of a chancellor to build the Nanjing City Wall. After 21 years of painstaking constriction, the wall was finally completed in 1386. According to historical records, Zhu Yuanzhang ordered 118 counties of 20 states in 5 provinces to make bricks. Each brick weighs about 10 kilograms with a length of 40-50 centimeters (16-20 inches), a width of 20 centimeters (8 inches) and a height of 10 centimeters (4 inches). The bricks are inscribed with the names of officials who were responsible for the quality of the bricks. Up to 350 million bricks were used to build the wall.

The Nanjing City Wall is made up of four parts. From the outside first there is Outer City, Inner City, Imperial City and Palace City. In 1390, Outer City was built with a length of 180 kilometers (112 miles) in a diamond shape to strengthen defenses though it does not exist any more and only the names of the 18 gates are still used now. The Nanjing City Wall we can see today is mainly the relic of the Inner City. The Imperial City was built to protect the Palace City, which is nicknamed 'Forbidden City' as it is the centre of the four walls.

Located on the Southern Bank of the Yangtze River with abundant rainfall, rolling hills and meandering rivers, it is a difficult task to undertake such a huge project. However, the ancient Chinese conquered all the difficulties with their skills and built the walls by using materials appropriate for the terrain, creating Nanjing's City Wall with ever better scheme, physical feature and supreme location

The Nanjing City Wall is an important cultural relic for the inscriptions on the bricks. The inscriptions come in two forms. One is from scholars and officials, the other from the artisan or folk people. The characters of the former is beautiful and elegant and contains the major calligraphic styles, the origin of one of the characters styles even cannot be traced. From here, you can see how Chinese characters developed and understand the multiculturalism of the Ming Dynasty. These inscriptions act like a historical scroll, recording the changes of the wall over dynasties. It provides an indispensable record for the study of Nanjing history.

Nanjing citizens attach great importance to the work of protecting Nanjing City Wall because the wall symbolizes the history of Nanjing. The local Municipal Government built a five-meter wide side path at Jiefangmen Gate for visitors to ascend. Although the completion of the Nanjing City Wall can not compete with the City Wall of Xi'an, it is still the longest one in the World.

Best Time to Visit Nanjing City Wall
The best months to visit are June and December.
How to get to Nanjing City Wall

Metro:
1. Take
Metro line 1
to Zhonghuanmen or Xuanwumen, and you will see the wall.
2. Take
Metro line 3
or
Metro line 4
to Jimingsi Station, Exit 4. Walk north for 5 minutes, and you can see the wall.

Bus:
1. Take bus 2, 16, 49, 63, 202, 302, 701, 706, D18, or G5 to Zhonghuamen Chengbao.
2. Take bus 1, 25, 28, 30, 33, 35, 47, or 56 to Xuanwuhu Gongyuan.
3. Take bus 10, 13, 22, 45, 66, 69, 72, 73, 76, 315, 318, 501, 510, 555, or 557 to Zhongyangmen Dong.
Nanjing Bus / Metro Search
Entrance Fee
CNY 30 (Shence Gate to Taiping Gate, including the City Wall Museum)
CNY 10 (Fugui Mountain to Lanqi Street)
CNY 50 (East Water Pass to Jiqing Gate, including the barbican of Zhonghua Gate)

Except for the above three sections, tourists can also visit these three sections (Qingliang Gate – Guofang Garden, Dinghuai Gate – Yijiang Gate, and Zhongfu Road – Central Gate) for free.

Pedicab is also available on the wall. There are three routes.
1. Barbican of Zhonghua Gate – Yuhua Gate – Wuding Gate – East Water Pass: CNY 30
2. Barbican of Zhonghua Gate – Changgan Gate: CNY 15
3. Changgan Gate – Jiqing Gate: CNY 15
Opening Hours
Shence Gate - Taiping Gate & Fugui Mountain - Lanqi Street: 8:30 - 17:00
East Water Pass - Jiqing Gate: 8:30 - 20:00
Free Sections: all day

Further Reading:
Top 10 Things to Do in Nanjing
- Last modified on Apr. 20, 2020 -
Questions & Answers on Nanjing City Wall
Asked by phueser from GERMANY | Feb. 01, 2019 00:53

Reply
Can you enter the Nanjing City Wall when you exit at Xuanwumen metro station?
And where exactly?
Answers (1)
Answered by Landon from FINLAND | Feb. 03, 2019 00:48

0

0

Reply
Yes, you can. After arriving, you can see the City Wall directly.
Asked by Ang from MALAYSIA | Apr. 07, 2018 23:06

Reply
Walking on Nanjing City Wall from Zhonghua Gate (Gate of China)
I plan to visit Zhonghua Gate (Gate of China) and walk on the City Wall from there. Please advise the route to take to the nearest subway station (when I come down from the wall). And any idea how many kilometers is that? Thank you.
Answers (2)
Answered by James from CANADA | Apr. 08, 2018 19:49

1

0

Reply
You should walk to Xuanwu Gate, where the subway station is nearby. It's about 8km.
Answered by Ang from MALAYSIA | Apr. 12, 2018 01:47

0

0

Reply
Thanks a lot, James.
Asked by Wen from MALAYSIA | Jun. 23, 2017 06:13

Reply
Admission Fees and Opening Hours of Nanjing City Wall.
Hi! I'm going to the city next month. I would like to enquire if the admission fees and opening hours are still the same as mentioned above? Which route is the best option to choose if my friends and I plan to stay in the city for a day only?
Answers (1)
Answered by Ruby from CHINA | Jun. 27, 2017 04:43

0

0

Reply
The city wall opens during 09:00 to 17:00 from Monday to Saturday. The ticket fare is CNY30/person. You are advised to follow this route, which is about 6 kilometers.
Shencemen – Dashugen – Xuanwumen – Taicheng – Linhuting – Jiuhuashan Park East Gate
Asked by Vashish from MAURITIUS | Sep. 05, 2016 05:44

Reply
I am going to stay at City Inn (Nanjing Xinjiekou) at 185 Hanzhong Road.
I want to go to City Wall from my hotel.
Can anyone please explain me how to go to this place by bus or subway?

Thanks.
Answers (1)
Answered by Wennie from RUSSIA | Sep. 05, 2016 22:04

0

0

Reply
From your hotel, walk northeast around 800 yards to get to Dajian Yinxiang Bus Stop. Then take public bus no.302 to Zhonghuamen Chengbao Station. After arriving, walk southwest around 150 yards to find the destination. :)