Mochou Lake Park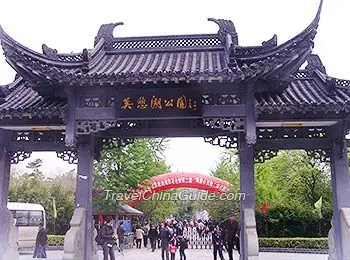 Nanjing Mochou Lake Park
Located on the western side of Hanzhong Lu, Nanjing City, Mochou Lake occupies an area of 47 hectares (about 116 acres). Once a part of the
Yangtze River
, gradually became a lake as the course of the river wavered from the Yangtze River to the
Qin Huai River
.
According to one legend, the name of the lake came from a young woman of beauty and virtue named Mochou.who lived during the Northern and Southern Dynasty (386-589). She married a man from the Lu family in Jinling (now known as Nanjing City) and had a baby. They lived a happy life until one day Lu was recruited to the army. Because there had been no news of him since he had left, she missed her husband dearly day and night. Finally, it is said that Mochou turned into a lake, with the hope of flowing to her husband's side. In memory of the young woman's undying devotion to her husband, the lake was aptly named Mochou by the local people.
In 1929, the lake was renamed Mochou Lake Park and was expanded and rebuilt in 1953 with additional trees and flowers.
A visitor is first greeted by an ornamental pond and fountains, as well as a rock display. Walking ahead, you will encounter the well-known Shengqi Pavilion, which is a two-storey structure of primitive simplicity. On the first floor, paintings and calligraphies of famous artists can be found. On the second floor, there is a picture of two men playing I-go, one is Emperor Taizu named Zhu Yuanzhang of the Ming Dynasty (1368-1644) and the other man is one of his subjects, General Xu Da. Legend has it that Zhu Yuanzhang used to play I-go with Xu Da, who was a master-hand in Chinese draught. However, Xu Da always lost the game intentionally so as not to offend the Emperor. Eventually, Zhu saw through this ruse and ordered him to play to the best of his ability. The next time they played, Xu Da won the game. At the same time, this intelligent subject pleased the Emperor by posting the pieces of the characters 'wan sui', which meant long life. In delight, the Emperor bestowed the Shengqi ('winning the game') Pavilion as well as Mochou Lake to Xu Da.
To the north of the Shengqi Pavilion is the former residence of Mochou, Yujin Hall (yujin means white cardamom).The hall is divided by a water lily pond into two parts. In the middle of the pond stands a white marble statue of Mochou with a sorrowful expression. To the east and west of the pond are pavilions surrounded by cloisters for lily viewing.
Behind the pavilion is Mochou Lake. It is full of lotus roots that present an eye-catching sight when the water lilies are in blossom. In the center is an island that is accessible to tourists by boat. Water fowls usually inhabit the island all year-round.
Since 1991, the park has hosted dragon boat races on the lake every year, a display of Chinese culture and great pageantry. In April, a boat ride here can help the visitors appreciate the flowering blossoms from nearby crabapple trees while drinking in the beautiful scenery.
Admission Fee :
CNY 35
Opening Hours:
06:00 to 22:00 (summer)
06:00 to 23:00 (winter)
Bus Route:
By bus: take bus no. 7, 13, 19, 37, 41, 48, 133, 134, 160, 166, 204 or 306 to get off at the South Gate of Mochou Lake.
By metro: take line 2 to the lake and leave from exit 2.
Nanjing Bus / Metro Search
Recommended Time for a Visit:
Half an Hour

Nearby Attractions:

Chaotian Palace