Nanjing Weather in June
Nanjing weather in June is relatively hot and humid. The average temperature in June is 24°C (75°F) with the average high temperature 29°C (84°F) and average low temperature is 21°C (70°F). With the heaviest rainfall in a year, its average humidity is 78%. The weather in June is really unsettled with sunny and rainy days.
The
Dragon Boat Festival
in China is on the fifth day of the fifth lunar month, usually in June. There are traditional dragon boat races held in Nanjing. It is worth mentioning that the dragon boat races hosted at
Mochou Lake Park
is fairly exciting. The scene was very lively and spectacular.
Averages for Nanjing Weather in June
Temperature: 24°C / 75°F
High Temperature: 29°C / 84°F
Low Temperature: 21°C / 70°F
Humidity: 78%
Rainfall: 193 mm
Rainy Days: 11 days
Sunrise: 04:58 ~ 05:02
Sunset: 19:05 ~ 19:15
Air Quality in June
Average AQI:40

What to Wear in Nanjing in June
Summer clothes, such as T-shirts and shorts, are suitable for the climate of this month. Light-colored clothes is recommended. You may need to pack long-sleeved shirts or thin coat to cope with frequent rains.


Where to Go in Nanjing in June
If you are interested in Chinese classic culture, Confucius Temple (Fuzimiao) is a good place to visit, where people worship and consecrate Confucius, a world-famous philosopher and educator of ancient China. In addition, it is recommended to explore the
Qinhuai River
, the biggest branch of Yangtze River in Nanjing. Cruise ships are available here and a cruise experience in June is fairly joyful and exciting. With lights for decoration, the river is especial enchanting at night, so a night travelling cannot be missed. It is worth to mention that fishing game and boating in June are some of the recreational activities in
Xuanwu Lake
. If you are interested, it is a must for your itinerary in this city.
Other Tips
Check the weather forecast before departure. It is necessary to take an umbrella or wear waterproof clothes when going out since the weather during this period is unpredictable. Beside, when you traveling on the cruise ships, you must wear safety clothes and follow the arrangement of the scenic area personnel. SAFETY is always paramount.
What is the temperature in Nanjing in June?
High/Low Temperatures of Nanjing in June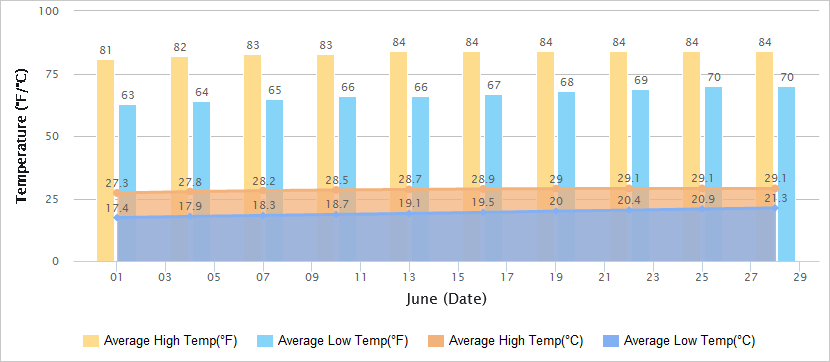 Air Quality of Nanjing in June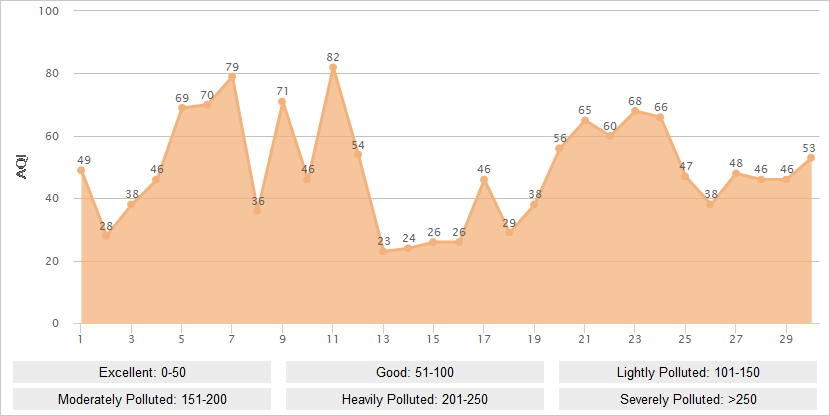 Historical Nanjing Weather in June
Jun
Temperature
Sunrise / Sunset
Humi-
dity
(%)
High
Low
1
27.3°C / 81.1°F
17.4°C / 63.3°F

05:00

/

19:05

35
2
27.5°C / 81.5°F
17.6°C / 63.6°F

05:00

/

19:07

39
3
27.6°C / 81.6°F
17.7°C / 63.8°F

04:59

/

19:07

54
4
27.8°C / 82°F
17.9°C / 64.2°F

04:59

/

19:08

60
5
27.9°C / 82.2°F
18°C / 64.4°F

04:59

/

19:08

51
6
28°C / 82.4°F
18.2°C / 64.7°F

04:59

/

19:09

67
7
28.2°C / 82.7°F
18.3°C / 64.9°F

04:59

/

19:09

81
8
28.3°C / 82.9°F
18.4°C / 65.1°F

04:58

/

19:10

61
9
28.4°C / 83.1°F
18.6°C / 65.4°F

04:58

/

19:10

63
10
28.5°C / 83.3°F
18.7°C / 65.6°F

04:58

/

19:11

54
11
28.6°C / 83.4°F
18.8°C / 65.8°F

04:58

/

19:11

56
12
28.7°C / 83.6°F
19°C / 66.2°F

04:58

/

19:11

54
13
28.7°C / 83.6°F
19.1°C / 66.3°F

04:58

/

19:12

57
14
28.8°C / 83.8°F
19.3°C / 66.7°F

04:58

/

19:12

35
15
28.9°C / 84°F
19.4°C / 66.9°F

04:58

/

19:13

32
16
28.9°C / 84°F
19.5°C / 67.1°F

04:58

/

19:13

34
17
29°C / 84.2°F
19.7°C / 67.4°F

04:58

/

19:13

58
18
29°C / 84.2°F
19.8°C / 67.6°F

04:59

/

19:14

82
19
29°C / 84.2°F
20°C / 68°F

04:59

/

19:14

91
20
29.1°C / 84.3°F
20.1°C / 68.1°F

04:59

/

19:14

87
21
29.1°C / 84.3°F
20.3°C / 68.5°F

04:59

/

19:14

89
22
29.1°C / 84.3°F
20.4°C / 68.7°F

04:59

/

19:15

81
23
29.1°C / 84.3°F
20.6°C / 69°F

05:00

/

19:15

69
24
29.1°C / 84.3°F
20.7°C / 69.2°F

05:00

/

19:15

72
25
29.1°C / 84.3°F
20.9°C / 69.6°F

05:00

/

19:15

57
26
29.1°C / 84.3°F
21°C / 69.8°F

05:00

/

19:15

70
27
29.1°C / 84.3°F
21.2°C / 70.1°F

05:01

/

19:15

61
28
29.1°C / 84.3°F
21.3°C / 70.3°F

05:01

/

19:15

55
29
29.1°C / 84.3°F
21.5°C / 70.7°F

05:01

/

19:15

85
30
29.2°C / 84.5°F
21.7°C / 71°F

05:02

/

19:15

57
- Last modified on May. 06, 2020 -