Nanjing Weather in May
May is the best time to visit Nanjing, when the trees are lush and the flowers are rich. With agreeable weather, it has attracted tons of tourists to visit. The average high temperature is 26°C (79°F), and the low temperature is 16°C (61°F). The average humidity is 74%. It is fairly pleasant to stay outdoors. Pleasant sunny days are the majority. But there is a big difference in temperature between the day and night.
All kinds of flowers are in full blossom in May waiting for you to enjoy. There will be a three-day holiday on International Labor Day from May 1st to 3rd. And it is also a peak tourist season.
Averages for Nanjing Weather in May
Temperature: 21°C / 70°F
High Temperature: 26°C / 79°F
Low Temperature: 16°C / 61°F
Humidity: 74%
Rainfall: 102 mm
Rainy Days: 10 days
Sunrise: 05:00 ~ 05:20
Sunset: 18:45 ~ 19:05
Air Quality in May
Average AQI:59

What to Wear in Nanjing in May
Summer clothes, such as short-sleeve shirt and pants, are sufficient for the warm weather during the day time. Because of the big difference between the day and night, it is necessary to pack thin coats for the night. Casual clothes and sneakers are recommended for your outdoor visit.


Where to Go in Nanjing in May
Purple Mountain
(Zhongshan Mountain National Park) deserves a careful visit in the warm climate in May. It is named for purple clouds on the top of the mountain. As one of the four most famous mountains in Southern China, it is not only very beautiful, but also rich in historical and cultural relics. Xiaoling Mausoleum of Ming Dynasty,
Plum Blossom Hill
, Dr. Sun Yat-sen's Mausoleum, and Linggu Temple are pretty famous here and you can have a deep visit.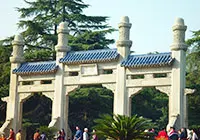 Dr. Sun Yat-sen's Mausoleum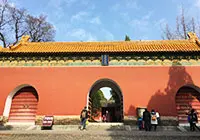 Xiaoling Mausoleum of Ming Dynasty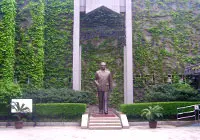 Meiyuan Xincun Memorial Hall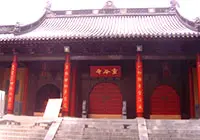 Linggu Temple
Other Tips
When you are going for a mountain climbing, pay great attention to safety and prepare one-day water and food. Then, the leather shoes are not suitable for long walking and a pair of comfortable sneaker is necessary to your traveling. If you choose to visit Nanjing on the International Labor Day holiday, please book hotel, air ticket or train ticket in advance.
What is the temperature in Nanjing in May?
High/Low Temperatures of Nanjing in May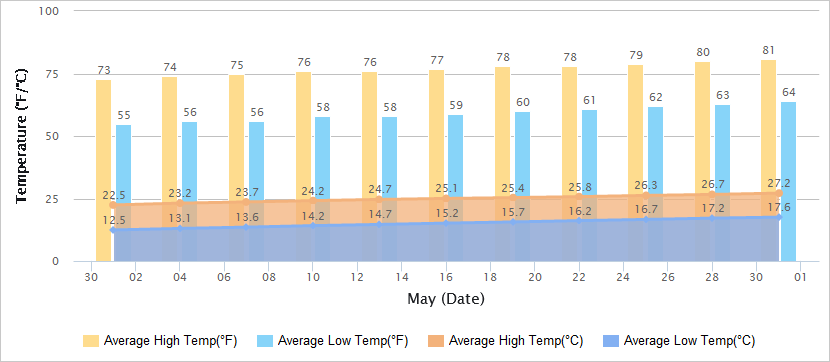 Air Quality of Nanjing in May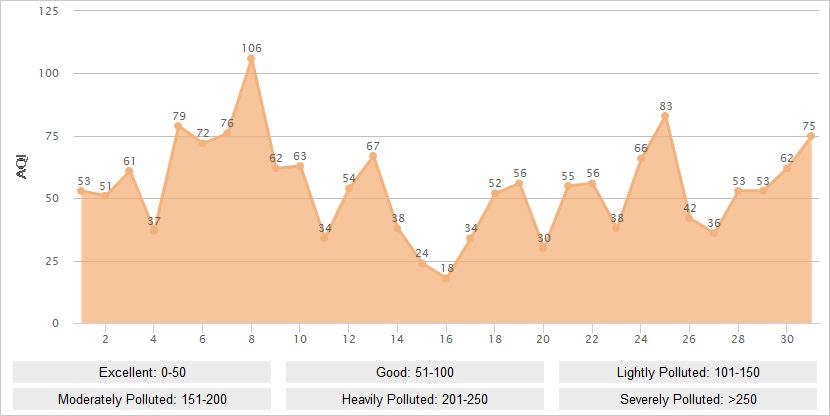 Historical Nanjing Weather in May
May
Temperature
Sunrise / Sunset
Humi-
dity
(%)
High
Low
1
22.5°C / 72.5°F
12.5°C / 54.5°F

05:20

/

18:45

40
2
22.7°C / 72.8°F
12.7°C / 54.8°F

05:19

/

18:46

29
3
23°C / 73.4°F
12.9°C / 55.2°F

05:18

/

18:46

29
4
23.2°C / 73.7°F
13.1°C / 55.5°F

05:17

/

18:47

25
5
23.4°C / 74.1°F
13.2°C / 55.7°F

05:16

/

18:48

41
6
23.6°C / 74.4°F
13.4°C / 56.1°F

05:15

/

18:48

61
7
23.7°C / 74.6°F
13.6°C / 56.4°F

05:14

/

18:49

36
8
23.9°C / 75°F
13.8°C / 56.8°F

05:14

/

18:50

39
9
24.1°C / 75.3°F
14°C / 57.2°F

05:13

/

18:51

61
10
24.2°C / 75.5°F
14.2°C / 57.5°F

05:12

/

18:51

48
11
24.4°C / 75.9°F
14.3°C / 57.7°F

05:11

/

18:52

36
12
24.5°C / 75.6°F
14.5°C / 58.1°F

05:10

/

18:53

32
13
24.7°C / 76.1°F
14.7°C / 58.4°F

05:10

/

18:54

46
14
24.8°C / 76.6°F
14.9°C / 58.8°F

05:09

/

18:54

49
15
24.9°C / 76.8°F
15.1°C / 59.1°F

05:08

/

18:55

76
16
25.1°C / 77.1°F
15.2°C / 59.3°F

05:07

/

18:56

69
17
25.2°C / 77.3°F
15.4°C / 59.7°F

05:07

/

18:56

55
18
25.3°C / 77.5°F
15.6°C / 60°F

05:06

/

18:57

65
19
25.4°C / 77.7°F
15.7°C / 60.2°F

05:06

/

18:58

48
20
25.6°C / 78°F
15.9°C / 60.6°F

05:05

/

18:58

17
21
25.7°C / 79°F
16.1°C / 60.9°F

05:04

/

18:59

17
22
25.8°C / 78.2°F
16.2°C / 61.1°F

05:04

/

19:00

21
23
26°C / 78.8°F
16.4°C / 61.5°F

05:03

/

19:00

20
24
26.1°C / 78.9°F
16.5°C / 61.7°F

05:03

/

19:01

19
25
26.3°C / 79.3°F
16.7°C / 62°F

05:02

/

19:02

44
26
26.4°C / 79.5°F
16.8°C / 62.2°F

05:02

/

19:02

88
27
26.6°C / 79.8°F
17°C / 62.6°F

05:02

/

19:03

61
28
26.7°C / 80°F
17.2°C / 62.9°F

05:01

/

19:04

29
29
26.9°C / 80.4°F
17.3°C / 63.1°F

05:01

/

19:04

25
30
27°C / 80.6°F
17.4°C / 63.3°F

05:00

/

19:05

54
31
27.2°C / 80.9°F
17.6°C / 63.6°F

05:00

/

19:05

47
- Last modified on May. 06, 2020 -